Service :
05 January 2020 - 11:31
News ID:

448376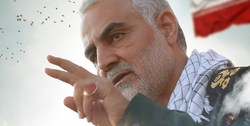 High-ranking US Democrats warned that the assassination of Iran's elite Quds Force chief will invite retaliatory attacks from Tehran and bring the two nations to the brink of a major war in the Middle East.
RNA - Islamic Revolution Guards Corps (IRGC) Qods Force Commander Lieutenant General Qassem Soleimani was martyred in a targeted assassination raid by US aircraft in Iraq early Friday morning. The airstrike also martyred Abu Mahdi al-Muhandis, deputy commander of Iraq's Popular Mobilization Forces (PMF), or Hashad al-Shabi.
Democrats have slammed President Donald Trump's decision to launch an operation against General Soleimani, with many saying he needed congressional authority to order the killing.
Rep. Tulsi Gabbard (D-Hawaii) ripped Trump for approving an airstrike against Iran's top general, calling the attack "an act of war".
"Make no mistake: Trump's actions are an act of war," Gabbard said in an email to supporters, adding, "Taken without any authorization or declaration of war from Congress, seriously escalating this tit for tat conflict, pushing us deeper into an endless quagmire and dangerously undermining our national security."
Gabbard, an Iraq War veteran, has hinged much of her White House bid on ending America's military involvements abroad and withdrawing troops from the Middle East.
"We need to get out of Iraq and Syria now. That is the only way that we're going to prevent ourselves from being dragged into this quagmire, deeper and deeper into a war with Iran," the Hawaii Democrat tweeted on Friday.
Senator Elizabeth Warren warned, "We're on the brink of yet another war in the Middle East."
"We're not here by accident. We're here because a reckless president, his allies and his administration have spent years pushing us here," she added.
Warren had called the airstrike "reckless", stressing that "our priority must be to avoid another costly war."
Sen. Bernie Sanders (I-Vt.) also issued a stark warning about Trump's decision, stating that the move "brings us closer to another disastrous war in the Middle East that could cost countless lives and trillions more dollars".
"Trump promised to end endless wars, but this action puts us on the path to another one," Sanders said, noting, "Trump makes decisions impulsively and without any congressional consultation. Congress needs to reassert its authority over matters of war. Our Founding Fathers had it right."
Also on Thursday, Sanders tweeted, "When I voted against the war in Iraq in 2002, I feared it would lead to greater destabilization of the region", adding, "That fear unfortunately turned out to be true."
"The US has lost approximately 4,500 brave troops, tens of thousands have been wounded, and we've spent trillions [in Iraq]," Sanders stated.
Sanders and Rep. Ro Khanna on Friday introduced legislation that would block funding for any offensive military force in or against Iran without prior congressional authorization.
Former vice president and one of the top Democrat contenders in the 2020 presidential race Joe Biden called the airstrike in Iraq "a hugely escalatory move in an already dangerous region" that will likely provoke "future attacks by Iran" instead of deterring them.
"President Trump just tossed a stick of dynamite into a tinderbox… We could be on the brink of a major conflict in the Middle East," he stressed.
Biden warned on Friday that Washington's move had put the country at risk of a direct conflict with Tehran.
"The threat to American lives and interests in the region and around the world are enormous," Biden said, adding, "The risk of nuclear proliferation is real and the possibility that ISIS (also known as ISIL or Daesh) will regenerate in the region has increased. And the prospect of direct conflict with Iran is greater than it has ever been."
Rep. Alexandria Ocasio-Cortez accused Trump of an "act of war", Tweeting on Friday, "...the president engaged in what is widely being recognized as an act of war against Iran, one that now risks the lives of millions of innocent people."
Representative Ilhan Omar, a Muslim lawmaker from Minnesota and a fierce critic of Trump, also attacked the president for his order to kill the top Iranian general.
"So what if Trump wants war, knows this leads to war and needs the distraction? Real question is, will those with congressional authority step in and stop him? I know I will," she tweeted.
House Speaker Nancy Pelosi (D-CA) noted that Trump's order to take out General Soleimani was issued "without the consultation of the Congress", arguing that the move will provoke more violence in the region.
Washington "cannot afford to have tensions escalate to the point of no return", she added.
US Representative Adam Schiff, another top Democrat in the lower chamber of Congress, warned Trump over the killing, saying "Congress didn't authorize and American people don't want a war with Iran".
"All steps must now be taken to protect our forces against the almost inevitable escalation and increased risk," Schiff tweeted.
Senate Democratic Leader Charles Schumer on Friday knocked Trump over the military strike, saying the American leader failed to alert top lawmakers in the House and Senate before the move.
Schumer emphasized his view that Trump does not have the authority to go to war against Iran and must obtain congressional authorization before taking any broader military action.
"If he plans a large increase in troops and potential hostility over a longer time, the administration will require congressional approval and the approval of the American people," he warned.
The Pentagon has confirmed that Trump personally authorized the airstrike that killed General Soleimani, al-Muhandis and several other on the road near Baghdad's airport.
The UN special rapporteur on extrajudicial executions, Agnes Callamard, has also condemned the killing of Soleimani.
"The targeted killings of Qassem Soleiman and al-Muhandis are most lokely unlawful and violate international human rights law: Outside the context of active hostilities, the use of drones or other means for targeted killing is almost never likely to be legal," she wrote on Twitter.
Iranian officials branded the airstrike an "act of international terrorism" and promised retaliation. Supreme Leader of the Islamic Revolution Ayatollah Seyed Ali Khamenei has stated that the Unites States must await a tough revenge.
847/940
Please type in your comments in English.
The comments that contain insults or libel to individuals, ethnicities, or contradictions with the laws of the country and religious teachings will not be disclosed