Service :
08 December 2019 - 09:36
News ID:

447892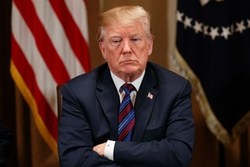 "Only history will write about this American Mad King," American political analyst Myles Hoenig has said, in response to a report which says US President Donald Trump's mental state is deteriorating dangerously due to the ongoing impeachment inquiry against him.
RNA -A group of mental health professionals led by a trio of preeminent psychiatrists have called on the House Judiciary Committee to consider Trump's "dangerous" mental state arising from his "brittle sense of self-worth" as part of its inquiry into whether to approve articles of impeachment against him.
"We are speaking out at this time because we are convinced that, as the time of possible impeachment approaches, Donald Trump has the real potential to become ever more dangerous, a threat to the safety of our nation," said Yale Medical School Professor Dr Bandy Lee, George Washington University Professor Dr John Zinner, and former CIA profiler Dr Jerrold Post in a statement.
All three psychiatrists have stated they are willing to testify as part of the impeachment inquiry.
Hoenig, a former Green Party candidate for Congress, said, "You don't need a Yale medical school professor and others for the lay person to tell you that the President of the United States is bonkers. Despite his boorish, narcissistic, lying, arrogant and braggadocious behavior these last three years, his questionable mental illness has been a subject of both concern and ridicule for his entire term."
"Paranoia, megalomania, inability to recognize reality, delusions are beyond character flaws. But how this affects the impeachment, both the hearings and the outcome, is likely not to have any affect. Is he getting worse day by day? Those that voted for him saw all of this back in 2016, but for many, he was an unknown and these traits were somewhat hidden," he stated.
"How the impeachment is affecting his behavior is noticeable. Someone with such an incredibly inflated ego as he has does not appreciate being ridiculed by people he thinks are his equal, and who very well may be his superiors, at least in intellect and social standing. We see how he continues to engage in childish and immature behavior with his name calling," he said.
"Trudeau of Canada is two-faced and Adam Schiff is deranged. Clearly he's projecting. Several world leaders were caught mocking him and his reaction was to take his toys and go home early. Whether his 'condition' is worsening should be left to the professionals to ascertain, but it has long been a tradition that psychiatrists and others in this field should not diagnose someone who is not their patient. But this rule is loosening, as Trump has made things a bit too easy for even 1st year med students!" he noted.
"Another issue is how his derangement is affecting his base and his prospects for 2020, as he's likely to be nominated for the ticket and not removed by the Senate. From what we've seen, impeachment has only enhanced his reputation among them and so many of them simply like what they see in their leader," he said.
"These noted medical professionals will unlikely be called to testify, as the House is pretty much wrapping up their investigation and the Senate trial is controlled by the Republicans. Only history will write about this American Mad King," he concluded.
847/940
Please type in your comments in English.
The comments that contain insults or libel to individuals, ethnicities, or contradictions with the laws of the country and religious teachings will not be disclosed