Service :
07 December 2019 - 19:24
News ID:

447879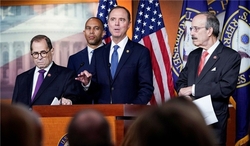 The White House on Friday signaled it will not participate in future impeachment proceedings in the House and called on Democrats to end their impeachment inquiry.
RNA - White House Counsel Pat Cipollone wrote in a letter to the Democratic chairman of the House Judiciary Committee that it would be a "reckless abuse of power" for House Democrats to adopt articles of impeachment and "would constitute the most unjust, highly partisan, and unconstitutional attempt at impeachment in our Nation's history", The Hill reported.
The letter did not explicitly state that the White House would not participate in any House proceedings moving forward, but gave the indication that it would not cooperate and would instead shift its focus to defending President Donald Trump in a potential Senate trial.
A senior administration official later told The Hill that the White House would not participate in future hearings in the House.
"We don't see any reason to participate because the process is unfair," the official said, adding "Speaker Pelosi has already announced the predetermined result. They will not give us the ability to call any witnesses."
"House Democrats have wasted enough of America's time with this charade," Cipollone wrote in Friday's one-page letter to Judiciary Chairman Jerrold Nadler (D-N.Y.), calling the impeachment inquiry "completely baseless" and bemoaning that Democrats had already decided to proceed with articles of impeachment.
"You should end this inquiry now and not waste even more time with additional hearings. Adopting articles of impeachment would be a reckless abuse of power by House Democrats, and would constitute the most unjust, highly partisan, and unconstitutional attempt at impeachment in our Nation's history," Cipollone wrote.
He concluded by echoing Trump's own message for the House to get on with impeachment proceedings in order to advance to a Senate trial where he will likely be acquitted.
Nadler had asked the White House last week to tell the panel whether it planned to participate in hearings debating potential articles of impeachment against Trump, setting a December 6 deadline for the White House to respond.
The move by the White House on Friday does not come as a surprise.
Cipollone earlier this week said the president's legal team would decline an invitation to take part in a hearing of constitutional law scholars that took place this past Wednesday, hammering House Democrats' process as unfair and accusing the committee of not providing enough information about the hearing or soliciting input from the White House.
Nadler in a statement Friday evening stated that the "American people deserve answers from President Trump" and noted that the White House could not claim the process to be unfair while Trump was declining an invitation to participate.
"We gave President Trump a fair opportunity to question witnesses and present his own to address the overwhelming evidence before us. After listening to him complain about the impeachment process, we had hoped that he might accept our invitation," Nadler added.
"If the President has no good response to the allegations, then he would not want to appear before the Committee," Nadler continued, stressing, "The President's failure will not prevent us from carrying out our solemn constitutional duty."
Speaker Nancy Pelosi (D-Calif.) on Thursday announced that Democratic committee leaders would move forward with drafting articles of impeachment.
White House officials expressed frustration that the timing of the announcement pre-empted the administration's deadline to respond about future participation.
"This goes to show you this has been a sham all along," Tony Sayegh, a White House aide leading messaging efforts on impeachment, states Friday on former Trump adviser Stephen Bannon's radio show.
The Judiciary Committee currently has just one future hearing scheduled. The panel will receive presentations of evidence on Monday from staff counsels for both parties on the House Intelligence Committee.
It's unclear if there will be any additional hearings beyond Monday's. House Democrats could introduce articles of impeachment against Trump next week, eyeing a full House vote before lawmakers leave for the holiday recess.
The impeachment inquiry has centered on Trump's July 25 call with Ukrainian President Volodymyr Zelensky during which he asked Ukraine to investigate a debunked theory about the 2016 Democratic National Committee hack as well as former Vice President Joe Biden and his son Hunter's business dealings in Ukraine.
House Democrats say that, after hearing testimony from a cadre of executive branch witnesses, the evidence is clear that Trump abused his power in asking Ukraine to launch investigations that could politically benefit him.
Pelosi announced Thursday that Trump gave them "no choice" but to move forward with drafting articles of impeachment.
Trump has rejected claims he engaged in wrongdoing and described his conversation with Zelensky as perfect, accusing Democrats of a "witch hunt" aimed at damaging him ahead of the 2020 presidential election.
The White House has refused to cooperate in the inquiry, blocking a handful of key witnesses from testifying and refusing to turn over documents. Democrats have signaled they're prepared to draft an article of impeachment accusing Trump of obstruction for defying congressional subpoenas.
847/940
Please type in your comments in English.
The comments that contain insults or libel to individuals, ethnicities, or contradictions with the laws of the country and religious teachings will not be disclosed