Iranian Assyrian: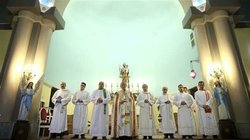 An Iranian Assyrian Christian says US President Donald Trump's ostensible concern about the rights of religious minorities in the Islamic Republic is "absolutely worthless."
RNA - "We have always announced in different occasions that we don't need guardians or protectors from outside. We don't need the self-proclaimed protectors of democracy and human rights to express concern about our rights inside Iran. We don't need them to feel pity for us. They really need to stop this stupid show," Yonathan Betkolia, the representative of Assyrians in Iran's parliament, told Press TV's "Iran Today" program.
"You don't have to be a genius to see the ugly duplicity in their policies. History is replete with their atrocities, killings, and plunders. We never forget the day when 80 members of the Branch Davidians were burnt alive in a building in the US. Where were the US officials that day? Why were they silent? To us Iranian Assyrians, Trump's concern about our situation is ridiculous and absolutely worthless," he added.
Another guest on the program, Hormoz Mourhaj, a member of the board of directors of the Tehran Assyrians Association, also denounced Trump's claims about the situation of religious minorities in the Islamic Republic as "baseless," stressing that they are absolutely free in performing their religious rituals in the country.
"Trump's claims that the Iranian Assyrians are under pressure or oppressed or that they are considered second-class citizens are all baseless. Such unfounded claims against Iran are not new but the reality is something else. We have never been separate from the Iranian society. Iran is home to various minorities other than the Assyrians who enjoy the same welfare that Muslim Iranians have," Mourhaj said.
"In terms of our rituals and traditions, I must add that we Assyrians face no limitations. You may find it interesting to know that in this regard, we are usually provided with more government aids than Muslim Iranians," he added.
Yet another guest, Karlin Eshoo Nejadian, an Assyrian architect, said the US government is pursuing an opportunistic approach to religious minorities in Iran to meet its own interests.
"I am not very much into politics but when I am with my Assyrian friends, we usually condemn those who leave Iran and speak against the government because, frankly speaking, the Iranian government is the only one in the region who has provided the best welfare for all minorities throughout the world," he said.
The official religion of Iran is Shia Islam under the Constitution. But the Islamic Republic also recognizes Zoroastrian, Jewish, and Christian religious minorities, among others.
Also under the Constitution, all divine religions in Iran have their own representatives at the Parliament who enjoy equal rights with fellow-lawmakers.
The US, however, often accuses the Islamic Republic of intolerance toward religious minorities.
Such accusations are rejected both by the Iranian government and members of the religious minorities in Iran themselves.
847/940
Please type in your comments in English.
The comments that contain insults or libel to individuals, ethnicities, or contradictions with the laws of the country and religious teachings will not be disclosed