Service :
13 October 2019 - 17:13
News ID:

447478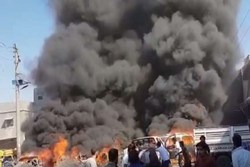 Aid groups operating in northeastern Syria have been raising the alarm about civilian casualties and an impending humanitarian crisis this week, as Turkey began a military assault on the turbulent region's Kurdish militants.
RNA - Doctors Without Borders (MSF), Human Rights Watch and other groups have warned about everything from massive new flows of refugees to conditions for detained ISIL fighters from a previous phase of chaotic war in Syria.
Turkish forces began an offensive in Syria's northeast on Wednesday to clear out Kurdish militias, within days of US President Donald Trump's decision to withdraw some US troops from Syria's turbulent north. MSF teams remain ready to provide medical care after the Turkish military launched operations and are preparing for a potential increase of patients linked to the conflict.
Every day people are being displaced from locations along the border due to the conflict and are extremely worried that the military intervention will threaten their safety and wellbeing. Military operations against Kurdish fighters began Wednesday with air strikes rocking the Syrian border town of Ras al Ain with large explosions, as Turkey moved tanks, artillery, and howitzers in preparation for a broader assault.
UN Spokesman Farhan Haq says aid groups would have to scale-up at a time of crisis and urged the region's armed forces to keep the Turkey-Syria border open so that aid trucks could bring food, medicine and other gear to those affected by fighting. Ankara claims to be seeking to create a "safe zone" to return millions of refugees to Syrian soil and end a "terror corridor" on Turkey's southern border. Turkey says Kurdish YPG fighters in northeast Syria are also terrorists due to their links to militants waging an insurgency inside Turkey.
There is no doubt whatsoever that the new escalation will only make the situation worse for millions of Syrian refugees who are still unable to return to their homeland. What the war-torn country needs is now a complete withdrawal of all foreign troops from the region, including American and Turkish forces. The truth is that only Syrian forces have the right to take security matters into their own hands and not foreign forces.
According to estimates by the UN, more than 400,000 people have been killed in Syria since the start of the war. The UN reports that, as of January 2019, more than 5.6 million have fled the country, and over 6 million have been internally displaced. Many refugees have fled to Jordan and Lebanon, straining already weak infrastructure and limited resources. More than 3.4 million Syrians have fled to Turkey, and many have attempted to seek refuge in Europe.
Meanwhile, external military intervention - including the provision of arms and military equipment, training, air strikes, and even troops - in support of proxies in Syria threatens to prolong the conflict. Outside actors - namely Israel, Saudi Arabia, Turkey and the US-led coalition - increasingly operate in proximity to one another, complicating the war and raising concerns over a deliberate escalation. Ongoing violence and proxy conflicts could also facilitate the resurgence of terrorist groups.
According to Fars News Agency, at any rate, Turkey is not the only player in the Syrian crisis. In fact, a prominent role is played by the US, also interested in an endless war that has been tearing for several years the Middle Eastern country. However, there are other actors that want an immediate end to the current crisis, namely Iran, Russia and China.
Despite the Turkish escalation and American occupation, they have shown themselves as strong supporters of dialogue between government forces and opposition as a unique and desirable solution to the conflict. Their position towards the Syrian crisis can be summarized as: Political resolution; no outside interference; inclusiveness in transition process and national reconciliation, unity, and commitment to humanitarian assistance.
There are no hidden motivations here. Iran, Russia and China are opposed to any suggestion of tightening the already tense situation in Syria and the Middle East. A worsening of the crisis in Syria, threatening the start of a regional conflict, would lead to unimaginable dangers for regional and global security in terms of humanitarian support and energy supplies that make the Middle East so vital to the livelihood of the global economy. Regional instability could cause serious problems for trade and oil imports.
Saying "no" to the military intervention not only protects the economic interests, albeit basic, but responds to a specific political logic as well. The goal is to block western claims of direct intervention in the domestic affairs of individual countries. There remains still an opportunity for a political solution to the Syrian conflict to ensure the regional and international stability. For that to happen, all foreign forces that have no mandates from the UN or the Syrian government should pack up and leave.
847/940
Please type in your comments in English.
The comments that contain insults or libel to individuals, ethnicities, or contradictions with the laws of the country and religious teachings will not be disclosed