Service :
02 September 2019 - 15:12
News ID:

446809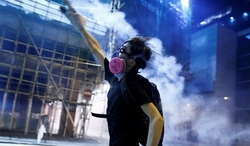 On Saturday, a group of Hong Kong protesters waved American flags, sang the US national anthem and urged President Donald Trump to "liberate" the city from China.
RNA - More than a dozen men wearing masks to hide their identities carried the flags as tens of thousands of demonstrators defied a police order to rally in downtown Hong Kong. China has accused the US of stoking the protests that began in June against a bill allowing extraditions to the mainland.
Trump in recent weeks has tied the protests to his trade negotiations with China, telling reporters that the talks were "keeping down the temperature" in Hong Kong. Speculation has risen that Hong Kong's government may invoke emergency powers or seek help from Chinese troops to stem the unrest.
As is, the city is still up in flames. In Hong Kong, violent activists hurl petrol bombs in the direction of police officers, as well as targeting high-profile properties. High-profile activists, as well as the Western media, appear to glorify the events rather than expressing concern for the widespread damage and threat to public safety.
According to Fars News Agency, the BBC praised the protesters as "strategic, organized and increasingly willing to resort to violence" – painting their activities purely in the light of self-defense from the police. The West believes that it truly has what is best for Hong Kong, and is willing to proclaim that loudly and clearly. However, what it is encouraging and supporting today has become nothing short of monstrous.
Far from the self-proclaimed "Asia's World City" – activists and enablers have now created a morbidly dystopian war zone where unprecedented levels of violence, destruction and chaos have become the norm of interaction. If continued, these "scorched earth" strategies will surely mark the end of the city as a global financial and capital hub – destroying its reputation, credibility and iconic image.
The behavior of many protesters in Hong Kong is enabled by the blanket support of the Western media. It is very much an established convention that no matter what the protesters do, no matter how destructive or contemptible it may be, they will receive blanket and uncritical support from governments and journalists who will frame it as justified response against the state and police, fighting for a noble cause.
Last night was perhaps one of the strongest examples of that.
The images of carnage are hailed and praised, even though few would tolerate it so frequently in their own neighbourhood. Anywhere else in the world, arson, which can be defined as the deliberate initiation of fire with the intent of causing harm or damaging property, is a serious crime punishable by imprisonment. Yet in Hong Kong, it is something to be treated as a normal and noble means of resistance in the view of the Western media.
If the police fight back to secure public order, safety and stop the perpetrators, they are depicted as the ones in the wrong. If they turn hoses at activists causing fires, it is apparently "police brutality." Up is down, white is black and left is right.
However, what will the "prize" be to Hong Kong in the end? These activists will not get what they want, but they will literally and metaphorically burn their city to the ground. Scenes like this do not reflect Hong Kong as the iconic "Asia's world city" famed for its prestige business, financial opportunities and iconic cultural traits.
They increasingly show it to be a dystopian, dysfunctional and destitute place marked with destruction and desolation. Investors will stay away and tourists will think twice. The stain to its credibility will run deep, and things may never be quite the same again. It's what the West wants, after all.
847/940
Please type in your comments in English.
The comments that contain insults or libel to individuals, ethnicities, or contradictions with the laws of the country and religious teachings will not be disclosed