Service :
04 August 2019 - 11:54
News ID:

446352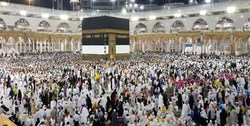 Senior Hajj officials of Iran and Saudi Arabia in the meeting in the Arab country discussed issues related to Hajj rituals and Iranian pilgrims, and vowed to increase cooperation for better services.
RNA - Head of Iran's Hajj and Pilgrimage Organization Ali Reza Rashidian and Saudi Arabia Minister of Hajj and Umrah Mohammad Saleh bin Taher Benten reviewed issues related to Hajj pilgrims.
Referring to good cooperation between Iran and Saudi Arabia with regard to issuing visa for Iranian pilgrims, Rashidian said there is no problem for issuing electronic visa.
He also evaluated as positive the measures taken by Saudis' regarding services in Mount Arafat and Mina.
Iranian official suggested establishing Iran consulate general or interest office in Saudi Arabia.
Rashidian also complained over problems in airport and customs issues.
Meanwhile, Saleh bin Taher Benten pointed to measures taken by Saudi ministry, saying all of them were in line with preparing more facilities for pilgrims.
Thanks to special conditions between two countries, Saudi Arabia has provided special facilities for Iranian pilgrims, he added.
Elsewhere in his remarks, Rashidian urged Saudi Arabia to take effective measures over the stampede in Mina and Mosque al-Haram, where several hundred Iranian pilgrims lost their lives, saying Saudi diplomatic mission in the UN has delayed settlement of the case.
The issue of paying reparations to the families of the victims needs more serious follow-up on part of the Saudi government, he said.
Earlier, Rashidian said that the Saudi government has issued banknote to pay compensation to the families of the victims killed in Mecca in 2015.
It has been delivered to Saudi representative to the United Nations and will soon be given to Iran.
A stampede during one of the last rituals of the Hajj season on September 24, 2015, killed at least 7,477 people and left thousands wounded.
The stampede occurred during the ritual known as "stoning the devil" in the tent city of Mina, about two miles from Mecca.
At least 465 Iranians lost their lives in the incident, while hundreds of others were wounded.
Last month, Supreme Leader of the Islamic Revolution Ayatollah Seyed Ali Khamenei underlined that Saudi Arabia is responsible for the safety of pilgrims who visit the country for Hajj rituals.
"The Saudi government bears major responsibilities. Among their responsibilities is protecting safety and security of the pilgrims but they should not spread a security atmosphere," Ayatollah Khamenei said, addressing the Iranian Hajj officials in Tehran on July 03.
"While the pilgrims are in Mecca and Medina, they should treat the pilgrims properly, respectfully, and with honor; because they are the guests of God, the Merciful," he added.
He described Hajj as a manifestation of submission to and humbleness before God, and said, "It also has the social factors of unity, brotherhood, and harmony. Moreover, it is a display of congregation as well as morality."
"Among major mistakes is that they say do not politicize Hajj. Creating unity is a political matter," Ayatollah Khamenei said, stressing that "supporting and defending the oppressed in the World of Islam, like the Palestinian and Yemeni nations, is a political matter, exactly based on Islamic teachings and an obligation".
"Hajj is a political act and this political act is identically a religious obligation," he reiterated.
On September 30, 2015, Ayatollah Khamenei warned Saudi Arabia that the slightest disrespect for the Iranian pilgrims who were in Mecca for the Hajj ceremony would be reciprocated with Tehran's harsh and crushing response.
Ayatollah Khamenei called for setting up a fact-finding committee of Iranian and other Islamic countries' authorities to probe the death of Hajj pilgrims in Mina and missing of hundreds of them, and said, "The Saudi government is not complying with its responsibilities to transfer the bodies of those who have been killed (in Mina stampede) and the Islamic Republic of Iran has so far, respected the brotherhood in the Muslim world by exercising self-restraint and Islamic politeness but they should know that the slightest disrespect for tens of thousands of Iranian Hajj pilgrims in Mecca and Medina and any lack of responsibility to transfer the bodies will result in Iran's crushing and violent reaction."
Ayatollah Khamenei underlined that Iran did not want to have an early judgment of the cause of the incident "but we believe that the Saudi government hasn't acted upon its responsibilities with regard to the injured pilgrims in the Mina incident and has left them desperate and thirsty".
He said Iran had so far practiced self-restraint over the death of its citizens in Saudi Arabia, "but they should know that Iran's hand is above many others and it enjoys more possibilities too and if it wants to show reaction to annoying and insidious actors, they will not have a good situation and they won't be able to gain victory on any scene of rivalry."
"The Islamic Republic of Iran doesn't practice cruelty but it also doesn't accept anyone's oppression and cruelty; therefore, it doesn't trample on the rights of any human beings and nations, either Muslim or non-Muslim, but if anyone wants to trample Iran and its nation's rights, he/she will receive a strong response; and thanks God, there is a capability for such a confrontation and the Iranian nation is powerful and resistant," Ayatollah Khamenei underscored.
847/940
Please type in your comments in English.
The comments that contain insults or libel to individuals, ethnicities, or contradictions with the laws of the country and religious teachings will not be disclosed