Iranian DM: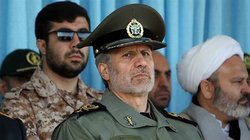 Iranian Defense Minister Brigadier General Amir Hatami blasted as untruthful Washington's call for unconditional talks with Iran, saying the White House is speaking of talks, while it is at the height of economic war against Tehran.
RNA - "Such remarks by the White House officials are lies and deceitful and aimed at fooling the public opinion because they have unilaterally and illegally implemented tens of conditions and preconditions for Iran and did whatever imaginable in the field of economic war and increasing sanctions and political pressures and they have made every attempt to show hostility and hatred and hit a blow at the Islamic Republic," General Hatami said, addressing the defense ministry managers in Tehran on Saturday.
He referred to the US attempts to prevent Iran's oil sales and banking interactions and sanctions against the country, and said Tehran will continue resistance as costs of compromise with the enemy is much higher than resistance.
General Hatami underscored the defense ministry's determination to enhance the country's deterrence power and confront the Americans' sabre rattling in the region, and said, "The Islamic Republic's high defensive and offensive power has discouraged enemy from military aggression, and they are afraid of any possible war and conflict with Iran."
His remarks came days after Supreme Leader of the Islamic Revolution Ayatollah Seyed Ali Khamenei said that the Iranian nation and officials would not be deceived by the new gambit of US President Donald Trump who is now trying to convey the impression that the White House had put aside its destructive approach towards Tehran.
Ayatollah Khamenei, delivering an address during a ceremony marking the 30th anniversary of the founder of the Islamic Republic Imam Khomeini's departure, in the capital Tehran last Tuesday, underlined that Iran's people and authorities would not fall for Trump's political ploys.
The Leader warned about the US's recourse to political approaches aimed at creating the impression that it has abandoned its subversive ways against the Islamic Republic.
Ayatollah Khamenei cited the example of Trump's recent comments in Japan, where he said he was not pursuing regime change in Iran and that the Islamic Republic "has a chance to be a great country with the same leadership."
The leader said the US president was trying to say that "we are prepared to accept you," but cautioned, "This is political shrewdness."
"This does not dupe the Islamic Republic's authorities and the Iranian nation. Iranians make progress if they stand on their own and Americans stay away. Wherever the US laid its step, either war, sedition, exploitation, or imperialism has followed," Ayatollah Khamenei stated.
Ayatollah Khamenei advised Washington to mind its own business and set its own house in order, reminding how the US was grappling with high levels of crime, drug, and police brutality that was unmatched anywhere else in the world.
"We ourselves know (better) how to behave and act," the Leader noted.
The Leader, however, noted that what the US president had said in terms of Iran's chances with its sitting leadership was "of course true," but the condition for the Islamic Republic to make progress was that Washington "stays away" from the country.
Ayatollah Khamenei further said Trump's very election in the United States was a sign of America's decadence.
"Election of a person with the characteristics of Donald Trump, who is the center of debate in the United States itself over his mental, ideological, and behavioral balance, is in and of itself an indication of political decline," the Leader said.
Ayatollah Khamenei noted how Washington had invariably supported the crimes committed by Israel and the countries behind the ongoing invasion of Yemen, adding, "They back crime. Can moral bankruptcy become any worse?"
The Leader further hailed Iran's "doctrine of resistance" against imperialism, as a legacy of Imam Khomeini.
"The goal behind (pursuing) resistance is to reach the point of economic, political, social, and military deterrence," Ayatollah Khamenei said. "We should reach a point, which would dissuade the enemy from committing aggression against the people of Iran," the Leader added.
Ayatollah Khamenei hailed that the country had, to a large scale, reached that level in military strength.
The Leader said that achievement was the reason the country's enemies were attempting to deprive Iran of its missile power, adding, "Of course, they will not be able to do this."
Ayatollah Khamenei further hailed Imam Khomeini as an icon of resistance, whose unparalleled way of standing tall in the face of the enemies had culminated in the country's current self-reliance.
Had it not been for the resistance put up by Iran, the Leader asserted, the county would have turned into a vassal state like Saudi Arabia, which not only is serving its oil and other resources to Washington, but is also forced to align its political approaches to that of the US.
Late in last month, Trump said that the White house was not looking for "regime change" in Iran.
He made the remarks at in joint presser in Tokyo after bilateral talks with Japan's Prime Minister Shinzo Abe.
According to Fars News Agancy, the US President went on saying that he believed "we'll make a deal" with Iran, adding that Abe had offered to broker a dialogue between the two nations.
"I know that the prime minister and Japan have a very good relationship with Iran so we'll see what happens," Trump added.
"The prime minister has already spoken to me about that and I do believe that Iran would like to talk. And if they would like to talk, we would like to talk also," he said.
With Abe at his side, Trump told reporters at Akasaka Palace that "nobody wants to see terrible things happen, specially me".
Trump later said, "I'm looking to Iran to say no nuclear weapons," he said. "Iran has tremendous economic potential …, we're looking for no nuclear weapons. I'm not looking to hurt Iran at all."
Similar remarks were made by US Secretary of State Mike Pompeo at a news conference in Switzerland on Sunday where he said Washington is keen to hold negotiations with Iran "with no preconditions".
Iranian Foreign Minister Mohammad Javad Zarif posted a video on his official Twitter page last Monday, showing a "little boy whose heartbroken mother can't get him prosthetic legs as he grows", and emphasized that innocent civilians are being targeted by sanctions and economic terrorism applied to Iran by Washington.
"This is @realDonaldTrump's 'economic war'. And war and talks—with or without preconditions—don't go together," he underlined.
In reaction to Pompeo's statements, Iranian Foreign Ministry Spokesman Abbas Mousavi said a game of words by the United States is not important to Iran, but the Islamic Republic expects a change in Washington's general approach to the Iranian nation.
"For the Islamic Republic of Iran, a game of words and expressing covert goals under the guise of new words is not a criterion for action, but a change in the United States' general approach and practical stance toward the Iranian nation is the criterion," he said.
847/940
Please type in your comments in English.
The comments that contain insults or libel to individuals, ethnicities, or contradictions with the laws of the country and religious teachings will not be disclosed