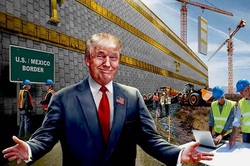 The Trump administration has enacted the harshest immigration policies in a century, but it has also reached the outer limits of what any government can illegally do to stem the flow of migrants and refugees.
President Trump, who has welcomed many anti-immigrant voices into the White House, has just proposed overhauling the US immigration system to favor young, educated, English-speaking applicants instead of people with family ties to Americans, a plan he will push in his 2020 re-election campaign.
As always, the politicized plan has roundly been panned by human rights and immigration advocacy groups. They say the plan leaves aside the problem of how to deal with the roughly 11 million immigrants living in the country illegally - many for years - and protections for "Dreamers" brought to the country illegally as children.
It also does not include changes for refugees, but proposals to beef up security at the Mexican border to try to prevent people from crossing illegally and legal changes aimed at curbing a rise in Central American migrants seeking asylum. As well, because of Trump's previous immigration overhauls, border facilities where migrants sleep on the floor, sometimes for weeks, before being processed and released, are still overwhelmed.
Under Trump's plans, refugee children can be taken from their parents as well. This raises many more questions than the Trump administration officials would like to answer. The children and their families are sent to separate military bases, a controversial move that violates their basic human rights. The use of military facilities is outrageous and flies in the face of international humanitarian law.
Tragically, this kind of brutal immigration and refugee policy has also inspired many far-right governments in Europe. Many European leaders have not only expressed admiration for Trump's draconian policies but have initiated ways to implement them in their own nations. Just like in the US, refugees are imprisoned in privatized or military detention centers across the EU. The xenophobic idea is to contend with the recent surge of people fleeing Africa and the Middle Eastern conflicts the West helped to fuel.
Then there is Trump's executive order on blocking citizens of six Muslim countries from entering the US. The Muslim ban executive order reflects Washington's war-on-Islam pledge to safeguard against what he claims is a hidden influx of terrorists and criminals - a hardline campaign promise that resonated deeply with White Supremacists and far-right voters.
As always, Trump's new immigration overhaul in the pre-textual guise of national security and others is indefensible, discriminatory, and against International Human Rights Law. He has replaced it with a scaled-back version that shares the same fatal flaws. He has recommitted himself to ethnic, social, family and religious discrimination, and he can expect continued disapproval from the United Nations, American people, the rights groups, Muslim nations, and the international civil society.
No doubt the new overhaul will still continue apace until he is re-elected in 2020 – with or without consent from Congress – if he is re-elected at all. History tells us this is just the beginning of a decades-long campaign against migrants, refugees and Muslims. History also tells us it's harder to run for re-election when you haven't delivered on your biggest immigration promises.
Which is to say the plan will remain in place for many decades after Trump's re-election if he wins a second term, and has nothing to do with Democrats of Republicans. Like many other discriminatory executive orders before him, Trump's immigration overhaul plan is intended to target immigrants, refugees and Muslims forever and wholesale.
That's how things are done in Washington. First, it's just a simple order with its own critics. But after it's introduced, it becomes law one way or another – with or without Congress approval. The same thing happened with Trump's Muslim ban. It's still in place despite court disapprovals and widespread protests in the US. There is overwhelming evidence that this new plan is here to stay and do the same thing; discriminate against immigrants and their families – without a valid legal justification.
The Trump White House should lay its cards on the table regarding exactly what this new plan is. But they never tell the American people and the world community what they are going to do if Congress disapproves the plan. At its core, this policy is indefensible, as Trump holdovers have slapped together a shoddy pretext for it. They seek to divide migrant families up and escalate the unending war on migrants and refugees.
What's actually happening here should be obvious. Instead of ending their "regime change" wars, military buildups and interventionist campaigns across the globe that only exacerbate the current refugee and migrant crises, the Trump administration has decided to sweep the indefensible, discriminatory problem under the rug and call it shifting the immigration process to a merit-based system.
Please type in your comments in English.
The comments that contain insults or libel to individuals, ethnicities, or contradictions with the laws of the country and religious teachings will not be disclosed