Service :
01 May 2019 - 20:21
News ID:

444617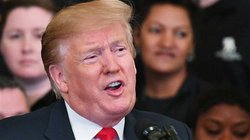 House Democrats will huddle Tuesday morning in the Capitol for the first time since the release of Special Counsel Robert Mueller's report on 2016 election tampering, which has heightened liberal calls for the impeachment of President Donald Trump — and complicated the efforts of Democratic leaders seeking a more restrained response.
RNA - Heading into the gathering, most Democrats appear to be on board with leadership's cautious strategy, which rejects impeachment — at least for now — while various House committees continue to investigate the president's conduct, The Hill reported.
At the same time, lawmakers are acknowledging that there are more voices talking about moving forward with impeachment in the post-Mueller world.
"To be sure, there are more people now talking about it and are more favorable toward that movement. But I also think more people are willing to do what the Speaker said," Rep. Emanuel Cleaver (D-Mo.), former chairman of the Congressional Black Caucus, said, adding, "We need to allow these committees of jurisdiction to proceed with their work."
A handful of liberal Democrats have been beating the impeachment drum, saying they've seen ample evidence already that Trump has acted in ways that should disqualify him from the office.
"Mueller kicked the impeachment ball to the Congress," Rep. Maxine Waters (D-Calif.) tweeted last week, noting, "The Constitution gives the responsibility to Congress to impeach an unfit president — 'high crimes and misdemeanors.' What more do we need?"
Rep. Jared Huffman (D-Calif.) carved a distinction between those lawmakers calling for impeachment articles to be brought to the floor immediately and others, including himself, who are pushing to launch an impeachment inquiry. But he called it "reckless" to rule out the process altogether.
"We have to stop tiptoeing around this issue," Huffman said, adding, "We have to stop walking on eggshells as if impeachment is not something that's a part of our job description."
Outside activists have also joined the fray. Need to Impeach, a group founded by the billionaire environmentalist Tom Steyer, used the long spring recess to deliver more than 700,000 postcards to the offices of more than 30 House lawmakers. While the group targeted both parties, it leaned heavily toward Democrats, including Reps. Steny Hoyer (Md.), the majority leader; James Clyburn (S.C.), the majority whip; Adam Schiff (Calif.), chairman of the Intelligence Committee; and Steve Cohen (Tenn.), who heads the Judiciary subcommittee on the Constitution.
There seem to be three camps emerging as Democrats wrestle with an appropriate response to the Mueller report: those clamoring for impeachment; those who oppose it altogether, for fear of the potential political blowback at the polls next year; and those in the middle, who want to investigate the president vigorously and see where the process leads.
Speaker Nancy Pelosi (D-Calif.) and her leadership team, joined by the heads of the top committees, fit firmly in the latter group. They want to see the full, unredacted Mueller report with underlying documents, hear testimony from Mueller himself and use that information to guide their own probes. Only if that process finds evidence of severe wrongdoing on Trump's part — enough that public sentiment shifts, forcing Republican lawmakers to back impeachment — would it be appropriate to launch proceedings, they argue.
"That may not happen until their constituents start saying, 'Hey, I'm a big Trump guy, I have my red cap here, but you know I just heard testimony that really troubled me,'" Cleaver said.
"That's exactly the way it ought to go, if it's going to go," Cleaver added.
Rep. Jimmy Panetta (D-Calif.), a former prosecutor, stated that Mueller's report uncovered presidential wrongdoing that "could easily" constitute obstruction of justice. But the impeachment process, he noted, is both essentially political — since it hinges on the votes of sitting lawmakers — and practically futile without the support of Senate Republicans.
"As a prosecutor, you don't just look at the law and the facts. You look at the big picture, and you take into account your discretion, and that means taking into account your courtroom, taking into account the jury," Panetta said, adding, "You have to look at that in coming up with your analysis of whether or not you go forward in regards to impeachment. And knowing the ultimate outcome, based on the makeup of that jury in the Senate, it seems to me that it wouldn't be a winner."
Indeed, Republicans in both chambers — some of whom supported the impeachment of former President Bill Clinton and then hammered former President Barack Obama with charges that he abused power — have been notably silent in the wake of the Mueller report. While a handful of GOP lawmakers expressed some concern with the findings, most joined Trump in characterizing the report, falsely, as a full exoneration of the president on both the "collusion" and obstruction questions.
"I think it's time to move on," said Senate Majority Leader Mitch McConnell (R-Ky.), adding that "this investigation was about collusion, there's no collusion, no charges brought against the president on anything else, and I think the American people have had quite enough of it".
The GOP's change in tone has not been overlooked by Democrats, who are accusing Republican leaders of being hypocrites in their defense of the president.
"Ask them how they're going to stand by while this President tramples over our constitution, democracy and the rule of law," a senior Democratic aide stressed, noting, "Why aren't they equally as outraged by this president's behavior?"
In the same breath, however, many Democrats are also stressing the need to win GOP support if any impeachment movement is to have legs.
"That's also where we need to apply pressure," the aide said, adding, "It's not viable unless these guys start to feel some heat."
847/940
Please type in your comments in English.
The comments that contain insults or libel to individuals, ethnicities, or contradictions with the laws of the country and religious teachings will not be disclosed