Service :
13 April 2019 - 02:02
News ID:

444289
Report: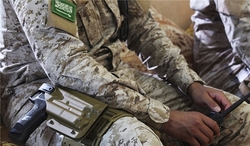 UK military colleges trained several dozens of Saudi officers after the start of Riyadh-led intervention in Yemen, which has been widely criticized over violations of humanitarian law and civilian casualties.
RNA - The number of Saudi cadets trained at the Royal Military Academy Sandhurst, the Royal Air Force's school at Cranwell and the Britannia Royal Naval College in Dartmouth since 2015 amounted to 43, including 12 officers who arrived for training in 2018, The Guardian reported, citing UK Defense Ministry's answer to its freedom of information request.
According to the daily, Labour lawmaker Lloyd Russell-Moyle described the revelations as "the tip of the iceberg of British enablement of the Saudi war machine to devastate the people of Yemen".
According to most recent figures from the UK Department of International Trade released in late March, the United Kingdom sold at least 5.7 billion pounds ($7.45 billion) worth of arms to the Saudi-led coalition fighting in Yemen since the start of the war in 2015.
Anti-arms groups have repeatedly criticized the United Kingdom for delivering arms to Saudi Arabia, stressing that it made London complicit in Riyadh's human rights abuses, and called on the government to halt arms supplies to Persian Gulf states.
A senior Ansarullah official lashed out at British Foreign Secretary Jeremy Hunt for supporting continued exports of lethal weapons to Saudi Arabia, saying that London cannot be a peace-broker in Yemen while it is still arming the invaders. The remarks were made by Mohammed Ali al-Houthi, the Chairman of the Supreme Revolutionary Committee of Yemen, in an interview with The Guardian in March.
"Britain sending aid does not change the tragic reality of its arms sales. Jeremy Hunt cannot promote peace while at the same time acting as an arms salesman," al-Houthi said, slamming Hunt for pressing Germany to relax its arms sales ban on Saudi Arabia.
"Mr. Hunt has gone beyond defending British arms sales, by attempting to pressure other European countries, such as Germany, to sell arms," he added.
In his interview, al-Houthi blamed the joint British, US, Saudi, and UAE naval forces for the currently "critical" level of famine and the "tragic humanitarian situation" in Yemen.
A new report said a number of elite British commandos sustained injuries in direct gunfights with Yemeni forces as part of what appears to be a secretive UK military campaign in Yemen, adding a major twist to London's involvement in Saudi Arabia's deadly war against its impoverished southern neighbor.
In March, The Mail reported that it can reveal that at least five members of the UK's Special Boat Service (SBS) troops had suffered gunshot injuries in fierce clashes with members of the Ansarullah movement.
The SBS personnel received treatment for leg and arm wounds in Yemen's Northern Sa'ada province, where the report noted that around 30 elite British forces had been based.
The injured soldiers had been taken back to the UK to recover, the report added.
"The guys are fighting in inhospitable desert and mountainous terrain against highly committed and well-equipped Houthi rebels. The SBS's role is mainly training and mentoring but on occasions they have found themselves in firefights and some British troops have been shot," an SBS source told the Mail.
"In a contact a few weeks ago, a SBS guy was shot in the hand and another guy was shot in the leg. Their injuries were a reminder that this is a very dangerous assignment. Obviously nothing about the mission will be confirmed publicly by the Ministry of Defense unless a UK soldier is killed – they'd have to announce that," the source added.
The SBS teams deployed to Yemen include medics, translators and Forward Air Controllers (FACs), who are tasked with directing Saudi air support.
The SBS, a 200-strong force based at Poole in the British town of Dorset, is a maritime Special Forces unit that mainly recruits the Royal Marines. The force has been known for its operations in Iraq, Afghanistan and most recently in Syria.
The revelation that British forces are fighting in Yemen came after Armed Forces Minister Mark Lancaster admitted that London had long been servicing UK-made fighters Saudi Arabia was using to indiscriminately bomb Yemeni people.
Lancaster told the parliament last Monday that Britain's Royal Air Force (RAF) was providing "engineering support" and "generic training" to Saudi Arabian military.
The UK, along with the US, seized on the opportunity and signed major arms deals with the oil-rich kingdom, while also providing it with target intelligence and personnel training throughout the conflict.
Saudi Arabia and a number of its regional allies launched a devastating campaign against Yemen in March 2015, with the aim of bringing the government of former Yemeni President Abd Rabbuh Mansur Hadi back to power and crushing the Ansarullah movement.
Weddings, funerals, schools and hospitals, as well as water and electricity plants, have been targeted, killing and wounding thousands.
Official UN figures say that more than 10,000 people have been killed in Yemen since the Saudi-led bombing campaign began in March 2015. But the Armed Conflict Location & Event Data Project (ACLED) believes that at least 56,000 people have lost their lives in the war.
Save the Children, a charity, has reported that more than 84,700 children under the age of five may have starved to death in Yemen since the Saudi regime and a coalition of its allies launched the brutal war on the already-impoverished nation.
Yemen is the world's largest humanitarian crisis with more than 22 million people in need and is seeing a spike in needs, fuelled by ongoing conflict, a collapsing economy and diminished social services and livelihoods. According to the world body, Yemen is suffering from the most severe famine in more than 100 years.
A number of Western countries, the US, the UK, and France in particular, are accused of being complicit in the ongoing aggression as they supply the Riyadh regime with advanced weapons and military equipment as well as logistical and intelligence assistance.
An Oxfam representative stated that the US, UK, and French governments are behind millions of people starving in Yemen because they are "supporting this war".
"We have 14 million people starving," Richard Stanforth, Oxfam UK's regional policy officer for the Middle East, told RT, adding that "British, French, American governments are all behind this, they are all supporting this war".
A UN panel has compiled a detailed report of civilian casualties caused by the Saudi military and its allies during their war against Yemen, saying the Riyadh-led coalition has used precision-guided munitions in its raids on civilian targets.
847/940
Please type in your comments in English.
The comments that contain insults or libel to individuals, ethnicities, or contradictions with the laws of the country and religious teachings will not be disclosed