Service :
23 February 2019 - 13:05
News ID:

443596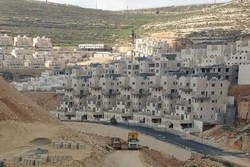 Israeli officials approved plans for the construction of thousands of new housing units in the occupied West Bank irrespective of the international outcry against the Tel Aviv regime's land expropriation and settlement expansion policies in the occupied Palestinian territories.
RNA - The authorities have given the green light for 4,416 units to be built in Jerualem al-Quds, adding that 23,576 square meters of land would be expropriated for business projects and 4,253 for other purposes, according to Hebrew-language daily newspaper Israel Hayom.
The report further noted that 464 settler units will be constructed in Gilo settlement, 180 units in Kiryat HaYovel, and 375 others in Kiryat Menahem settlement.
Earlier this month, Ir Amim, an Israeli NGO opposing Israel's settlement expansion activities, published a new map, describing an "accelerated, intensifying chain of new facts on the ground in the most historically contested and politically sensitive part of Jerusalem [al-Quds]: the Old City and adjacent ring of Palestinian neighborhoods".
The map pointed to a mounting number of Israeli regime-sponsored settlement campaigns inside Palestinian neighborhoods, as well as "settler-initiated evictions of Palestinians, takeovers of their homes, and the expansion of settler compounds", in addition the use of "touristic settlement sites" as "key points along a ring of tightening Israeli control".
Ir Amim announced that tourism and supposed archaeology projects "assume a central role in Israeli settlement policy".
About 600,000 Israelis live in over 230 illegal settlements built since the 1967 Israeli occupation of the Palestinian territories of the West Bank and East Jerusalem al-Quds.
The UN Security Council has condemned Israel's settlement activities in the occupied territories in several resolutions.
Less than a month before US President Donald Trump took office, the United Nations Security Council in December 2016 adopted Resolution 2334, calling on Israel to "immediately and completely cease all settlement activities in the occupied Palestinian territories, including East Jerusalem" al-Quds.
With little resistance from a friendly White House, Israel has launched a new settlement push in the West Bank since Trump took office, laying the groundwork for what could be the largest construction binge in years, according to data obtained by The Associated Press.
The figures, gathered from official government sources by the anti-settlement monitoring group Peace Now, show an increase in building in 2018 and a sharp spike in planning for future construction.
Both supporters and opponents of settlements confirm a change in atmosphere since early 2017 when Trump took over from Barack Obama, whose administration had tried to rein in construction.
"The feeling of the [Israeli] government is everything is allowed, that the time to do things is now because the [US] administration is the most pro-settlement you can ever have," Hagit Ofran of Peace Now's Settlement Watch programme stated.
The data compiled by Peace Now showed a drop in construction starts during Trump's first year in office, to 1,643 units in 2017 from 3,066 units the previous year. This drop appears to reflect the lingering effect of reduced planning during the final two years of the Obama administration.
But the data for the first nine months of 2018 indicates the beginning of a Trump effect, with construction starts 20 percent higher than the same period a year earlier.
These trends are even more evident when looking at the planning process. In 2017, plans were advanced to build 6,712 new settlement homes, roughly 2.5 times the 2016 level.
In 2018, plans for an additional 5,618 units were advanced, nearly half of which were processed last week alone.
Together, these numbers are the highest level of planning seen since 2013. At that time, Israel pushed forward settlement construction to counter criticism of its release of Palestinian prisoners as part of then-Secretary of State John Kerry's peace efforts.
The biggest surge in settlement activity during the Trump era is in tenders - projects that are ready to be launched.
In 2017, 3,154 tenders were issued, up from just 42 during Obama's final year in office. In 2018, that number rose to over 3,800, the highest number by far since Peace Now started compiling the data in 2002.
For decades, a string of US presidents, both Republican and Democrat, condemned settlement construction.
The settlement surge has added to the Palestinians' distrust of the White House. The Palestinians cut off ties with the administration over a year ago after Trump recognised Jerusalem as Israel's capital.
President Mahmoud Abbas has stated that he will reject any peace plan the Trump team presents. His Spokesman, Nabil Abu Rdeneh, stressed that US "silence and lack of condemnation and pressure" have given a "green light" to the Israeli government to step up settlement activity.
847/940
Please type in your comments in English.
The comments that contain insults or libel to individuals, ethnicities, or contradictions with the laws of the country and religious teachings will not be disclosed