Service :
11 February 2019 - 15:02
News ID:

443445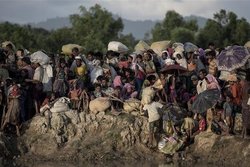 Fear, intimidation, repression and genocide; The words used by members of the Rohingya community to describe what is happening to them at the hands of Myanmar's military forces.
RNA - "Some may think that by leaving a repressive, genocidal regime, Rohingya will be free," Yasmin Ullah, a Rohingya activist, said, Anadolu news agency reported.
"Fear and intimidation are part of everyday life in Arakan, or what is called Rakhine state today. Fear and intimidation follow us everywhere," the activist added.
On Friday, the Free Rohingya Coalition (FRC) brought together scholars and activists for a two-day conference in New York, where they aimed to showcase the plight of the Muslim minority and call on the world to listen and put pressure on Myanmar to stop the attacks against the Rohingya.
Razia Sultana, the FRC's Coordinator for Women and Children's Affairs, said she was "deeply disappointed" that the international community has yet to take any strong or purposeful action against the people responsible for the genocide.
In a fact-finding mission in October, the UN noted that the genocide against the Rohingya is still going on, but Sultana pointed out that there was still no action from the Security Council.
But other Rohingya such as Thun Khin, president of the Burmese Rohingya Organization, saw the UN declaration of genocide as an opportunity to call for international support on behalf of what the UN describes as the world's most persecuted people.
"Finally the world has caught up to what we have been saying for many years. Our community, we've been saying, the only word to describe what is going on is genocide," Khin added.
More than 750,000 Rohingya refugees, mostly women and children, fled Myanmar and crossed into Bangladesh after Myanmar forces launched a crackdown on the minority Muslim community in August 2017, according to Amnesty International.
Since then, nearly 24,000 Rohingya Muslims have been killed by Myanmar's state forces, according to a report by the Ontario International Development Agency (OIDA).
The OIDA also reported that more than 34,000 Rohingya were also thrown into fires, 18,000 Rohingya women and girls were raped by Myanmar's army and police, and over 115,000 Rohingya homes were burned down.
The UN has also documented mass gang rapes, killings – including of infants and young children – brutal beatings and disappearances committed by Myanmar state forces.
Khin, whose grandfather served as a secretary of the Burmese parliament, outlined the history of the Rohingya community in Myanmar.
"We've been living here for many centuries," he stated, noting that the campaign against the Rohingya is not a new issue and has been going on for decades, and the Myanmar government's end goal is genocide.
When the military began operations against the Rohingya, the Rohingya thought they could turn to opposition leader Aung San Suu Kyi, who was then under house arrest, for support. Khin mentioned that he had even campaigned for her release across the Western world.
Suu Kyi had promised the Rohingya their basic rights once democracy was established. But once she came into power, she too became complicit in the state's crimes.
"If she wanted to, she could open up Rahkine state to aid access. Or she could release the writers, journalists who have highlighted military atrocities against the Rohingya. But she has chosen not to do anything," Khin stressed.
Khin's experience with the civilian government left him much more wary of relationships with the Myanmar government and cemented his understanding that it is the Rohingya community that needs to be given the authority to make their own decisions.
"If history has taught us anything, it is that Rohingya cannot be left at the mercy of Myanmar forces. Rohingya must also have a seat at the table to determine our own future," Khin added.
847/940
Please type in your comments in English.
The comments that contain insults or libel to individuals, ethnicities, or contradictions with the laws of the country and religious teachings will not be disclosed