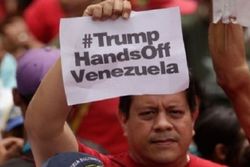 The United States government, like a giant serpent, is at it again, this time in Latin America.
RNA - There the Trump administration wants to wreck Venezuela by building consensus in an anti-government coalition which will prove to be an uphill battle. It wants to fight by regime-change rules; it is going to intensify anti-Maduro push because 'all options are on the table'; it wants to focus on diverting Venezuela's oil money to opposition; and it won't be for democracy.
Secretary of State Mike Pompeo headed to the UN Security Council Saturday with a very clear agenda: trying to sell the 15 members on recognizing Juan Guaido as Venezuela's president, instead of Nicolas Maduro. This didn't happen uniformly, as Russia and China expressed support for President Maduro. This was part of an ever-escalating Trump administration plan to try to sell the world on Venezuela's regime change. Some US allies are also on board, but there are still many countries that are not.
It's to the point where President Trump says "all options are on the table" against Maduro, with the immediate focus being some way to divert Venezuela's money from oil exports to Guaido, instead of the Maduro government. John Bolton, yes John Bolton, is also on board, setting that out as a priority, though he has conceded that officials are not clear yet how that will be accomplished. Citgo, Venezuela's main foreign energy asset, is already gearing up for a fight, envisioning attempts at the company being taken over on behalf of the Guaido government, or otherwise trying to hijack their revenue stream before it gets back to Venezuela.
Into the bargain, Elliott Abrams, a warmongering neoconservative figure has been named as the Trump administration special envoy overseeing regime-change policy toward Venezuela. Abrams, a fiercely pro-Israel figure who supported a military coup attempt in Venezuela in 2002 and the US invasion of Iraq, is one of several special envoys Pompeo has brought on board to impose regime change in Caracas. He takes on his role at an unusually volatile time in US-Venezuelan relations.
All the same, President Trump is not in a position to announce he no longer recognizes the legitimacy of the elected government of Nicolas Maduro, much less consider opposition leader Juan Guaido to be the country's "interim president" - or steal Venezuela's oil money. It is up to the people of Venezuela and they have already done that. They have elected Maduro as their president and he has done the right thing to cut off diplomatic ties with the US.
More so, the people of Venezuela know fully well how covert and overt operations by consecutive US administrations, whether paramilitary or not, have helped to destroy democracy around the world. By means of these operations, the US has replaced popular governments with brutal, murderous, US-controlled military dictatorships that torture and kill their own citizens. Whether they involve paramilitary action, political intervention, propaganda campaign or other kinds of deceptions, the new but not-so covert operations in Venezuela are all designed to benefit US-based multinational corporations by expropriating its national resources as well. These unlawful operations will eventually hurt people because America's foreign policy toward Venezuela is a reflection of its wickedness toward these people.
According to Fars News Agancy, by now it should be clear that the greatest threat to world peace is actually waging a war on Venezuela's independence and democracy. In breach of international law and UN Charter, the US administration seeks to overthrow the democratically elected government of Venezuela to serve its own illicit interests. The US has an appalling record of violence and aggression dating back to its founding, but especially since the illegal invasion of Iraq and Afghanistan, and is not fit to preach the Venezuelans on democracy.
They know and the whole world knows how the US system of global hegemony achieved through military dominance and violence results in horrendous consequences for innocent people worldwide as well as potentially destabilizing the planet in even worse ways. Given the immense problems in Venezuela and the fact that both major political parties on the Capitol Hill are committed to regime change, this is not the moral and wise thing to do.
The conclusion is obvious. The Trump administration's support for Juan Guaido as Venezuela's president will only generate resentment and violence in return, and quite literally increase the risk for destabilizing the country. All decisions and policies in Venezuela are usually on the ballot box. Even the UN Security Council opted to emphasize that during its Saturday session by expressing support for elected President Maduro. Venezuela's domestic issues should always be allowed to be on the ballot box if Americans educate themselves on them.
847/940
Please type in your comments in English.
The comments that contain insults or libel to individuals, ethnicities, or contradictions with the laws of the country and religious teachings will not be disclosed