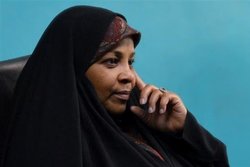 Freedom of the press in the United States is legally protected by the First Amendment to the US Constitution. This amendment is generally understood to prevent the government from interfering with the distribution of information and opinions.
RNA - Tell that to those FBI authorities who detained and imprisoned Marzieh Hashemi earlier this week, a US citizen who works as an anchor and reporter for Iran's state-run Press TV. She was arrested at St. Louis Lambert International Airport trying to board a flight, and is being held without charges, reportedly as a "material witness".
Hashemi lives in Tehran most of the time, but her son says she comes to the US annually to visit family. She was in St. Louis filming a Black Lives Matter documentary, and had also visited her relatives around New Orleans recently. She has reportedly been transferred to Washington D.C. Broadly the reason for her arrest and detention is unclear, and uncommitted on. Iran has issued a statement condemning her illegal arrest. Iranian Foreign Minister Javad Zarif has also called it a "political game".
Sadly, Hashemi's case is a reminder how independent media in the US is facing challenges that threaten the freedom of the press two years after President Donald J. Trump's inauguration. She is still behind bars for unspecified reasons and the US officials have so far refused to provide any reasons for her apprehension either to her or her family.
Hashemi, who has been living in Iran for years and is a Muslim convert, has told her daughter that she was handcuffed and shackled and was being treated like a criminal. The journalist also said that she had her hijab forcibly removed, and was photographed without her headscarf upon arrival at the prison. She has only been allowed to wear a T-shirt, and is currently using another one to cover her head.
Furthermore, she has been offered only pork as meal - which is forbidden under Islamic law - and denied any halal food after refusing to consume the meat. Hashemi told her daughter that the only food she has had over the past two days has been a packet of crackers. Hashemi's family members and media activists have launched a social media campaign with the hashtags #FreeMarziehHashemi and #Pray4MarziehHashemi in support of the detained journalist.
According to Fars News Agancy, threats to independent journalists and media have increased during the Trump administration which has brought a record number of whistle-blower prosecutions. President Trump's verbal attacks on the media have worsened a hostile climate to the press. Journalists' ability to report is being undermined by attacks, arrests, border stops, searches of devices, prosecution of whistle-blowers and restrictions on the release of public information. And last but not the least, Hashemi's arrest comes after US falls two places on the RSF World Press Freedom Index.
According to the new Index, President Trump's attacks on the media, via his Twitter account and in press conferences and arbitrary arrests, are exacerbating an already hostile environment for journalists in the US. By openly and aggressively accusing journalists and media outlets of lying and producing 'fake news', the current US administration is undermining the First Amendment and creating a culture of intimidation and hostility where journalists find themselves less safe, detained and even imprisoned.
Mind you, such threats to the media pre-date Trump. Many were present under the Obama administration, which used the Espionage Act 1917 to bring a record number of whistle-blower prosecutions. The US government is also using the national security act to silence journalists working outside the framework of mainstream media. These threats include a failure by law enforcement officials to recognize the rights of journalists to report freely on events of public interest. Journalists have been arrested and even assaulted by law enforcement officials at a local and state level, while covering protests. Hashemi has gone through same sort of treatment over the past few days.
This should be a wakeup call to everyone - specially the international media community - to the very real threats to freedom of the press in the US. The alarming rise in threats to press freedom in the US over recent years must be challenged. Not only do these threats leave impact on freedom of expression in the US, but they have repercussions around the world. Indeed, a free press is a vital part of democracy. The rights of American and non-American journalists must be protected so that they can continue to report freely on matters of public interest and hold the US government to account.
The pressures that journalist Hashemi is facing in the US prison are reflective of the toxic atmosphere toward journalism being stoked by the US government, which dreads truth-tellers. Trump himself is dangerous for press freedom. So it's not just Hashemi. Many other independent and freelance journalists are also feeling the effects of a relentless attack on the role of the press all across the US.
At any rate, Hashemi's imprisonment is clearly an attempt to discredit and silence the independent media, and to divert attention from the US government's mismanagement at home and wrongdoing across the globe. To that end, it doesn't make any difference if you are an American, European, Arab or Iranian independent, freelance journalist. You – and your kids - are still on Washington's list of the WANTED!
847/940
Please type in your comments in English.
The comments that contain insults or libel to individuals, ethnicities, or contradictions with the laws of the country and religious teachings will not be disclosed