Service :
15 January 2019 - 10:37
News ID:

443019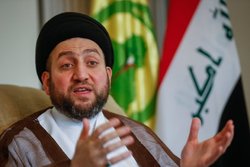 Leader of the National Wisdom Movement of Iraq Ammar al-Hakim, in a meeting with Iranian Foreign Minister Mohammad Javad Zarif, denounced the US' unilateral sanctions against Iran, and said that Washington's pressures make Baghdad more resolute to cement ties with Tehran.
RNA - Ammar al-Hakim said on Sunday that the US unilateral sanctions against Iran make Iraq all the more determined to develop relations with the Islamic Republic.
The Iraqi politician made the remarks in a meeting with visiting Iranian Foreign Minister Zarif and his accompanying delegation in Baghdad.
The imposition of unilateral sanctions by the US is an unprecedented move in international interactions, he said, adding "Iran has always supported Iraq, and as such, we oppose and condemn the sanctions."
Elsewhere, Hakim hailed the "undeniable" role of Iran in fighting ISIL terrorists in Iraq.
He then maintained that the withdrawal of American troops from Syria, although happening very slowly, is still a key factor of change in the region and will have a positive impact on Syria's development.
The Iranian top diplomat, for his part, commended the religious and political authorities of Iraq, including Hakim, for their role in establishing security and stability in Iraq and preserving the country's territorial integrity.
Earlier on Saturday, Iranian Foreign Ministry Spokesman Bahram Qassemi announced that a large economic delegation will accompany the top diplomat in this visit.
Qassemi said that CEOs of dozens of entrepreneur companies will accompany the foreign minister on this visit.
Meeting with high-ranking Iraqi officials, attending joint business conferences in several Iraqi cities, especially Karbala and Sulaymaniyah, are on Zarif's agenda, according to Qassemi.
In a related front, Iraqi Prime Minister Adil Abdul-Mahdi said that his country is enjoying friendly and close ties with Tehran, adding that Baghdad is focused on its commonalities with neighboring countries, including Iran.
Abdul-Mahdi highlighted the close and amicable relations with Iran, saying his government believes in focusing on commonalities in its interactions with neighbors.
He made the remark in response to a question about Iran and Iraq's relations during his term in office in his weekly press conference on last Tuesday.
"In our engagement with neighbors, our emphasis is on working together on commonalities, and through this way, we can gradually resolve disputes with confidence and goodwill," he added.
Elsewhere, he stressed that all developments happening on shared borders with Syria, as well as ISIL activities, are under his government's constant watch, adding that Iraq is in contact with Syria, Turkey and the international coalition in this regard.
Iraqi Foreign Minister Mohamed Ali Al-hakim said on last Wednesday that Zarif would make an official visit to Baghdad in January.
Speaking to a gathering of journalists, Iraq's foreign minister said that his country is "not obliged" to abide by sanctions imposed by the US against Iran and would be pursuing options to continue trade.
He added that the sanctions against Iran were 'unilateral, not international' and could be bypassed
On December 28, Iranian Ambassador to Baghdad Iraj Masjedi, in a meeting with former Iraqi Prime Minister Haider al-Abadi, voiced Tehran's readiness to expand bilateral ties with the Arab neighbor in all areas, asserting that the Islamic Republic will continue helping Iraq's reconstruction.
Bilateral cooperation and the regional development were other topics discussed between al-Abadi and Masjedi.
In the meantime, Masjedi expressed Iran's support for Iraq during the reconstruction era.
"Iran is ready for cooperation with Iraq in all fields," the Iranian diplomat reassured.
On December 26, Iranian Energy Minister Reza Ardakanian announced his country's preparedness to participate in projects to reconstruct Iraq after the devastating war launched by the US and its allies against the country.
The Islamic Republic of Iran is ready to participate in reconstruction of Iraq, in particular, in infrastructural projects, Ardakanian told reporters upon arrival in the Iraqi capital, Baghdad on Wednesday.
Meantime, Iraqi Electricity Minister Luay al-Khateeb called for the development of relations with Iran, saying that Iraq is interested in cooperation with all countries, in particular, Iran.
He referred to the growing population in Iraq, and noted that Baghdad is thirsty for energy as a pre-condition to its development.
In relevant remarks earlier this month, Iraqi Minister of Construction and Housing Bangen Rekani had voiced his country's interest in Iranian firms' partnership in that country's reconstruction and development projects.
"My country welcomes the presence and participation of Iranian companies for reconstruction of different regions in Iraq," Rekani said in a meeting with Hassan Danayeefar, an advisor to Iranian first vice-president for economic relations with Iraq.
During the meeting, the two sides touched on the latest status of bilateral relations and topics of mutual interest, including ways to arrange for the payments of Iranian companies.
Danayeefar, for his part, said that the Iranian firms are ready to cooperate in the reconstruction process of Iraq which is damaged by the war on ISIL terrorists.
847/940
Please type in your comments in English.
The comments that contain insults or libel to individuals, ethnicities, or contradictions with the laws of the country and religious teachings will not be disclosed