Service :
04 January 2019 - 18:25
News ID:

442819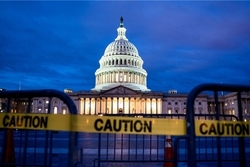 Senate Majority Leader Mitch McConnell (R-Ky.) after a White House meeting with President Donald Trump and other congressional leaders said Wednesday that the partial government shutdown could continue for days or even weeks.
RNA - "It was a civil discussion. We're hopeful that somehow in the coming days and weeks we'll be able to reach an agreement," McConnell told reporters, opening the door to a lengthy shutdown that is already in its 13th day, The Hill reported.
A partial government shutdown showed no signs of ending Wednesday as congressional leaders left what appeared to be an unproductive meeting with Trump. House Democratic Leader Nancy Pelosi (Calif.) and Senate Minority Leader Charles Schumer (D-N.Y.) met Wednesday with Trump and Republican leaders at the White House, but there were no indications that the shutdown was nearing an end.
Before and after the meeting, there was little talk of compromise as Trump and Democrats battled over his demand for border-wall funding, all but assuring the shutdown will barrel into a third week.
McConnell and other members of congressional leadership of both parties met with Trump and members of the Department of Homeland Security (DHS) for what was billed as a "briefing" on the border. But lawmakers say that was quickly derailed with Republicans accusing Democrats of interrupting and Democrats stressed their time would be better spent talking about the partial shutdown.
McConnell added that they had a "good discussion" on border security but acknowledged they had not yet found a way to break the stalemate over Trump's US-Mexico border wall.

"I don't think any particular progress was made today, but we talked about all aspects of it. It was a civil discussion," he stated.
The shutdown began December 22 after Democrats refused to agree to Trump's demand for $5 billion in funding for a wall on the Mexican border.
House Democrats are expected to vote on Thursday on a package to reopen the government. One bill would fund DHS through February 8. The second would fund the remaining six bills through September 30, the end of the 2019 fiscal year.

But the White House and Senate Republicans have vowed not to move the bill once it reaches the Senate.

"As I've said for the last two weeks, the Senate will be glad to vote on a measure that the House passes that the president will sign. But we're not going to vote on anything else," McConnell said. Asked if that meant he won't take up the House bill, he added: "That's right."
Also, likely next House Speaker Nancy Pelosi reaffirmed that Democrats will not give in to Trump's demand for $5 billion for a border wall as part of any legislation to end a partial government shutdown.
"Nothing for the wall," she said in an interview for NBC's "Today" show set to air Thursday morning.
Democrats, who will officially take the House majority on Thursday, have repeatedly said they will not include any funding for a border wall as part of a spending bill to end the shutdown.
Pelosi and other congressional leaders huddled with Trump at the White House Wednesday for an ultimately fruitless negotiation to try to bridge the differences between the two ends of Pennsylvania Avenue.
However, Trump has shown no signs of letting up on his desire to attain funding for his signature campaign promise, saying at a Cabinet meeting Wednesday, "The United States needs a physical barrier. It needs a wall," adding that parts of the government will remain closed for "as long as it takes."
Democrats plan to vote on legislation Thursday that would end the shutdown, but without border wall money.
"We are asking the president to open up the government," Pelosi said outside the White House following Wednesday's meeting, adding that "we are giving him a Republican path to do that. Why would he not do it?"
White House Press Secretary Sarah Huckabee Sanders has already said the bill is a "non-starter", and Trump invited congressional leaders to return to the White House on Friday to continue negotiations.
The White House last week proposed roughly $2.1 billion in wall funding plus hundreds of millions more for general border security, but Democratic leaders did not respond to the proposal. However, Trump stated on Wednesday he would reject that amount regardless of what Democrats decide, sticking to his demand for $5 billion.
White House Deputy Press Secretary Hogan Gidley claimed Wednesday that Democrats in Congress are "not serious" about funding the government and ending the current shutdown, accusing them of negotiating "in the press".
"What [President Trump] wants on his desk is a bill that opens the government, that funds the government and protects the American people. And right now, the Democrats are not serious about that," Gidley said during an interview on Fox News.
"And you know they're not serious because serious people with serious plans and serious proposals don't negotiate in the press," he added, noting, "And that's all that Democrats have done to this point."
847/940
Please type in your comments in English.
The comments that contain insults or libel to individuals, ethnicities, or contradictions with the laws of the country and religious teachings will not be disclosed