Service :
03 January 2019 - 14:54
News ID:

442782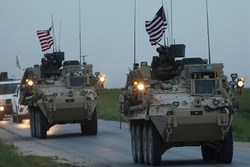 The US Army forwarded a new convoy of military equipment to regions that are under the control of the Washington-backed forces in Hasaka province on Tuesday after controversial statements by the White House about a pullout from Syria.
RNA - The US army dispatched a new convoy, including several trucks loaded with military and logistic equipment, to al-Shadadi base in Southern Hasaka via Simalka border-crossing at Iraq-Syria border.
In the meantime, a field source disclosed that a sum of 20 US military trucks entered Ein Issa base in Northern Raqqa on Sunday, adding that the trucks were handed over to the US-backed Syrian Democratic Forces (SDF).
The US is trying to continue providing the SDF with arms and ammunition after the country's decision to pull forces out of the war-hit country.
Meanwhile, US Senator Lindsey Graham has called on Trump to devaluate his decision over withdrawal from Syria.
The militant-affiliated Syrian Observatory for Human Rights (SOHR) reported on Sunday that a long convoy of almost 200 US army trucks, carrying weapons, munitions and logistical equipment, left the US bases in Iraq on Saturday and arrived in coalition bases in Raqqa, Manbij and Ein Issa in Northeastern Syria.
In the meantime, the Kurdish militia reported that the trucks arrived in the town of Amouda and left then for the US-run bases in Northeastern Syria, adding that the arms and ammunition cargo is to be delivered to the SDF.
The convoy arrived after the US military decided to withdraw from Syria but leave the SDF armed in the region.
The White House plan to withdraw 2,000 American troops from Syria has been put on hold, Republican Sen. Lindsey Graham, a critic of President Donald Trump's recent Syria policy, said, adding that the president has agreed to reevaluate his policy.
Graham suggested Sunday Trump now better understands the stakes in Syria and has agreed to reevaluate, for now, his plans to immediately withdraw all US troops from the war-torn country.
After a lunch with Trump, Graham said outside the White House that talks about removing military personnel from the country are in a "pause situation", adding that, still, Trump remains committed to bringing American soldiers and women home, even as he continues to weigh the greater regional dynamics.
"We talked about Syria and he told me some things I didn't know that made me feel a lot better about where we're headed in Syria," Graham told reporters.
"I think we're slowing things down in a smart way," the Republican senator told reporters, stating that "but the goal has always been the same. To be able to leave Syria and make sure ISIS (ISIL or Daesh) never comes back".
Graham announced that Trump was "thinking long and hard about Syria and how to withdraw the forces" after ensuring that Daesh is destroyed, that Washington-allied Kurdish fighers are protected and that "Iran doesn't become the big winner of our leaving".
When Trump tweeted that "we have defeated" Daesh in Syria, several military and security experts stressed that he was overstating the case, and warned against a hasty withdrawal.
Speaking to CNN after his appearance in the White House driveway, Graham said he didn't mean to suggest that Trump is pausing troop withdrawal altogether.
"He has not reversed his decision" to withdraw troops from the Middle Eastern country, Graham stated, adding that "the pause is to assess the effects of the conditions on the ground".
The White House did not clarify whether Trump had come to a new determination about the Syria withdrawal plans, which drew widespread criticism when they were first announced earlier this month.
Graham, who has emerged as one of Trump's closest allies on Capitol Hill, had criticized him on the decision to withdraw troops, warning that Daesh is not fully defeated and that US adversaries like Russia would benefit from the choice. In the wake of the announcement, Graham issued a scathing statement in which he denounced the decision as "a Barack Obama-like mistake made by the Trump Administration".
Trump's decision to pull the troops out of Syria has been appalling not just to the US allies, including in the Middle East, but also to the members of the US Congress. Some influential senators of both parties have opposed Trump's policy. Graham and many other Republican and Democratic lawmakers have warned that pulling out of Syria would pose jeopardize the region with instability.
But, Trump defended his decision to withdraw all American military forces from Syria amid a widespread backlash from lawmakers across the isle.
Trump has claimed that US' mission in Syria – the defeat of Daesh – was complete, and that the American military would begin an immediate withdrawal from the country, criticizing personnel from his national security team that resigned.
The US leader stated that his decision was "no surprise" and that it was time for American troops to "come home and rebuild", claiming that the United States had initially planned to deploy their force to Syria for three months, but eventually the American troops stayed there several years.
Brett McGurk announced his resignation last Saturday, following in the footsteps of Defense Secretary James Mattis who announced his own resignation on Thursday. Both men are said to have had differences with Trump over his plan to withdraw US forces stationed in Syria.
According to Fars News Agancy, American officials have been sending mixed signals over Washington's Syria policy since Trump took office in 2017.
In late March, Trump stated that the US would be "coming out of Syria very soon" and letting "other people take care of it now", which went against previously-outlined plans by the Pentagon and the State Department to keep troops in Syria to "support our partners", "prevent the return of terrorist groups" and transition to a "post-(Bashar) Assad leadership".
But days later, Ambassador to the UN Nikki Haley announced that the US would not pull its troops out of Syria until its goals were accomplished there.
Also in mid-April, the White House said Trump wanted to bring troops back from Syria as soon as possible, but not before their goals were fulfilled, as Washington had some 2,000 troops and a number of military contractors acting in the war-torn country.
In early May, in one of the strongest signs a full US withdrawal was unlikely anytime soon, Mattis said Washington and its allies would not want to pull troops out of Syria before diplomats won peace.
White House National Security Adviser John Bolton said in late September that the US would keep a military presence in Syria until Iran withdrew its forces.
Syria has been gripped by foreign-backed militancy since March 2011. The US-led coalition has been conducting airstrikes against what are claimed to be Daesh targets inside Syria since September 2014 without any authorization from the Damascus government or a UN mandate.
847/940
Please type in your comments in English.
The comments that contain insults or libel to individuals, ethnicities, or contradictions with the laws of the country and religious teachings will not be disclosed