Rasa - Despite international condemnations and outcry, it seems strategic alliance and lucrative arms sales are still far more important for Washington's power interests than human rights.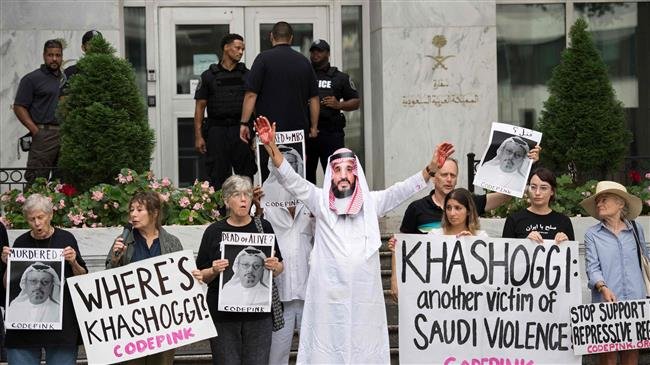 RNA - As is often the case, the Trump White House plans to let the Saudi regime off the hook over the torture-killing of journalist Jamal Khashoggi in Istanbul, Turkey. This clearly means no "turning point" for Washington's decades-old alliance with Riyadh, and certainly no punishment despite the fact that some 22 US senators have invoked the Global Magnitsky Act to trigger economic sanctions against Saudi Arabia.
This is not how the Magnitsky Act works when other countries are involved. For instance, if this was Russia, then surely the Russians could be in the firing line for official US censure over such a shocking crime. But this is the Saudi rulers and Washington's stonewalling tactics – with no consequences at all. Shamefully, such a preposterous switch and cover-up in the US narrative is not surprising – despite the graphic evidence:
A- Saudi media say the 15-man team that flew from Riyadh to Istanbul will be questioned over the death. What this means is that the hit squad are being made scapegoats and the mobster regime will be whitewashed of culpability. This is while there is a lot more evidence to come out from Turkish and American intelligence on official Saudi communications leading up to the abduction and torture-murder of Khashoggi.
B- The Washington Post columnist, who vanished after entering the Saudi consulate on October 2, was murdered in extremely horrifying fashion. According to an audio recording of murder, the Saudi agents never planned to "interrogate" Khashoggi but instead were under orders specifically to kill the journalist - an assignment they carried out in grisly and sadistic fashion, in a torture-murder that took a full seven minutes to complete. The grotesque mutilation of Khashoggi began while he was still alive, and his screams were heard by a witness downstairs in the consulate, ending only when the Saudi killers injected Khashoggi "with an as yet unknown substance." The torturing hordes even put on earphones and listened to music!
C- Even US officials are now concerned. Attorney General Jeff Sessions has called Khashoggi's murder "a big deal," adding that the Justice Department is "seriously evaluating" a possible role in the investigation. He says Khashoggi's uncertain fate is part of an "unacceptable trend" in which journalists are being targeted across the globe, and that "the world has not acted sufficiently to it."
D- Instead of seeking answers from Saudis, the Trump administration is leveling sanctions against 22 Iranian companies and financial institutions at this critical point in time. The sanctions are just the latest component of US efforts to sweep under the rug the ongoing controversy over this particular murder case.
E- President Trump is downplaying the issue despite the growing international scandal. Never mind that the Turks say they have given US officials tapes of the grisly torture and slaughter. Trump continues to minimize the affair with blind support, saying Khashoggi was "not a US citizen." The affair is far larger than a gross violation of human rights and bedrock legal norms. It has become a test of whether an American president is prepared to tolerate overseas assassinations of political opponents by dictators whom Trump openly admires.
F- There is a perfect reason why Trump refuses to criticize Crown Prince Mohammed bin Salman. The royal gave the order for Khashoggi's murder. MBS is a buddy of first Son-in-law Jared Kushner and is the loose cannon upon which Trump has based his entire Mideast policy along with his bragging about $110 billion worth of arms sales.
As is often the case, there is a double standard here. The Trump administration is going easy on Saudi Arabia because it is an ally and because it has bought American weapons. This mostly low-key reaction is not how the US and its European allies have reacted to Russia in recent years. For instance, retaliation against Russia for things such as the alleged poisoning of a former Russian spy earlier this year came too quick. They didn't even wait for Kremlin to explain anything before imposing sanctions.
When ex-Russian spy Sergei Skripal and his daughter were poisoned in Salisbury in March, it took nothing more than a swift declaration (sans evidence) from British intelligence agencies before sanctions had been slapped on Moscow. Within days of the poisoning, Prime Minister Theresa May had expelled 23 Russian diplomats from the country and requested that Britain's allies do the same. The US and NATO countries were happy to oblige, all announcing they too would kick Russian diplomats out of the country as punishment for the poisoning of the Skripals - for which they presented no solid evidence.
Weeks have passed since Khashoggi was murdered and chopped up inside the Saudi consulate. Still, the US and NATO countries are not serious about seeking justice, much less care about standing up for human rights. What a shame.
847/940
Please type in your comments in English.
The comments that contain insults or libel to individuals, ethnicities, or contradictions with the laws of the country and religious teachings will not be disclosed