Service :
13 October 2018 - 13:43
News ID:

441014
Rasa - US Senators have warned President Donald Trump that ramping up pressure on the Saudi royal family over the disappearance of US-based journalist Jamal Khashoggi could endanger relations between Washington and Riyadh.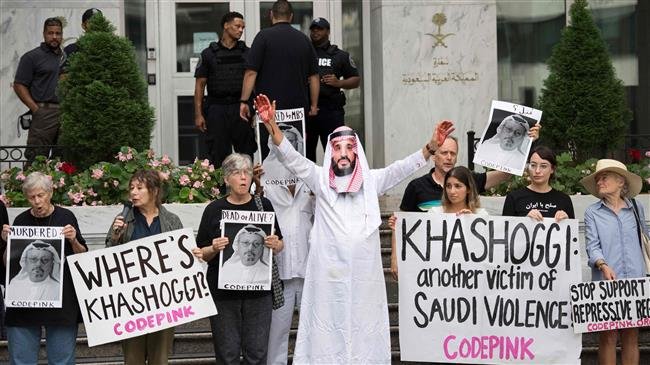 RNA - Khashoggi, a Virginia-based critic of Saudi Crown Prince Mohammed bin Salman's policies, has been unaccounted for since October 2 when he visited the Saudi diplomatic mission in Istanbul to get paperwork for his marriage to his Turkish fiancée.
Authorities in Turkey believe he died there at the hands of a "murder squad" flown from Riyadh to kill him and dispose of his body. His body was smuggled out, they say, perhaps in a diplomatic car.
Top Republican senators expressed hope on Thursday that the Trump administration would heed their warning and act on the Senate's request for the White House to conduct a statutorily required investigation into Khashoggi's case or whether punitive measures, including sanctions, against the Saudi regime were needed.
"I think the burden of proof is now on the Saudis to demonstrate that they were not participants in any way in harming, killing or kidnapping Mr. Khashoggi," said Senator Tim Kaine (D-Va.), a member of the Senate Foreign Relations Committee.
"The burden of proof is on them. They got to show it, and if they don't show it, I think it will fundamentally change the nature of the relationship," he added.
Trump – who favors a particularly close relationship with Saudi Arabia – expressed concern earlier in the day about Khashoggi's fate and pledged to find out what had happened.
"We have investigators over there and we're working with Turkey, and, frankly, we're working with Saudi Arabia," Trump said on Fox News. "We want to find out what happened. He went in, and it doesn't look like he came out. It certainly doesn't look like he's around."
Trump, who visited Riyadh in his first trip abroad as president and announced plans to sell the $110 billion in weapons to the Saudis, also dismissed in his Thursday's remarks the idea of abandoning the arms deal over the suspected murder of the prominent Saudi journalist at the hands of the Riyadh regime's death squads in Turkey.
"We don't like it, and we don't like it even a little bit," Trump told reporters in the Oval Office about Khashoggi's disappearance. "But as to whether or not we should stop $110 billion from being spent in this country … that would not be acceptable to me."
"What good does that do us?" Trump asked, speaking to reporters. "This took place in Turkey and to the best of our knowledge, Khashoggi is not a United States citizen," Trump added, brushing aside the fact that the journalist lived in the US.
Most members of the Senate Foreign Relations Committee sent Trump a letter on Wednesday night, calling on him to conduct an investigation under the Global Magnitsky Human Rights Accountability Act.
That law stipulates that the president must conduct an investigation if requested by the leaders of the Foreign Relations Committee, and then report back to the panel on whether the US will levy sanctions.
According to Press TV, foreign Relations Committee Chairman Bob Corker, who signed the letter, described the request for a Magnitsky investigation as a "pretty strong step" that would force Trump to take action.
"They will be under immense pressure, immense pressure if it's determined that Saudi Arabia was involved to sanction pretty severely the people who have been involved in this," Corker said of the US administration in Washington.
In an interview on Thursday, Corker told reporters that "everything indicates" the Saudis murdered Khashoggi.
The Saudi dissident's fate remains shrouded in mystery, with several reports indicating that he has been either killed or kidnapped at the consulate by 15 Saudi operatives – among them bin Salman's elite close protection unit – who had arrived in Istanbul on the same day only to leave Turkish soil hours later.
The Washington Post cited several of Khashoggi's friends as saying that the prominent journalist had over the past months had been asked by senior Saudi officials close to return back home from the US, offering him "protection" and "even a high-level job."
Khashoggi had, however, voiced distrust of the Saudi officials, and said they were unlikely to keep their words.
Khashoggi's disappearance has evolved into a full-fledged international diplomatic crisis for the Saudi government. Bin Salman casts himself as a progressive reformer, but the disappearance and possible murder of a critical voice against his government has thrown Salman's relationship with foreign leaders and organizations into question.
847/940
Please type in your comments in English.
The comments that contain insults or libel to individuals, ethnicities, or contradictions with the laws of the country and religious teachings will not be disclosed