Service :
27 August 2018 - 22:18
News ID:

439261
Syria in Last 24 Hours:
Rasa - The Syrian Army dispatched a large number of equipped forces to Southeastern Deir Ezzur on Sunday, preparing for purging the border region with Iraq of ISIL terrorists.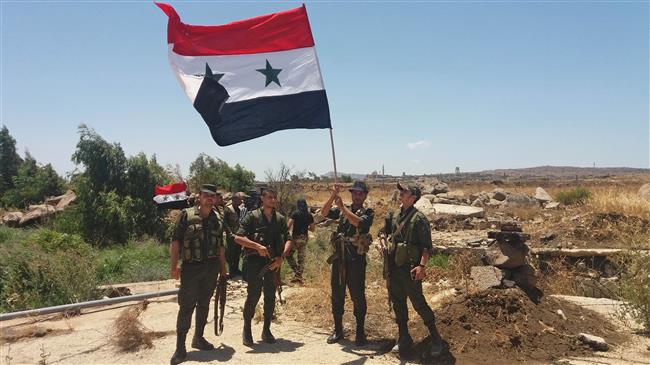 RNA - The army's convoy, including hundreds of fresh forces along with heavy military equipment, was sent to Albu Kamal Desert in Southeastern Deir Ezzur near the border with Iraq.
Local sources said that the army intends to kick off a major operation near the border with Iraq to end ISIL's presence in the region.
Deir Ezzur
The US-led coalition and the Syrian Democratic Forces (SDF) launched extraction operation in the second largest oilfield of Syria in Eastern Deir Ezzur.
Moraseloun news reported that according to satellite images released on August 6, the US forces and the SDF have started extracting crude oil from al-Tanak oilfield that is Syria's second largest energy field in Eastern Deir Ezzur.
It further said that flames of burning gas and oil that can not be refined have been seen in the images, adding that the images also show simultaneous extraction operation in al-Tanak.
Moraseloun went on to say that several oil tankers were in al-Tanak oilfield.
In May, SDF-affiliated sources reported on reconstruction operation and preparation for producing almost 5,000 barrels each day in al-Tanak.
Aleppo
The Ankara-backed militants continue to fuel tensions in Northwestern Aleppo after they seized people's farms and gardens in Jandaris on Sunday.
The Ankara forces captured a large farmland with thousands of olive trees in Jandaris in occupied Afrin.
In the meantime, the Turkish troops and their allied militants destroyed and set fire at residential units in the village of Qarkouleh in Bolboleh region after looting the units.
Also, terrorists set fire at residential units in the village of Sarya in Mobata region.
Meantime, local sources reported that the Ankara forces continued arresting civilians in Afrin, adding that the terrorists received 50 mln Turkish lira as ransom for releasing a civilian in al-Mahmoudiyeh al-Zeidiyeh neighborhood in Afrin.
Idlib
A number of terrorists, including a security commander of Tahrir al-Sham Hay'at (the Levant Liberation Board or the Al-Nusra Front), were killed or wounded in assassination operation and blasts in Idlib on Sunday.
Two groups of terrorists exchanged heavy fire in the village of Baballah North of the small town of Basnaqoul.
Both warring sides suffered heavy casualties and civilians' properties sustained major damage in the infighting.
In the meantime, a number of gunmen of Tahrir al-Sham and National Liberation Front were killed or wounded in two blasts in the town of Sarmin in Eastern Idlib.
Also, Abu Bakr al-Rawi, a security commander of Tahrir al-Sham, was killed in a bomb explosion in Idlib city.
Meantime, the army sends a convoy, including thirty military vehicles, tanks and other equipment to Northern Hama.
The newly-arrived army forces have deployed to Jabal al-Turkmen and Salman regions in Northern Lattakia, Abu Dali and Abu Omar regions in Hama and Abu al-Dhohour base in Eastern Idlib.
A military convoy has also been forwarded to Jourin in al-Ghaab Plain in Western Idlib.
The army has also opened several humanitarian safe corridors to evacuate civilians as the zero hour is arriving for the government forces' operation.
In the meantime, the army's artillery and missile units pounded terrorists' positions and movements in the villages and towns of al-Zakat, Hasraya, Latmin, al-Masasana and Ma'arkabah, inflicting major losses on the militants.
On Sunday, the Russian Defense Ministry stated that "foreign specialists" arrived in Syria to stage a chemical attack using chlorine, warning that the staging of the incident may happen in two days.
Defense Ministry Spokesman Major General Igor Konashenkov said the operation is planned to unfold in Kafr Zita village in Syria's Northwestern Hama Province, RT reported.
The foreign "English-speaking specialists" are planning to stage an attack using "poisonous agents" in the "next two days", Konashenkov told reporters on Sunday.
Konashenkov stressed that a group of residents from the North has been transported to Kafr Zita and is currently being prepared "to take part in the staging of the attack" and be seen suffering from "'supposedly chemical munitions' and 'barrel bombs' launched by the Syrian government forces".
The same groups of residents will be used for assisting "fake rescuers from the White Helmets and for filming reports which will later be disseminated among the Middle Eastern and English-language media".
In the meantime, terrorist groups in Northwestern Syria put increasing efforts on forced recruitment of young men to send them to battlefields in Idlib, Hama, Lattakia and Aleppo provinces to counter the Syria Army's imminent operation.
The Arabic-language website of Sputnik reported on Sunday that commanders of the terrorist groups, including Tahrir al-Sham Hay'at, the National Liberation Front, al-Turkistani Islamic party and two more al-Qaeda-affiliated Ajnad al-Qafqaz and Horas al-Deen held a meeting in Idlib city on Friday to reinvigorate their defense capacities to counter the army's upcoming operation.
It further said that the terrorist groups have increased forced recruitment of young men to send them to the battlefields in Idlib, Hama, Lattakia and Aleppo provinces.
The report added that ISIL terrorists have in the last few day deployed to Northern and Western Idlib, specially in regions held by Tahrir al-Sham and al-Turkistani and also to the towns of al-Dana, Sarmada, Darkoush and Jisr al-Shughour at Idlib's borders with Turkey and Lattakia province.
Emir of Tahrir al-Sham Abu Mohammad al-Joulani, in a meeting with ISIL commanders on Saturday, insisted on boosting unity among the two terrorist groups to face the army's advances.
Hasaka
A Kurdish news website reported that the US military deployed several advanced radar systems at their bases in Hasaka province in a move that is eventually aimed at starting a no-fly zone in Northern Syria.
According to Fars News Agancy, Baas News quoted Kurdish sources as claiming that the US-led coalition installed modern radars in its military airport South of Kobani and Romeilan in Hasaka province.
It further said that the move is aimed at creating a no-flying zone in Northern and Southern Syria from Manbij to Deir Ezzur.
The website went on to say that several trucks, carrying arms and ammunition, arrived in regions that are under the control of the Syrian Democratic Forces in Northern and Eastern Syria.
Bass news added that deployment of radars came after James Jefri, the US President Donald Trump's special envoy for Syrian affairs, pointed to creation of no-flying zone in Eastern Syria.
Sweida
The army soldiers, backed up by artillery units and Air Force, engaged in heavy fighting with ISIL in Toloul al-Safa in Eastern Deserts of Sweida and seized control over Qabr Sheikh Hossein and Torbet al-Hawi.
The army men further advanced 2km towards Hawa Hossein West of Toloul al-Safa from their positions in newly-captured Qabr Sheikh Hossein.
A Syrian military commander, meantime, said that ISIL is now trapped in a small region covering a 600-800 sq/km area following the army's recent advances in Toloul al-Safa.
847/940
Please type in your comments in English.
The comments that contain insults or libel to individuals, ethnicities, or contradictions with the laws of the country and religious teachings will not be disclosed