Rasa - In yet another disregard to the United Nations Charter and International Humanitarian Law, Saudi warplanes carried out an airstrike against the Yemeni port city of Hodeidah on Thursday, August 23, hitting a camp for internally displaced people, and killed at least 31 civilians. The slain included 22 children. At least 79 civilians were wounded, again overwhelmingly children.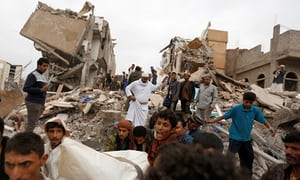 RNA - According to reporters, multiple attacks took place against the camp. The initial strike sent children scrambling for an evacuation bus, then a subsequent strike hit the bus itself. Saudi coalition officials claimed Ansarullah fighters, who are in control of the city, attacked the camp themselves. This is not possible, of course, because Ansarullah and its allies don't have any warplanes in the first place.
This marks the second major incident of the Saudi-led coalition killing large numbers of children in Yemen in recent weeks, both of the attacks involving attacking a bus. The previous attack, in Sa'ada, killed 51 civilians, 42 of them children. In the Sa'ada attack, the Saudis insisted attacking a school bus full of children was a "legitimate military action." It is clear, however, that they don't want to admit to this current attack, as they are trying to pin it, unconvincingly, on Ansarullah.
It is also clear yet again that by arming the Saudis and protecting them diplomatically at the United Nations, the United States is directly responsible for the latest massacre in Hodeidah. As a major arms seller to Saudi Arabia, the US is yet again complicit in Saudi war crimes.
According to Fars News Agancy, the Saudis could not do it without the United States and Amnesty International agrees. The organisation says the US government should stop selling guided and general-purpose aerial bombs and combat aircraft to Saudi Arabia, because "the regime has used them to hit schools, markets and other civilian objects, even a Doctors Without Borders-supported hospital, killing thousands of civilians and medical staff in serious violations of international humanitarian law."
All this and more highlights, yet again, the urgent need for a comprehensive embargo on all weapons that could be used by Saudi Arabia and its cronies in Yemen, and for an international investigation to bring those responsible for these war crimes to justice.
And the US complicity in all this hasn't been lost on the world state either. Since the dirty war began, the United States has sold over $115 billion worth of weapons to Saudi Arabia. That's why the world community has on several occasions called for a stop to the US arms and military equipment sales, even a resolution at the United Nations to block such sales. They have also urged the US government to stop re-supplying planes engaged in the reprehensible and illegal bombing runs or providing "intelligence" for the civilian targets that Saudi Arabia is hitting.
Tragic enough, the international community is apt to be disappointed as it does not appear Washington or Riyadh put much stock in human rights. Instead, all we hear is joint bombing runs against civilian objects by these foreign actors, even though it flies in the face of long-standing international standards of conduct. After all, Oxfam says: "Due to US support of the Saudis, this is a Saudi-American military campaign, not just a Saudi campaign."
Here, the hypocrites are deliberately promoting yet another humanitarian catastrophe, just like the disaster that is Syria. The Saudi warplanes would never be grounded because Washington has no intention to withhold its support for their atrocities, much less reverse its insidious policy, which has only encouraged further attacks against civilians.
The truth is, these reckless arms sales are the main driving force behind massive humanitarian and refugee crises, not just in Yemen, but also in Afghanistan, Iraq, Syria and Libya. Documented instances by various international rights groups and aid organisations, including the UN Human Rights Council, Amnesty International, Doctors Without Borders, and Human Rights Watch confirm all this and more. They say where the Saudi-led coalition has targeted civilians, munitions have continued to flow from the United States.
At a time when even American diplomats are working round the clock to sell American weapons to Saudis and their cronies, don't expect emotive calls for an arms embargo against Saudi Arabia any time soon, much less international scrutiny for the latest atrocities in Hodeidah or the US government being held to account to what it is doing in the name of War on Terror and "humanitarian" intervention in Yemen.
That will never happen. You will never see a humanitarian policy and strategy of ending the dirty war in Washington. But you will still continue to see one thing: The US government still arming and aiding the repugnant regime of Saudi Arabia, and the Saudis and their cronies still bombing and murdering displaced Yemeni children in broad daylight and in serious violation of the United Nations Charter.
847/940
Please type in your comments in English.
The comments that contain insults or libel to individuals, ethnicities, or contradictions with the laws of the country and religious teachings will not be disclosed