Rasa - Iran's Judiciary Chief Sadeq Amoli Larijani blasted the West, specially the US, for undermining human rights across the world and supporting terrorist groups.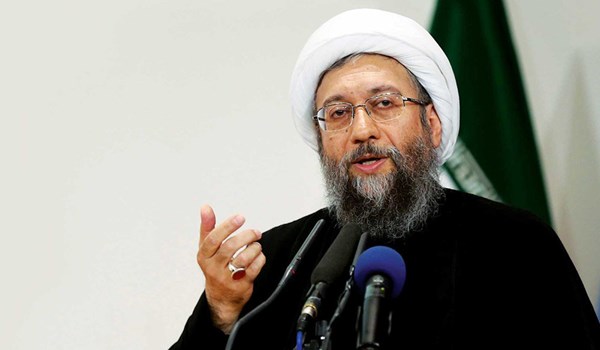 RNA - "We condemn the Western states for pretending to be supporters of human rights, but they really back terrorist groups," Amoli Larijani said on Monday.
Iranian judiciary chief, meantime, pointed to the pressures and sanctions imposed on Iran, and said, "The claims against Iran are their lame excuse to impose sanctions."
Amoli Larijani said that the country is united against the enemy's sanctions and threats, adding, "The US and its allies should know that Iran will not surrender to bullying."
In relevant remarks earlier this year, Iran's Supreme Leader Ayatollah Seyed Ali Khamenei lashed out at Washington for separating migrant children from their families at borders.
"Look at who your enemies are and the voracity they are displaying, not only against the Iranian nation but also against humanity. The issue of separating thousands of children from their mothers (at the US border) is a major problem: it shows who they are. They do not hesitate on committing horrific crimes anywhere," Ayatollah Khamenei said, addressing the Iranian parliamentarians in Tehran.
Nearly 2,000 children have been separated from their families at the US border since the start of the Trump administration's new "zero tolerance" policy on illegal immigration, according to new figures from the Department of Homeland Security.
Elsewhere in his remarks, Ayatollah Khamenei urged the parliament to promote hopefulness and confidence in national potentials, stating that "the Islamic Consultative Assembly must not have a pessimistic view toward the national capabilities and capacities. This nation has been a symbol of belief, knowledge, confidence, pride in its possessions and resistance, throughout history".
Touching on the youth of Iran and their negligence of Iranian history, the Leader of the Islamic Revolution said, "Unfortunately, our youth do not give enough attention to the study of history. When Seljuqs attacked Iran, not only did they join the Iranian civilization, but also, they became missionaries for promoting the Iranian culture. The Mongols could not impose their culture, civilization, and requirements on us. The same is true of our era; during the past forty years, the Iranian nation has been the target of the harshest animosities, including wars, sanctions, security conspiracies. Now you compare this nation's present situation to its situation before the revolution and see its sovereignty, importance, progress and knowledge, as well as its presence in international arenas. You are the essence of the virtues of this nation: know what you need to do."
"The proposals to be enacted as laws, must not be contrary to the interests of the country. Of course, this never happens deliberately in the Islamic Consultative Assembly. The conventions, or international agreements between states, are indeed created in one place," he added.
According to Fars News Agancy, Ayatollah Khamenei slammed global powers for making conventions that would only serve their own interests, and said, "The state members of these conventions have no role in creating them. The global powers prepare these conventions based on their own interests and benefits. Then, allied, submissive, compliance countries enact these conventions in their, countries."
The Leader of the Islamic Revolution stressed that Iran has no problem accepting conventions that bring about laws of stability and fighting corruptions while preserving its own independence, adding, "When an independent state, like the Islamic Republic of Iran, rejects them, it is reproached by saying, '150 other countries have accepted the agreement, why wouldn't you accept it?' Some of these conventions have useful articles; no problem. The solution is that the Islamic Consultative Assembly (parliament) itself enacts these articles as laws. For instance, a law for combating money laundering or a law for combating terrorism can be enacted. We should not accept things when we don't know their eventual consequences, while we know the potential problems, for the sake of some positive aspects."
Numbers obtained by the Associated Press show 1,995 US minors were separated from their families between 19 April and 31 May, while trying to enter the country in between official crossings. Senior White House officials confirmed these numbers in a background briefing with members of the press.
Approximately 700 children were separated from their families between October and April, before the zero tolerance policy was implemented, according to the New York Times.
The new policy, which Attorney General Jeff Sessions announced on 6 April, requires US officials to refer all adults who enter the country illegally for prosecution. Under existing law, migrant children must be housed separately while their parents face trial.
The new policy has sparked outcry from immigrants rights activists, who shared stories of children being torn from their parents' arms at the border. The backlash escalated following an NBC report that detailed the conditions inside a Texas immigrant detention center where children were allowed outside for only two hours per day.
847/940
Please type in your comments in English.
The comments that contain insults or libel to individuals, ethnicities, or contradictions with the laws of the country and religious teachings will not be disclosed