Service :
12 August 2018 - 22:26
News ID:

439055
Rasa - Head of the National Wisdom Movement of Iraq Ammar al-Hakim deplored the US unilateral sanctions against Iran.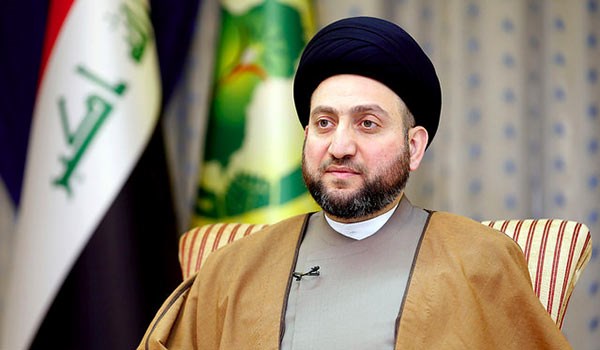 RNA - "We believe that weakening Iran will neither benefit Iraq nor any of the regional states which intend to impose economic siege on the country, as the aftershocks of this measure will not be limited to Iran and will affect the entire region," Hakim said on Saturday.
He had also on Wednesday condemned the US sanctions against Iran, and said, "We have several times said that increased tensions between the US and the Islamic Republic of Iran is never in line with security and stability in the Middle-East and will prevent the nations' progress and blossoming."
US President Donald Trump announced on May 8 that Washington would no longer remain part of the Joint Comprehensive Plan of Action (JCPOA) and promised to re-impose the highest level of economic sanctions against Iran.
The sanctions reinstated on Iran on May 8 included boycott of Iran's crude supplies and bans on transfer of its crude revenues. There is a 180 days interval before these sanctions come into effect. Other US secondary sanctions are reinstated this month.
After Trump's declaration, the Iranian government issued a statement, calling the US withdrawal as "unlawful". The statement underlined Iran's prerequisites for continuing the deal with the five world powers. These conditions that were reiterated later by Iran's Supreme Leader Ayatollah Seyed Ali Khamenei later mainly included Iran's guaranteed crude sales and transfer of its revenues back home.
Two months later, the other five powers party to the nuclear deal have failed to satisfy Iran. President Hassan Rouhani voiced his disappointment over a recent package of incentives proposed by the European Union countries to Tehran, and said that the Islamic Republic expected a much better, clearer and explicit stance by the EU.
"Unfortunately, the EU's package of proposals lacked an operational solution and a specific method for cooperation, and featured just a set of general commitments like the previous statements by the European Union," President Rouhani said in a telephone conversation with German Chancellor Angela Merkel on July 5.
President Rouhani pointed to US' unilateral withdrawal from the nuclear deal, and said, "After the US withdrawal from the JCPOA, Iran has been dealing with economic issues and problems in banking relations and oil, and foreign companies that have invested in Iran are skeptical about continuing their business."
The Iranian president, however, said that the package proposed by the three European countries (the UK, Germany, and France) on how they are going to live up to their commitments and cooperation under the JCPOA was "disappointing".
President Rouhani reiterated that the JCPOA was a mutual commitment, and said, "Iran had expected a clear plan from the three European countries after the two months' time they have been given to come up with solid guarantees to ensure Iran's economic interests would continue to be met despite US pullout and reinstatement of sanctions."
The Iranian president, however, said that Tehran would continue cooperation with Europe if the outcome of the July 6 Vienna talks would be promising.
"If the process of the European foreign ministers' meeting in Vienna, which is aimed at encouraging Iran to cooperate, is promising, we will continue our cooperation with Europe," Rouhani added.
But the Vienna talks July 6 among foreign ministers from Iran and the five world powers (Russia, China, Germany, France and Britain) failed to satisfy Iran with senior officials in Tehran complaining that the Europeans had offered nothing new to ensure Iran's continued merits under the deal.
On July 8, the Iranian parliament's research center has readied a comprehensive plan that includes a detailed list of policies and moves to fight off sanctions as Washington sped up attempts to rally international support for intensified pressures on Tehran.
The comprehensive "active anti-sanctions plan" that has been compiled at the parliament research center after long studies and consultations with experts from Iranian research and academic centers, traders and entrepreneurs is now under study by senior Judiciary, Parliament and Government officials for a final editing.
847/940
Please type in your comments in English.
The comments that contain insults or libel to individuals, ethnicities, or contradictions with the laws of the country and religious teachings will not be disclosed