Service :
12 August 2018 - 22:13
News ID:

439053
UN Panel:
Rasa - More than one million Uighur Muslims are estimated to be in detention in "counter-extremism centres" in China's far West, the vice chairperson of a United Nations anti-discrimination committee said, citing credible reports.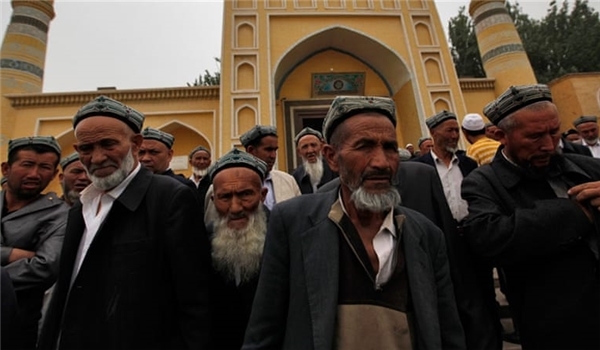 RNA - Gay McDougall made the comments on Friday as the UN Committee on the Elimination of Racial Discrimination started reviewing China's record over recent years in the Swiss city of Geneva, Al-Jazeera reported.
Members were "deeply concerned" about reported detentions of ethnic Uighurs and other Muslim minorities, which have "turned the [Xinjiang] Uighur Autonomous Region into something that resembles a massive internment camp that is shrouded in secrecy - a sort of 'no rights zone'", McDougall stated at the start of the two-day hearing.
"Another two million have been forced into so-called re-education camps for political and cultural indoctrination," she added.
A Chinese delegation of some 50 officials made no comment.
China says Xinjiang faces a serious threat from rebels and separatists who plot attacks and stir up tensions between the mostly Muslim Uighur minority who call the region home and the ethnic Han Chinese majority.
Earlier on Friday, Yu Jianhua, China's ambassador to the UN in Geneva, announced that it was working towards equality and solidarity among all ethnic groups.
The Chinese delegation leader also highlighted economic progress and rising living standards among other things.
The session continues on Monday, with conclusions expected later.
In her remarks, McDougall stressed that most of these people have never been properly charged with a crime or tried in court.
While McDougall did not cite her sources, the numbers of people forced into detention and into re-education matched a report that the Network of Chinese Human Rights Defenders submitted to the committee.
Other groups have given far lower figures, however.
A submission by the Human Rights Watch advocacy group said there were "at least tens of thousands" in political education centres.
Amnesty International wrote that "at a minimum, tens of thousands, with some sources estimating hundreds of thousands" of Uighurs have been detained.
But UN's McDougall said that members of the Uighur community and others Muslims were being treated as "enemies of the state" solely on the basis of their ethno-religious identity.
More than 100 Uighur students who returned to China from countries including Egyptand Turkey had been detained, with some dying in custody, she added.
McDougall also cited reports suggesting that Chinese authorities are persecuting people for using Muslim greetings, possessing halal food, or for having long beards or headscarves.
In addition, she pointed to reports of mass surveillance and the broad collection of DNA samples and iris scans in the Xinjiang.
Fatima-Binta Dah, a panel member, referred to "arbitrary and mass detention of almost one million Uighurs" and asked the Chinese delegation "what is the level of religious freedom available now to Uighurs in China; what legal protection exists for them to practice their religion?"
847/940
Please type in your comments in English.
The comments that contain insults or libel to individuals, ethnicities, or contradictions with the laws of the country and religious teachings will not be disclosed