Rasa - As Syria is effectively emerging from more than seven years of conflict by successfully purging its territory of militants, the United States and allies are becoming increasingly vocal in their criticism of the governments who helped Syria clear the mess.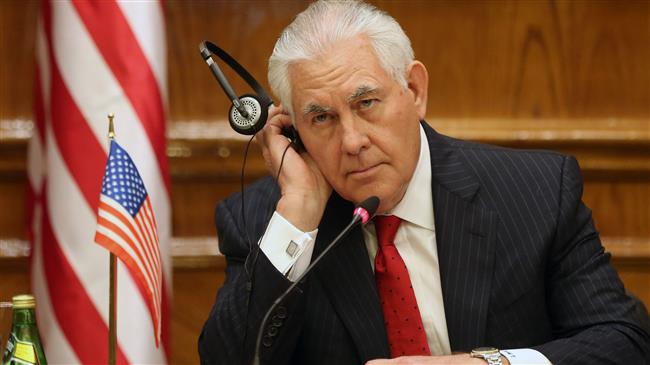 RNA - In comments dealing with a recent escalation of events in Syria's border with the Israeli-occupied Palestinian territories, US Secretary of State Rex Tillerson has blamed Iran for the continued bloodshed in Syria, saying Tehran should end its "destabilizing" presence in Syria and allow peace to be restored to the Arab country.
However, many wonder who is really destabilizing Syria. Is it Iran, a country that has gone to any length to protect the legitimate government of Syria, or was it the US, which from the onset of war in March 2011 began to designate the heavily-armed militants and military defectors as the so-called moderate opposition of Syria and continued to generously support them through providing weapons, funding and training.
Washington cannot hide its anger at Iran and Russia becoming the saviors of Syria after an all-out war, which in the beginning was to change the political and security equations in the Middle East. For a long time, Syria was a major front in regional confrontation with Israel. It openly supported governments and fighters that countered Israel's occupation of Palestine and its violation of the sovereignty of countries such as Lebanon.
The fall of Syria, as it was envisaged in the West, could mean an end to Damascus' anti-Israeli policies and could create a sense of relief for the regime in Tel Aviv. That dream actually failed to materialize and after more than seven years, Israel and the US, as its main ally, feel more insecure than ever as Syria is regaining control over many parts of its territories. Moreover, Syria has established stronger military and political ties with Iran and Russia, the two countries that backed it in the war on terror, and it has become more engaged with the Lebanese resistance movement Hezbollah, an arch enemy of Israel.
Now, US officials are becoming more fearful about Israel's grim future and what could happen to it in adjacency of a revitalized Syria. To offset those concerns, they now try to highlight Iran's continued presence in Syria as a threat, pretending that Tehran is fueling the violence.
Tillerson said on Wednesday that Iran should withdraw from Syria, saying Tehran was responsible for a recent escalation in Syria's borders with the occupied territories. He even accused Iran of hampering the United Nations' efforts to restore peace in Syria.
"We are quite concerned about the recent incident involving Israel and Iranian assets inside of Syria. And I think this again illustrates why Iran's presence in Syria is only destabilizing to the region," Tillerson said, adding "Iran needs to withdraw its military, its militia from Syria, and allow a hope for the peace process to take hold in Geneva."
According to Press TV, Tillerson made the comments in Amman, the capital of Jordan, a kingdom which borders Syria's province of Dayr al-Zawr, where government forces have managed to liberate key cities and towns relying on Iranian and Russian support. Russia, which unlike Iran, has a direct military presence in Syria, has repeatedly accused the United States of trying to hamper Syria's full victory against the Daesh Takfiri terrorist group. Moscow has released evidence showing that US forces stationed in Dayr al-Zawr's border regions and in Jordan have been collaborating with Daesh and other militants through providing intelligence about Syrian and Russian forces.
Tillerson's comments came just days after the US military admitted it had carried out heavy bombardments on Syrian pro-government forces in Dayr al-Zawr, an attack that reportedly killed more than 200 people, including private Russian military contractors.
Russia is in Syria based on an official request by the government. Iran also helps Syria through its military advisors based on similar demands by Damascus. Lacking such a mandate and authorization, the US has operated around and inside Syria's borders over the past years and reports show that it is increasing its deployment in the Jordanian border, a clear sign it is wary of the turn of events in the region.
So, the question is who is really behind the protracted violence in Syria and who is really destabilizing the country now that it is back on its feet?'
Syria has on several occasions called on the UN to force Washington to stop its aggression against on the Arab country's sovereignty. It has designated as a violation of Syria's territorial integrity the US airstrikes that are as part of a so-called campaign against Daesh, which began four years ago in neighboring Iraq and then expanded into Syria. US warplanes have targeted civilians in hospitals and schools as part of their alleged fight against Daesh. They are now becoming increasingly involved in attacks against government forces and allies in Dayr al-Zawr, where Iran played a huge role in bringing Daesh to its last legs.
Iran has officially called on the US to end its military adventures in Syria and allow the country to re-establish authority on its territories. Ali Akbar Velayati, a former foreign minister and a senior foreign policy adviser to Leader of the Islamic Revolution Ayatollah Seyyed Ali Khamenei, said on Wednesday that it was Washington, in fact, that was an unwelcome guest and a destabilizing force in Syria.
"Those should leave Syria who are there without the permission of the legal Syrian government," said Velayati while reacting to Tillerson's latest comments.
847/940
Please type in your comments in English.
The comments that contain insults or libel to individuals, ethnicities, or contradictions with the laws of the country and religious teachings will not be disclosed