Speaker's Advisor:
Rasa - Senior Advisor to the Iranian Parliament Speaker Hossein Amir Abdollahian blasted the independence referendum in Iraqi Kurdistan region, and said that such a move will embolden the terrorists to engage further in their criminal activities.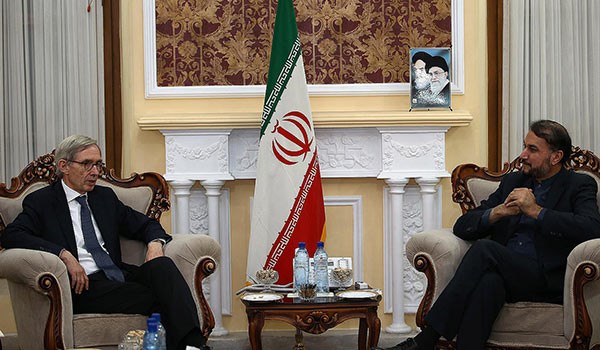 RNA - "A chaotic situation in the region will further spread terrorism," Amir Abdollahian said in a meeting with In a meeting with the Head of the International Diplomatic Academy Michel Duclos.
The senior advisor said that any political vacuum inside Iraq will provide terrorist groups with a new opportunity.
"Formation of an independent Kurdistan government will cause insecurity and further development of terrorism in the region," he added.
Amir Abdollahian reiterated that Iran will welcome any mechanism for peace in Iraq, but they should not hamper political process to that effect.
"Today Syria is more in need of serious resolve of the international community for fighting terrorism and consolidating dialogues than finding a new mechanism," he added.
Amir Abdollahian, meantime, hailed Iran-France bilateral ties, and said that increasing political consultations by the new French government reveals its firm resolve and interest in helping political trend and solving regional and global crises.
Duclos, for his part, said that French government is willing to help tackle the Syrian crisis along with Iran, Saudi Arabia and Turkey in the form of Contact Group.
Pointing to French president's speech in the UN, he ensured that French government has a kind of diplomacy which is independent from that of the US and Europe.
"We express merely our independent viewpoints," he said.
Duclos confirmed Iran's security concerns due to holding referendum in Iraqi Kurdistan for independence, and said that the issue can cause insecurity and further spread of terrorism in the region, which in turn can threaten regional and global security.
Iran, Iraq, and Turkey have jointly voiced concerns about the Kurdish independence vote, warning that it could fan the flames of tensions in the Middle East.
The UN Security Council also unanimously issued a statement on Thursday voicing alarm over "the potentially destabilizing impact" of the plebiscite. The 15-member council urged "dialogue and compromise" to address the differences between Baghdad and the Kurdish authorities.
The referendum was held a few days after Commander of the Quds Force of the Islamic Revolution Guards Corps (IRGC) Major General Qassem underlined that the ISIL terrorist group is taking its last breaths and will vanish in less than 3 months.
"In less than three months, we will declare the end of ISIL and its ruling on this planet and we will celebrate this victory in Iran and the entire region," General Soleimani said, addressing a ceremony in the Northern province of Gilan last Thursday.
"We will deal our blows decisively and incessantly to the body of the cancerous tumor created by the US and Israel," he added.
One of the reasons why Iran has embarked on helping the Syrian and Iraqi nations is that the problem of ISIL cannot be solved through diplomacy in the two countries, he said.
"While ISIL claims that killing Shiites is imperative, there is no option but Jihad (holy war)," General Soleimani stressed, adding, "The enemy is out to dry up Islam and destroy Muslims' independence and occupy Islamic states."
847/940
Please type in your comments in English.
The comments that contain insults or libel to individuals, ethnicities, or contradictions with the laws of the country and religious teachings will not be disclosed