Service :
18 September 2017 - 23:39
News ID:

432519
Rasa - Thousands have staged a massive rally in Bangladesh to protest Myanmar's violent crackdown on the Rohingya Muslim community that has forced the minority group to seek shelter in neighboring Bangladesh.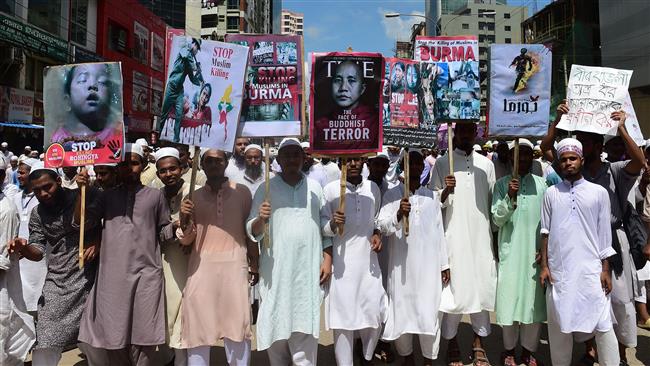 RNA - Supporters of Islamic groups marched in Bangladesh on Monday to show solidarity with the Rohingya with the deputy commissioner of Dhaka Metropolitan Police, Anwar Hossain, saying that "around 20,000 people joined the protest."
The white-robed protesters assembled outside Bangladesh's largest mosque before a planned "siege" of the Myanmar embassy in the capital Dhaka.
"We'll besiege the Myanmar embassy to send a message to the Myanmar government that we won't tolerate this genocide of our Muslim brothers in Arakan," said Maolana Saifuddin, a 27-year-old teacher at an Islamic school outside Dhaka, using another name for Myanmar's westernmost state of Rakhine.
Saifuddin said he was protesting at the "barbaric genocide" of the Rohingya by the government of Aung Sung Suu Kyi.
Another protester, Abu Raihan, emphasized that it was his religious duty to "protest the slaughter in Myanmar" of fellow Muslims.
Last Friday, 15,000 demonstrators in Bangladesh urged the government to go to war against Buddhist-majority Myanmar over the "genocide" of Rohingya Muslims.
The plight of the Rohingya has aroused emotions across the Muslim world, with protests held in Iran, Pakistan, Malaysia and Indonesia.
The Rohingya in Rakhine have deep historic and linguistic ties with communities in Bangladesh's Chittagong region over the border.
Images on social media showing abuses against the Muslim minority have aroused strong sympathy in Bangladesh.
This comes as Bangladesh is dealing with over 410,000 Rohingya refugees who have flooded across the border since August 25, when the military in Buddhist-dominated Myanmar launched a crackdown on the Muslims in Rakhine state.
Many of those fleeing Myanmar have recounted harrowing tales of rape, murder and arson at the hands of Myanmar's forces and Buddhist mobs.
The UN has said the violent crackdown by Myanmar's army could amount to ethnic cleansing.
India seeking to deport Rohingya Muslims
Meanwhile, the Indian government has described the Rohingya Muslims fleeing Myanmar as a serious security threat in a bid by New Delhi to justify moves to deport up to 40,000 Rohingya Muslims.
Mukesh Mittal, a senior Home Ministry official, said in a written submission to the country's Supreme Court that it must let the government take a decision in India's interests because of what he called Rohingyas' links to extremist groups.
"Some of the Rohingyas with militant background are also found to be very active in Jammu, Delhi, Hyderabad and Mewat and have been identified as posing a very serious and potential threat to the national security of India," Mittal said.
The statement claimed the Indian government had intelligence indicating links between the Rohingya refugees and Daesh Takfiri terrorists and other extremist groups.
This is while Rohingya community leaders have vehemently denied any link with extremists.
Elsewhere in the statement, Mittal also highlighted the "serious potential" for an "eruption of violence against the Buddhists who are Indian citizens who stay on Indian soil."
The statement came in response to a petition filed at the country's top court challenging a government decision to deport the Rohingya, many of whom have been in India for the past decade.
Lawyer Prashant Bhushan, representing the Rohingya at the court hearing, has stressed that the Indian constitution "provides equal rights and liberty to every person" including non-citizens.
Several experts have questioned where India could send the Rohingya.
The South Asia director at Human Rights Watch, Meenakshi Ganguly, has also urged India to follow the international principle of non-refoulement, which prohibits sending back refugees to a place where their lives are in danger.
"India should not be behaving like the abusive Myanmar government," Ganguly said, adding, "There should be no collective punishment. If there is credible evidence of militancy against individuals, that should be brought before the court."
Last month, the Hindu administration of Indian Prime Minister Narendra Modi said it had asked state authorities to identify and deport Rohingya living in their territory.
According to the United Nations, there are 16,000 registered Rohingya Muslims in India, but many more are undocumented. New Delhi says 40,000 undocumented Rohingya are living in India.
Nearly 7,000 of them live in shanty towns in India's Jammu region, where they have faced hostility from the majority Hindu community there.
While Bangladesh has been the main destination for Rohingya over the years, some have ended up in India and Nepal. There are also some in Pakistan.
847/940
Please type in your comments in English.
The comments that contain insults or libel to individuals, ethnicities, or contradictions with the laws of the country and religious teachings will not be disclosed