Service :
18 September 2017 - 22:40
News ID:

432512
Rasa - Human Rights Watch (HRW) has called for harsh international sanctions against the Myanmar military over its brutal "ethnic cleansing campaign" against the country's Rohingya Muslims.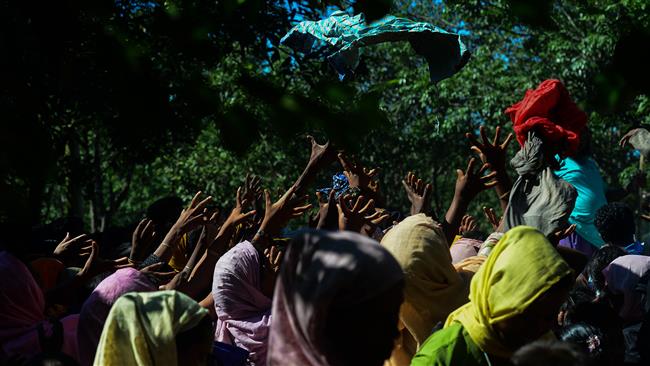 RNA - In a statement released on Monday, the New-York based rights body slammed Myanmar's army generals for turning a deaf ear to international condemnations of their bloody crackdown against the Rohingya in Rakhine State, saying the time has come for the world community to target the Myanmarese military with such harsh sanctions that it could not ignore.
"The United Nations Security Council and concerned countries should impose targeted sanctions and an arms embargo on the Burmese (Myanmarese) military to end its ethnic cleansing campaign," it said.
The group urged concerned governments to "impose travel bans and asset freezes on security officials implicated in serious abuses; expand existing arms embargoes to include all military sales, assistance, and cooperation; and place a ban on financial transactions with key Burmese military-owned enterprises."
The latest escalation of violence against the persecuted Muslim community began on August 25, after a number of police and border outposts in Rohingya-majority Rakhine State in western Myanmar came under attack.
The Rohingya, who had already been under a military siege in Rakhine since October 2016, are now being brutally killed, raped, or forced to leave their homes as their villages are reportedly being set on fire by majority Buddhists, backed by the military.
The new wave of attacks against Rohingya Muslims has trigged an exodus of nearly 410,000 refugees to neighboring Bangladesh, according to the latest UN figures.
The US and its Western allies had for years imposed sanctions on Myanmar to end the military rule and support Aung San Suu Kyi's "pro-democracy campaign," which won the 2015 election.
They started lifting the sanctions and building warmer ties with Myanmar since the military began transferring power to a civilian-led government in 2011.
Even though Washington has denounced the ongoing violence against the Rohignya, the prospects of reimposing the sanctions remain bleak.
"People are too invested in the last five years of thawing, which is understood by everyone to be strategically sound," said a US administration official on condition of anonymity. "Long-term, the trajectory is probably tighter relations."
In a similar call, Refugee International has expressed concern over the crisis and called on the United States to impose stern sanctions against the Myanmar military.
"I believe that in situations like this, the sternest and strongest measures must be taken. Our values demand it and our interest demand it," said the organization's Chief Eric Paul Schwartz on Sunday.
"There ought to be multilateral sanctions against the Burmese military; there ought to be an arms embargo; there ought to be a referral of the situation in Burma to the International Criminal Court. The United States should reimpose the sanctions that have been lifted over the past several years. It's hard to overestimate how dramatic the abuses, how widespread the abuses have been in Burma," he added.
'Refugees risk death in Bangladesh'
On Sunday, Save the Children voiced alarm over the dire humanitarian situation at the Bangladeshi refugee camps hosting Rohingya Muslims.
The international NGO further warned that the refugees there could die from lack of food, clean water and shelter.
Reports say the camps earlier set up in the Bangladeshi border city of Cox's Bazar are already full as they have they have the capacity to host 300,000 refugees. Many of the newer arrivals have thus been forced to live in the open air or under structures made from plastic sheeting.
"Many people are arriving hungry, exhausted and with no food or water," Mark Pierce, Bangladesh country director for Save the Children said in a statement.
"I'm particularly worried that the demand for food, shelter, water and basic hygiene support is not being met due to the sheer number of people in need. If families can't meet their basic needs, the suffering will get even worse and lives could be lost," he added.
The aid agency also called on the international community to fund a $77-million emergency appeal to help the Rohingya, warning that there could be more than 600,000 children in urgent need of aid by the end of this year.
On Sunday, a woman and two children were killed during a stampede as food and clothing were being thrown from relief trucks outside a camp, according to the Inter Sector Coordination Group in Bangladesh.
Monsoon rain 'doubles Rohingya misery'
Adding to the sufferings of Rohingya refugees are monsoon downpours flooding the overcrowded temporary camps in Bangladesh.
Heavy rain, almost 8 centimeters in 24 hours, has made swamp-like conditions in many parts of Cox's Bazar and forced the refugees to move to new areas.
Bangladeshi police chief Mohammed Kai-Kislu said the torrential rain "has doubled their misery."
Bangladesh's Weather Department has predicted more rain in the next two days.
The harsh weather conditions and muddy narrow roads have also made it difficult for aid groups to deliver humanitarian supplies and run relief operations.
A human rights expert in the town has urged the Bangladesh government to close local schools for three days to allow refugees to camp in them.
"It is another disaster unfolding. Thousands of Rohingya had no place to hide when the rain came," said Nur Khan Liton, who headed Bangladeshi rights group Ain O Salish Kendra.
More than half of the estimated 410,000 Rohingya live in camps without proper shelter, clean drinking water and sanitation. In an attempt to prevent an outbreak of diseases, Bangladesh authorities have set up vaccination booths in various camps for children under five.
The United Nations has called on Myanmar to end "ethnic cleansing" of the Muslim community and appealed for massive help for the refugees.
The world body warned on Monday that the number could keep rising if Myanmar refuses to end the violence. It also warned of intolerable conditions in the camps near Cox's Bazar.
Meanwhile, thousands of people are holding another protest rally in solidarity with Rohingya Muslims in the Bangladeshi capital, Dhaka.
On Monday, protesters gathered outside Bangladesh's largest mosque and began to march on Myanmar's embassy in Dhaka.
"So far, more than 10,000 people have joined the protest," said local police Chief Mahmudul Haq, adding extra officers had been deployed across the city to ensure security.
An organizer group said hundreds of thousands of people are expected to join the protest later in the day.
Suu Kyi due to address crisis on Tuesday
Myanmar's de facto leader, Suu Kyi, has failed to properly address the atrocities against the Rohignya.
The Nobel Peace Prize winner, who is under harsh criticism by the world community, has said she would be absent from the United Nations General Assembly meeting this week.
She is due to address the crisis in a nationally televised speech on Tuesday, her office said.
Myanmar describes the offensive as a legitimate operation against "terrorists."
847/940
Please type in your comments in English.
The comments that contain insults or libel to individuals, ethnicities, or contradictions with the laws of the country and religious teachings will not be disclosed