Service :
04 September 2017 - 22:21
News ID:

432168
Rasa - Saudi Crown Prince Mohammed bin Salman has formed a team of aides to prepare the country for celebrating his succession to power as the new King after his sick father steps down from power in probably the near future, a Palestinian newspaper reported.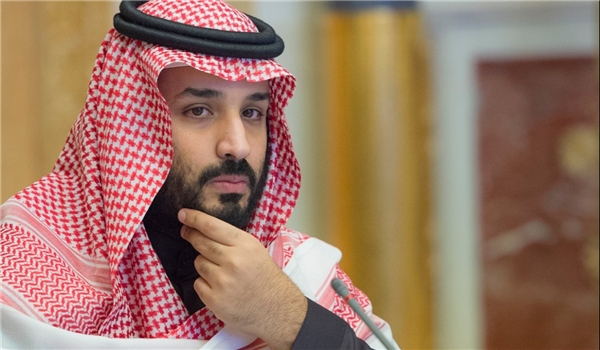 RNA - The Arabic-language al-Manar daily quoted sources close to the royal family as saying that King Salman is due to step down from power for his physical conditions and feebling health and name his son, Mohammed, as the new king.
They said that a number of world leaders will also be invited to the ceremony to introduce the new Saudi king.
The sources added that bin Salman has ordered the country's security officials to increase supervision over the Saudi royal figures, specially the sons of Abdullah bin Abdolaziz, to prevent any coup.
The Arab media had reported last month that Mohammed bin Salman has escaped an assassination attempt at one of the royal family palaces in Jeddah.
Arabic language Mer'at al-Jazeera quoted sources close to the royal family as saying that bin Salman was targeted by an assassination attempt in Jeddah by one of the Saudi princes.
Also, a western diplomat in Riyadh said that the Saudi crown prince wasn't harmed in the failed attempt and the prince who made the move was arrested.
Bin Salman's ambitious acts in recent months and his attempts to dethrone the rivals have created wroth among other Saudi princes.
The Arab media have been reporting recently that Saudi Arabia's King Salman bin Abdulaziz al-Saud is much likely to step down in favor of his son Mohammed, the new crown prince, within the next few months.
In July, al-Ray al-Youm newspaper quoted informed sources in the Saudi royal family as saying that King Salman is likely to step down from power in the next five months.
They referred to the past and future steps to be taken by the king to empower his son, and said the first step was replacing former crown prince Mohammed bin Nayef by his own son, Mohammed bin Salman.
"The second step is that the Saudi king wants to travel to his beach villa in Tangier, Morocco, for a two-month vacation and entrust the new crown prince and his aides with management of the country," they added.
Therefore, bin Salman will be the Saudi king during August and it will be a test for him until King Salman will confirm quitting power in favor of his son, the sources said.
They added that the countdown for bin Salman's ascending to thrown will start somewhere between October and December and then King Salman will officially embark on stepping down under the pretext of protecting Saudi Arabia's interests.
The report by al-Ray al-Youm comes as Western, specially US, media outlets said last week that the King has already recorded a message to declare Mohammad as his successor.
Sources in the Royal family in Riyadh disclosed that Saudi King Salman bin Abdolaziz al-Saud has pre-recorded a statement to soon abandon power in favor of his son Mohammed bin Salman in the next few weeks as former crown prince Mohammed bin Nayef is still under house arrest.
According to Reuters, with Mohammad Bin Salman's sudden ascent, there is now speculation among diplomats and Saudi and Arab officials that King Salman is poised to abdicate in favor of his son.
Quoting a witness at the palace, one Saudi source said that King Salman pre-recorded a statement in which he announces the transfer of the throne to his son. The announcement could be broadcast at any time, perhaps as soon as September.
Also, the source close to Mohammed Bin Nayef disclosed that he would like to take his family to Switzerland or London but the king and his son had decided that he must stay, adding that "he wasn't given any choice."
A source close to Mohammed Bin Nayef also announced that he remains under house arrest to keep him out of circulation following his overthrow, with no visitors allowed except close family members. He is not taking calls. In the past week he was only granted permission to visit his elderly mother with the new guards assigned to him.
According to a report, on June 20 Mohammed bin Nayef was summoned to meet King Salman on the fourth floor of the royal palace in Mecca.
There, according to a source close to Nayef, as he is known, the king ordered him to step aside in favor of the king's favorite son because of his alleged drug addiction.
"The king came to meet Mohammed bin Nayef and they were alone in the room. He told him: 'I want you to step down, you didn't listen to the advice to get treatment for your addiction which dangerously affects your decisions'," the source close to bin Nayef said.
At dawn bin Nayef gave up, telling a palace adviser that he was ready to see the king. The meeting was short and bin Nayef agreed to step down and signed a document to that effect.
According to the adviser, when Mohammad bin Nayef left the king's quarters, he was surprised to see Mohammad bin Salman waiting for him. Bin Nayef was embraced and kissed by bin Salman while television cameras rolled.
The source close to Mohammed bin Nayef acknowledged that he had health issues, which were aggravated after an al-Qaeda attacker tried to blow himself up in front of him in his palace in 2009. The health issues were corroborated by three other sources in Saudi Arabia and Arab official sources with links to the royal family.
The sources also announced that bin Nayef had shrapnel in his body that could not be removed and he depended on drugs such as morphine to alleviate the pain, as, according to one source, he had been treated in clinics in Switzerland on three occasions in recent years.
Source: Fars News Agancy
847/940
Please type in your comments in English.
The comments that contain insults or libel to individuals, ethnicities, or contradictions with the laws of the country and religious teachings will not be disclosed