Service :
27 February 2017 - 18:35
News ID:

427718
Rasa - The recent cold-blooded murder of a young Indian man by an American military veteran who shouted 'Get out of my country' moments before opening fire has once again revived the debate on hate crimes against minorities and whether the new US administration should be held accountable for an increase in racist attacks over its anti-immigrant xenophobic rhetoric.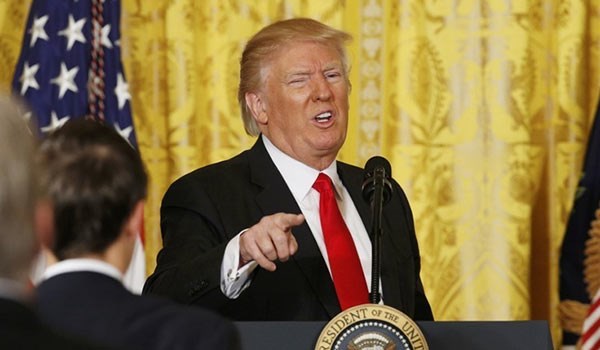 RNA - Jim W. Dean, managing editor of Veterans Today from Atlanta, Georgia, believes that financial gains are what motivate multinational corporations, energy dealers and the military industrial complex to trigger hatred both within the American society and worldwide.
"An international criminal situation [is] exploiting all of this controversy and conflict to make huge amounts of money," Dean told Press TV's program 'The Debate.'
He argued that multinational corporations and folks who have trillions of dollars in offshore accounts resort to chaos and conflicts to multiply their profits.
The American military industrial complex has also been hugely benefiting from conflicts around the globe, the commentator added.
On Wednesday, a US military veteran killed the Indian man and injured two others including another Indian man and an American who tried to stop the assailant at a Kansas restaurant.
The number of hate incidents has increased in the United States since Trump was elected president, according to the Southern Poverty Law Center.
Dean said that hate crimes have already been rampant among lower social and economic classes, and that the new administration has in fact fanned the flames of such criminal acts by spreading hatred nationwide.
"What is happening here is because of the rhetoric that we had during the campaign and that is coming from the administration now," the analyst pointed out.
According to the expert, ethnic groups naturally support politicians of one faction or another; however, people "do not start killing each other" after an election unless they are being misled to do that.
He further highlighted the role of political rivalry in exacerbating situation in the United States.
"We are going to see a very big political civil war here (in the US), because the Democrats are so desperate to be able to get back and settle somehow. They have to win seats in Congress and seats in the Senate and Trump may play into this by overplaying his hand. We're in for some very bloody political battles in the next four years," he argued.
Everybody even the EU is afraid of what America is going to do, because "the Trump administration is totally unpredictable. Sure we have chaos going on here but there's nothing new about that," he said.
Dean ruled out the assumption that the Jewish community is behind the chaotic situation in the United States.
Meanwhile, David Duke, a former state representative from Louisiana, said that a single incident "does not say anything about a country of about 300 million."
However, he said, "What is going on here is that there is a massive attack on Donald Trump by the Jewish establishment in America, because the Jewish establishment, for whatever reason, feels that he is anti-Semitic."
He also noted that mass media hate Trump because they are afraid that he may change the US foreign policy in the Middle East and put America first instead of Israel.
Jewish corporations and mainstream media including TheNew York Times and The Washington Post do not like Trump's program, which is contrary to their "support [for] Saudi Arabia and this horrible terror in Syria," Duke argued.
The analyst also blamed radical leftists for pursuing intolerance in the US.
He explained that American people and big companies want to have good relations with other nationalities and countries, while the Zionist lobby of the American Israel Public Affairs Committee (AIPAC) is trying to prevent the US from developing friendships with other nations.
"A lot of corporations love to do business with Iran and Syria," but the American establishment is handcuffed because Israel hates these countries and the Zionists all around the world overwhelmingly support Israeli policies, he concluded.
847/940
Please type in your comments in English.
The comments that contain insults or libel to individuals, ethnicities, or contradictions with the laws of the country and religious teachings will not be disclosed