White House Media Ban:
Rasa - The White House's decision to selectively bar certain news outlets from briefing could be decried as "undemocratic, unacceptable, chilling, and totalitarian." But that's just half the story.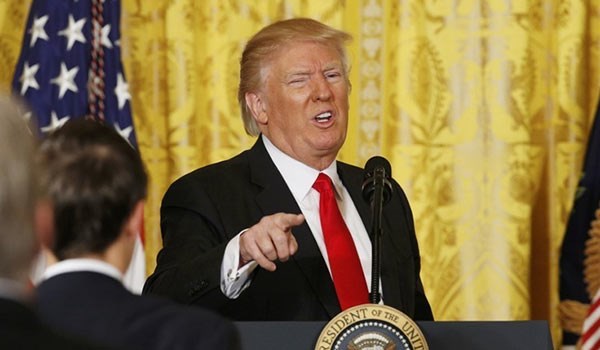 RNA - No doubt some of these press outlets and news networks like the CNN and the New York Times are biased and subjective, particularly when it comes to publishing and broadcasting news about US foreign policy, specially the Muslim world and the ongoing US-led wars and military occupations in the Middle East and North Africa. But barring them from the White House briefings is an unprecedented development - at least for the Western media - and definitely unacceptable. Perhaps this is how the Trump administration retaliates when the media criticize them or report facts they don't like. Still, their exclusion is yet another disturbing example of the Trump administration's contempt for democracy. Even biased media outlets should never be punished through illegal means, which in this case is misuse of executive power by a president. Biased reports and media should be sued and go through fair and free judicial processing. That's the meaning of democracy. But who cares when foul action is taken by a foul party against another foul party.
These are confusing times for consumers of the news, and the issue of which media outlets should be trusted is as demanding and critical as ever. The press and the media in the United States - most of them - are neither free nor impartial. A substantial body of research conducted over many decades highlights the proximity between American news media and their respective government, especially in the realm of foreign affairs. For reasons that include Israel lobby, overreliance on government officials as news sources, economic constraints, the imperatives of big business and good old-fashioned patriotism, mainstream media in the US frequently fail to meet democratic expectations regarding independence.
That says why the American media has always been an enemy of the Muslim world and some of those which have been excluded from the White House briefings are no exception. They are the ones that have been a distraction from larger matters such as the US-led wars on Afghanistan, Iraq, Syria, Yemen and Libya. Like in the United States, some European media outlets are also full of the kind of dishonest reporting on Muslims, War on Terror, immigrants, and refugees.
Over the past two decades alone, they have helped far-right governments to marginalize Muslim immigrants and minority groups. Far-right politicians and media lackeys are happy with the situation and continue to prevent Muslim immigrants and refugees from entering their societies by means of controlling public opinion and anti-immigrant policies. They ban liberal voices and lambast as "biased and twisted" overseas reports on the ongoing campaign against Islam, even though they are the ones that are going against the principles of fairness and objectivity.
Into the argument, whilst documentaries on CNN, Fox News, BBC or other channels inform viewers about the "imminent threat" of terrorism, it is very rare to find a positive image of those actually fighting terrorists in places like Iraq and Syria. Countries not agreeable to the American ideology and policy always suffer under the scrutiny of the biased media. For example, the ongoing war against ISIL by the allied forces of Iran, Syria, Russia and Hezbollah, all of the media news with regard to this fight is largely negative, alleging "regional designs" and "sectarian aspects".
However, with this Real War on Terror going extremely well, attention is being diverted to the non-existent "success" of US-led coalition and their plan to escalate the conflict and establish no-fly zones over Syria, therefore disguising their prejudices and failures in affecting regime change in Damascus. To this end, most of the War on Terror is modelled on the United States and its coalition, and since the Iran-Syria-Russia alliance does not fit the pattern, they are economically sanctioned by the West and defamed and criticized by the media. Worse still, with another crisis brewing up – Europe's refugee crisis - the attention of the media has turned to the possible causes, and so, Iran, Russia, and Syria once again come into the focus, accompanied with misinformation, brainwashing and lies.
Another shocking example of this temperamental and dangerous mindset can be seen in the coverage of the Saudi-led, US-backed war on Yemen. Most people will have to cast their minds back quite a few months to remember any mention of the forgotten war in the news and the horrific and worsening conditions there. With the whole country still in ruin and crisis, Western media no longer cares to say what is happening, as it is no longer their concern. On the other hand, they respect the Saudi-led invaders. Their journalists are obsequious and respectful to these war criminals, and never ask them hard questions. They also never criticize these undemocratic regimes on human rights.
This pretty much sums up the failure of Western media: If some media outlets are barred from the White House, therefore, it does in no way mean they are fair and objective. Quite the contrary. They may not be calling the shots but it would be wise to approach anything happens to them or anything they say with an inquisitive mind, and to always be open to understanding different points of view, understanding that often there are many things happening in the Muslim world which they never talk about but we must find out for ourselves.
One might reasonably conclude from all this evidence that the majority of Western public has fallen foul of a major deceptive propaganda campaign which involves exploiting terrorism threats in order to clear up domestic issues, being instigated by their governments and communicated through the media.
Western media outlets must take concrete steps to rectify this propaganda and deception. There are systematic problems with them that distort both history and the reporting of current events. When war crimes and invasions occur, they should say who the culprits and the invaders are. When terrorism occurs, they should say immediately everything, without trying to spin it. They should stop turning viewers against Muslims or turning aggressors into liberators. Whatever the accuracy, or lack thereof, they should never be inherently propagandistic and deceitful. They should be objective and truthful.
847/940
Please type in your comments in English.
The comments that contain insults or libel to individuals, ethnicities, or contradictions with the laws of the country and religious teachings will not be disclosed