Service :
25 February 2017 - 20:58
News ID:

427669
Analyst:
Rasa - The new US administration is after strengthening American nuclear power to threaten the entire globe even though it has obligations under nuclear disarmament treaties to limit its nuke capabilities, says Sara Flounders, co-director of the International Action Center from New York.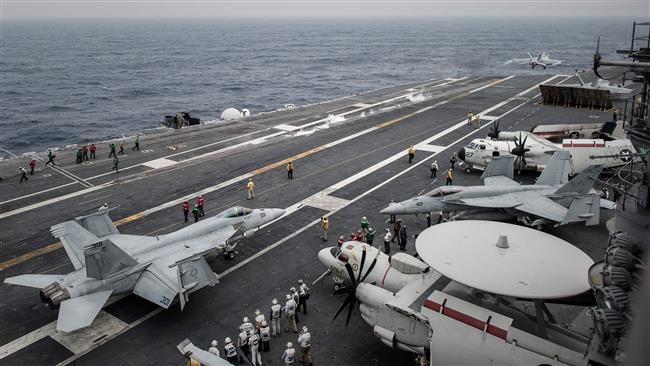 RNA - Trump's plan for expanding US nuclear power "means, continue and escalate the threats on the entire world and to do so by creating nuclear threats," Flounders told Press TV on Friday night.
In an interview with Reuters on Thursday, the new US chief executive said he opposes a "one-sided" nuclear deal with Russia that would limit the deployment of atomic warheads.
The US has continued to carry out war games using nuclear weapons on aircraft carriers, Trident submarines and even in South Korea, she noted.
The United States and the then Soviet Union signed a bilateral treaty on reduction and limitation of strategic offensive weapons dubbed START (Strategic Arms Reduction Treaty). The treaty expired on December 5, 2009 and former US President Barack Obama signed the New START in Prague on April 8, 2010.
According to the analyst, "The United States is the only country that has ever used nuclear weapons and the only country that regularly and continually over a period of 70 years has threatened to use nuclear weapons and has refused again and again for total disarmament."
She further said, "The greatest threat to our (US) national security is the Pentagon war machine and that's true domestically and it's true around the world."
The expert also asked, "Why is the Pentagon war machine and military expenditures always at the top?"
In 2016, the US House of Representatives passed a military budget of $618.7 billion for the 2017 fiscal year. Trump also pledged a massive increase in military spending.
Flounders went on to say, "All of the military expenditure is because it is the most profitable for a handful of corporations who dominate the world." She added, "War is profitable to the oil and military corporations and that is where the Wall Street decides and drives policy."
"Is it about securing life for anyone in the US? It's absolutely not. We pay for it by robbing money from our children schools, from healthcare, from infrastructure ... to pay for military budget that threatens the world," she pointed out.
Meanwhile, Lawrence J. Korb, a former US assistant secretary of defense from Washington, criticized Donald Trump by saying, "It's clear that he does not understand what deterrence means and he should go and talk again with Henry Kissinger, former national security adviser of the US, who "came up with an arms limitation agreement with the then Soviet Union" in the 70s during the Nixon administration.
The former US official also noted, "Trump should have taken [Russian President Vladimir] Putin up on his offer to extend the New START agreement for another five years, while we work to get rid of them (atomic bombs)."
Trump wants the strongest military in the world, but he doesn't want to use it for nation-building around the world, he said.
847/940
Please type in your comments in English.
The comments that contain insults or libel to individuals, ethnicities, or contradictions with the laws of the country and religious teachings will not be disclosed