Service :
07 February 2017 - 19:15
News ID:

427188
Rasa - Syrian President Bashar al-Assad has dismissed a US-led coalition against Daesh in Syria as "illusive," saying the terrorist group "was expanding" during the operation.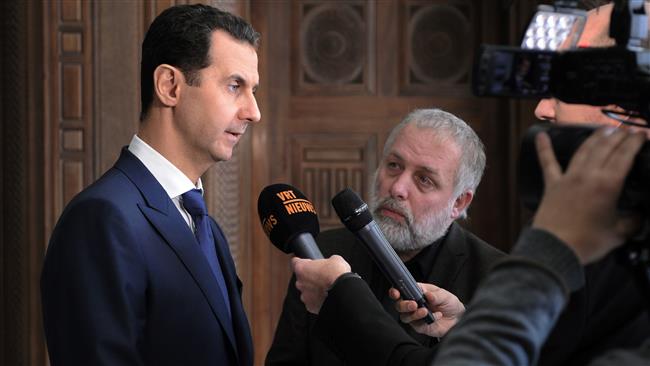 RNA - Speaking to a group of Belgian reporters, Assad has also cast doubt at new US President Donald Trump's pledge to fight Daesh terrorists also known as ISIS, state news agency SANA reported on Tuesday.
"What we heard as statements by Trump during the campaign and after the campaign is promising regarding the priority of fighting terrorists, and mainly ISIS, that's what we've been asking for during the last six years," he said .
However, "we have to wait, it's still early to expect anything practical," he added.
Assad also said US-Russian cooperation in stepping up the fight against Daesh, as suggested by Trump, would have positive repercussions.
"It could be about the cooperation between the US and Russia, that we think is going to be positive for the rest of the world, including Syria. So, as I said, it's still early to judge."
US operations in the Arab country against Daesh have been non-existent so far, he said, adding they were illegal because they were carried out without consulting with or taking the permission of the Syrian government.
"Let me be frank with you, when you talk about contribution in the operation against ISIS, actually there was no operation against ISIS; it was a cosmetic operation if you want to talk about the American alliance against ISIS.
"It was only an illusive alliance, because ISIS was expanding during that operation. At the same time, that operation is an illegal operation ... and it is a breach of our sovereignty.
"Third, they didn't prevent any Syrian citizen from being killed by ISIS, so what to be grateful for? To be frank, no," he said when asked whether he appreciated Belgium's contributions as part of the coalition.
Assad said the European Union should have no role in the reconstruction of Syria unless it changes its policy toward the country. EU countries, he said, back militants who inflicted destruction on Syria.
"They (the Europeans) were supporting al-Nusra and ISIL from the very beginning; they were extremists from the very beginning. So, they cannot destroy and build at the same time."
Assad also accused UN institutions of acting unfairly towards his country, saying "they are biased because of the American influence and the French and British, mainly."
"They are only politicized to implement the agenda of those countries," he added.
He made the remarks in response to a December decision by the UN General Assembly to gather evidence on war crimes in Syria towards prosecuting those responsible for atrocities there.
"For me, as president, when I do my duty, the same for the government and for the army, to defend our country, we don't look to this issue, we don't care about it," he said.
"We have to defend our country by every mean, and when we have to defend it by every mean, we don't care about this court, or any other international institution," Assad added.
Airstrikes kill 15 people in Idlib
At least 15 people died in airstrikes on the Syrian city of Idlib on Tuesday, in some of the heaviest raids there in months.
In a tweet, the so-called Syrian Observatory for Human Rights which is sympathetic to militants said the airstrikes were mostly likely carried out by the US-led coalition.
According to the London-based group, more than 10 aerial attacks were conducted Tuesday morning in different areas of Idlib.
The air raids also wounded scores of people and leveled several multi-story buildings in residential areas of the northwestern city, it said.
Reports said most of the casualties were civilians and the death toll would probably rise. Some sources said the attacks bore the hallmarks of a Russian attack but there was no immediate comment from Moscow.
847/940
Please type in your comments in English.
The comments that contain insults or libel to individuals, ethnicities, or contradictions with the laws of the country and religious teachings will not be disclosed