Service :
05 February 2017 - 22:31
News ID:

427145
Rasa - Protests against US President Donald Trump are sweeping the world. People in world's major cities have poured out onto the streets to show their disapproval of Trump's policies which they say violate democratic rights.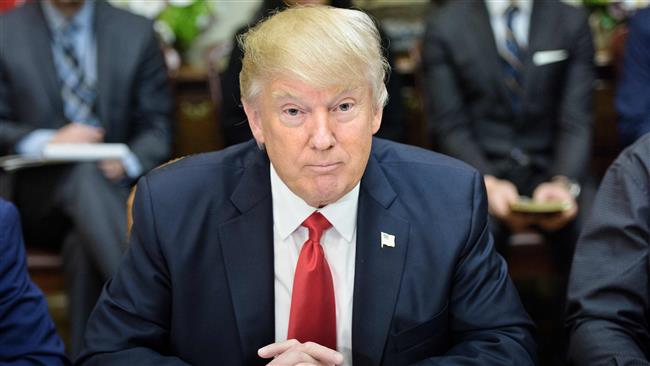 RNA - In recent days, demonstrators have especially focused on Trump's executive orders attacking immigrants as well as travel ban on nationals from seven Muslim countries.
Hafsa Kara-Mustapha, a political commentator, and Michael Lane, the president of American Institute for Foreign Policy, in an interview discussed the unprecedented chaos Trump has created in the US only after two weeks in power.
Michael Lane maintains that the disputed executive order by Donald Trump known as the "Muslim ban" is just a temporary moratorium for the new US government to come up with better security measures in terms of identifying terror suspects, pointing out that the seven countries included in Trump's order were originally detected during the former US president's tenure.
"What Donald Trump is trying to do, or what he says he's trying to do, is to prevent future terrorist crimes in the United States. There are seven countries that were identified by President Obama before he left office as being countries of concern and areas of problematic immigration. In fact, President Obama signed legislation and issued visa restrictions on anybody coming from those seven countries," Lane said.
He argued that these seven countries have been the target of "moratorium on immigration" because they either have no government or they have very ineffective governments in terms of preventing terrorism or are adversaries to the United States.
He insisted that the moratorium is only going to be temporary. "There are going to be different, more extreme vetting procedures and processes in place. And then we'll be back to wondering why everybody was demonstrating during these 90 days, because it will all be over."
However, Hafsa Kara-Mustapha, the other panelist on the show, opined that the American people are embarrassed that they have elected an openly racist person as their president and are therefore trying to minimize the impacts of his "heinous" executive order on immigration through rephrasing it as "Muslim ban," while it is a "total shutdown on Muslims" as Donald Trump had promised in his campaign trail.
"Of course, all countries have a right to control their borders and there are procedures in terms of implementing visa restrictions for any country for whatever reason," Kara-Mustapha noted. "But this was an absolute ban. These were people who were in possession of perfectly legal paperwork, perfectly approved visa to travel to the US who midair did not know that they could not actually enter the country."
She said these are people who have been formally accepted to enter the US to finish the school year, take a job, present a thesis or talk during conferences.
According to the analyst, implementing a ban on a religion is not feasible, and therefore in order to make it appeal to his openly racist electorate, Trump has actually rephrased it as a ban on certain "hostile" countries, none of which have made even a single terrorist attack against the US.
847/940
Please type in your comments in English.
The comments that contain insults or libel to individuals, ethnicities, or contradictions with the laws of the country and religious teachings will not be disclosed