A Risky Proposition:
Rasa - For those who cannot wait, the answer is no. Iran will never drop its missile defense program or seek permission from foreign powers to defend its security and interests across the region and beyond.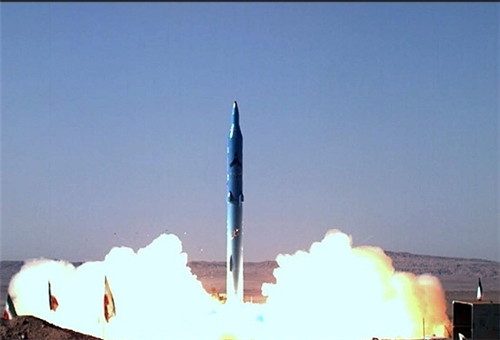 RNA - As maintained by Foreign Minister Mohammad Javad Zarif and Commander of the Islamic Revolution Guards Corps' Aerospace Force, Brig. Gen. Amir Ali Hajizadeh, the missile program is legal as per International Law, has nothing to do with the nuclear deal, and is non-negotiable.
The curious part of Washington's latest cat-and-mouse games with Tehran, however, is that the new Trump administration seeks pretexts to decrease international pressures and condemnations following their thoughtless decision to ban Muslims and Syrian refugees from travelling to the United States. Likewise, they seek to shun the responsibility for fully complying with Washington's obligations under the 2015 nuclear agreement with Tehran - beyond the bounds of international morality and law.
Nor is that all:
1- Missile tests are Iran's inalienable right to defend its security and interests. No country or international body can have any say in this regard - predominantly those who have devastated Afghanistan, Iraq, Syria, Yemen, and Libya; refuse to take any refugees from these unfortunate countries; have deployed thousands of troops to Poland as part of a massive military buildup on NATO's eastern flank; have positioned missile shield systems in Poland and Romania under the pretext of stopping Iran's nuclear threat which doesn't exist; and have soldiers and tanks rolled into Eastern Europe "as a deterrent against Russia."
2- Over the past decade, Iran has made steady and gradual advances in its missile development, pursuing advancement of its strategic missile capabilities with incremental increases in range and payload technology. Iran is developing all these defense capabilities through international cooperation, legal purchases, and indigenous development. As per International Law, nothing is wrong with that. Nothing at all.
3- None of Iran's ballistic missiles are designed to carry a nuclear warhead. Conventional ballistic missiles are not banned under the United Nations Security Council Resolution 2231. Under the resolution, Iran is "called upon" not to undertake any activity related to missiles "designed to be capable of delivering nuclear weapons." Iran is not involved in any such missile work and has no such warheads.
4- The bloodthirsty warmongers assume that by hyping Iran's launching of a missile they can cheat the international community into believing that it has violated the UN Security Council prohibition on developing "ballistic missiles capable of carrying nuclear weapons." They are free to interpret that language as meaning missiles in general are banned, and even get riled up every time Iran tests any sort of conventional missile. But they are wrong to assume the world will ever credit their lies, much less force Tehran to drop its deterrent capabilities and counter measures in air, on land, or at sea.
5- The American intelligence agencies agree that the imaginary ban is practically obsolete in the wake of the P5+1 nuclear deal, as Iran plainly has reduced its civilian nuclear program to the point where it would be totally impossible to fabricate a nuclear warhead. The International Atomic Energy Agency agrees. Its latest report says Iran is complying with the nuclear deal and the existing missiles are not for nuclear weapons.
6- If the US is truly concerned about non-proliferation in the Middle East, how come it never stops Israel from expanding and modernizing its stockpile of nuclear weapons? Israel's weapons stockpile includes warheads for missiles and submarine-launched cruise missiles, as well as nuclear bombs for delivery by aircraft. Israel has three German-built submarines to launch nuclear-armed Popeye Turbo cruise missiles.
Whatever one thinks of Iran, it has no ballistic missiles capable of carrying nuclear weapons – unlike the United States, Israel, and their NATO allies. But it is always under constant military threat. Despite the dominant narrative in the West and the fear-mongering campaign, Iran is not using its Space Program as a cover to develop long-range ballistic missile technology capable of carrying nuclear warheads either. It had that technology long before its Space Program. International Law says Iran can develop long-range ballistic missiles capable of delivering satellites.
To a large degree, the defensive nature of Iran's military and technical capabilities means it does not seek military roles beyond its means. The country simply pursues military deterrence against regional and transregional threats, which are located within the striking distance of its countless missiles.
In sum, every now and then, the bloodthirsty warmongers reveal the real reason for viewing an Iranian missile defense capacity as unacceptable: The war against Iran is a risky proposition. Iranian ballistic missiles and military capabilities would prevent the US from attacking Iran at will. What scares the US is Iranian armed forces that have combat experience and a fighting doctrine of their own, able to take advantage of local and geographic factors, and design their combat style outside the traditional American box. That is what's intolerable.
847/940
Please type in your comments in English.
The comments that contain insults or libel to individuals, ethnicities, or contradictions with the laws of the country and religious teachings will not be disclosed