Rasa - A great deal of intelligence can be invested in ignorance when the need for illusion is deep. This has been particularly the case for international human rights groups and aid agencies in recent days.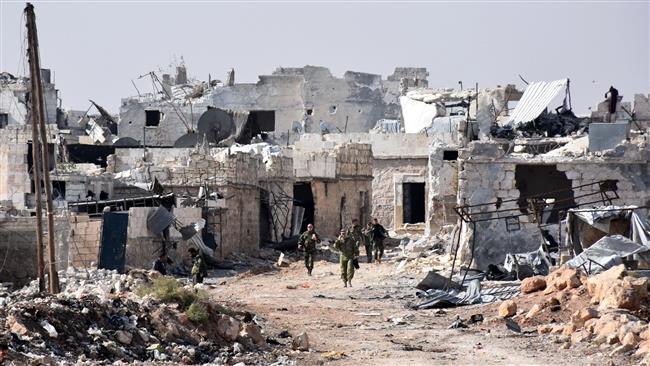 RNA - For many of them, it is now far harder to kill a phantom than a reality when it comes to holding to account those who are responsible for the current humanitarian catastrophe in Syria's Aleppo.
The phantom is this: UN member states should step in and demand an end to unlawful Russian-Syrian attacks in Aleppo. The attacks are indiscriminate, cause widespread destruction, and kill civilians.
The reality is this: The Russian-Syrian attacks are lawful, as they only target Al-Qaeda-allied terrorist groups. Despite the allegations, there is no problem with humanitarian access to Eastern Aleppo. The Syrian Army's capture of Aleppo, which has come under renewed military push in an effort to seize its rebel-held sector, is "a very important springboard" to pushing the foreign-backed terrorists back to where they came from.
Still, that hasn't stopped some "civil society" organisations from around the world from uniting and calling on UN member states to step in and demand an end to the attacks. They include Human Rights Watch, Amnesty International and Physicians for Human Rights which have expressed concern over the ongoing crisis.
Per usual, they claim Russian-Syrian air strikes kill civilians and deliberately target hospitals and health care facilities, which amounts to war crimes. Other baseless allegations include the "egregious blockade" prevents much needed humanitarian assistance to civilians, including those trapped in Eastern Aleppo.
These organisations further point to the failure of the UN Security Council in ending what they call "atrocities committed in Syria," arguing that "the Security Council has failed Syrians for the past six years, because Russia vetoes to block action." In response to the persistent deadlock, they then call on the General Assembly to act – through an Emergency Special Session and passing a 'Uniting for Peace' resolution demanding the cessation of hostilities and unfettered humanitarian access.
Against this backdrop: The Syrian Army's offensive to recapture the city will ultimately succeed one way or another. Moreover, for any political process to stand a chance, UN pressure has to be placed upon "moderate" terrorists and their principal backers, mainly the United States, Saudi Arabia, Israel, Turkey, Jordan, Qatar and the Arab Emirates.
At the very least, the UN should perhaps actively monitor Syrian borders, tracking foreign arms supplies, matching them with attacks to determine which "moderate" terrorist group's base each attack on civilian objects originates from, and therefore which country (principal backer) is responsible. Their officials identified as having responsibility for arms supplies and attacks on civilian targets should then be added to existing lists and preparations made for bringing war crimes charges.
As for peace and ceasefire talks, the latest Russian-initiated ceasefire failed – and was always going to fail – due to a complete lack of will to enforce its provisions by "moderates." The failure of the international community to respond to their taking advantage of the ceasefire to regroup and rearm further helped erode the system of international laws and norms that underpin UN Charter.
As previously, the Al-Qaeda-allied terrorists and their international backers used the ceasefire to prepare for a renewed offensive against Syrian forces that led to many more civilian casualties. Fatally undermining the faith of Damascus and allies in the political process, just as on every previous occasion, was the unwillingness of Washington and regional vassal allies to get on board for the sake of protecting civilians.
This should help us understand who is really responsible for the current humanitarian catastrophe in Aleppo. It was Damascus and Moscow which granted full humanitarian access to the besieged areas – even giving the chance to the rebels to leave the town. Instead, they regrouped, used civilians as human shields, and used foreign-supplied chlorine gas bombs to target hospitals, civilian neighbourhoods and government-held areas.
The "moderate" terrorists and their principal backers have never shown the slightest interest in peace and humanitarian assistance. They are the ones that should be targeted by the international civil society, not Damascus and its allies which are fighting terror and trying to stabilise the war-torn country - the baseless accusations notwithstanding.
847/940
Please type in your comments in English.
The comments that contain insults or libel to individuals, ethnicities, or contradictions with the laws of the country and religious teachings will not be disclosed