Another Grim Milestone:
Rasa - The United States and its coalition have begun laying the groundwork for attack on ISIL's stronghold of Raqqa in Syria.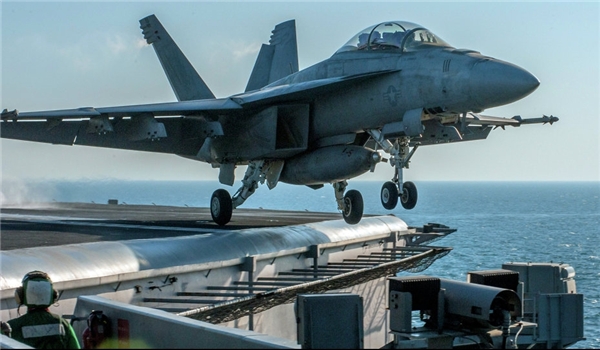 RNA - To complicate matters, Lt. Gen. Stephen Townsend, the leader of the US military forces in Iraq and Syria, says Kurdish YPG forces will participate in this illegal invasion, despite objections from Damascus that the move will only lead to more civilian casualties and refugees. Even Amnesty International agrees.
The human rights organisation says only 11 of the numerous attacks carried out by the US-led forces - that have gone under a probe by Amnesty International - have killed as many as 300 civilians in the country in violation of International Humanitarian Law. It also argues that the United States is "significantly underestimating" damage it has caused to civilians and civilian infrastructures - based on local rights groups, eyewitnesses, and media accounts.
Of course, the United States and its coalition have destroyed and killed more than that. They are in no mood to take steps to minimize that either, including by issuing a warning, if feasible, or delaying the attacks until civilians could be adequately protected, or canceling it if it is likely to be disproportionate. The coalition forces almost always fail to take adequate precautions to minimize harm to civilians and damage to civilian objects. On the contrary, most of their "precise and disciplined" attacks constitute disproportionate or otherwise indiscriminate attacks.
Tragic enough, that's not all. Marking a grim milestone, the United Nations Refugee Agency has reported that 2016 is the deadliest year ever for refugees from Syria and elsewhere trying to reach Europe. According to the agency, at least 3,800 refugees - many of them fleeing US-led wars in their home countries - have died or gone missing in the Mediterranean Sea this year.
For this tragedy to end, therefore, all the United States and its allies need to do is end their bogus War on Terror and not escalate it in Syria. On this evidence, it is not that hard to realise that opening up a new front against ISIL in Raqqa is not the right step towards ending the brutal war and humanitarian crisis. It is merely another disastrous decision before the conflict enters a new, and potentially even more dangerous, phase.
For all the shortcomings, a new deal to end the US-led air war also represents probably the best and only chance the international community, European nations in particular, have of tackling the refugee crisis that now poses a grave threat to the security of their own borders.
The only reason tens of thousands now find themselves clamouring at the Macedonian border for permission to travel into the EU's heartland is that the intensity and complexity of the Syrian conflict has made it impossible for them to remain. By getting ready to attack Raqqa, the US government is making it absolutely clear that the violence will not subside; there is no reasonable prospect that the fighting might end soon; refugees cannot return to their homes and rebuild their lives; and they are better off embarking on a new life in Europe.
Ending the war on Syria is neither easy nor pleasant, but there is no escape. There will be no sustainable peace in Syria until the United States and its allies accept the fact that they cannot keep supporting "moderate" terrorist groups for a lost cause that is regime change. They have a responsibility to create a new common ground and share an important part of the burden with Iran, Syria, Iraq and Russia: The Real War on Terror.
The beginning of wisdom is to call things by their right names. And the right name for what is happening in Syria - and has been for more than five years - is not "civil war". It is an all-out war by the United States and its regional allies against the Syrian government and people.
What's more, nobody should expect the regime in Damascus to change: Time and again, Damascus and its allies have proved that Bashar Assad is an elected president and will not transition himself out of power. The question is whether Washington and its allies are ready to stop entertaining his exit from the political scene - and thus take a giant step forward to ending their dirty war.
847/940
Please type in your comments in English.
The comments that contain insults or libel to individuals, ethnicities, or contradictions with the laws of the country and religious teachings will not be disclosed