Rasa - Iraq's Joint Operations Command has denied a claim by the Turkish prime minister that military forces from his country were participating in operations to retake the northern city of Mosul from the Daesh terrorist group.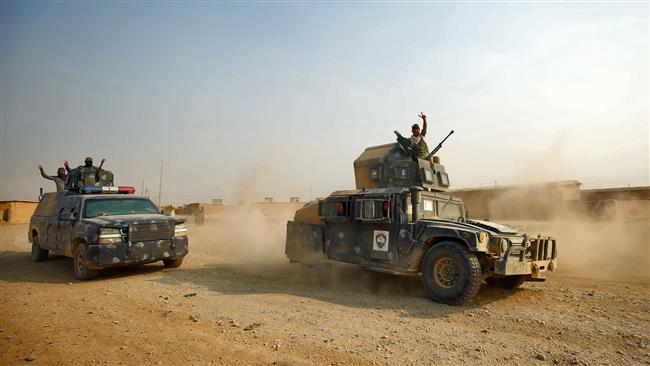 RNA - "The spokesman of the Joint Operations Command denies Turkish participation of any kind in operations for the liberation of Nineveh," a statement said, referring to the Iraqi province of which Mosul is the capital.
On Sunday, Turkish Prime Minister Binali Yildrim had announced that Turkish troops had joined the military offensive by the request of Kurdish Peshmerga forces, who have been deployed near Mosul.
"The Peshmerga have mobilized to cleanse the Bashiqa region from Daesh. They asked for help from our soldiers at the Bashiqa base. So we are helping the tanks with our artillery and howitzers there," he said.
On Saturday, Abadi reiterated his stance on the involvement of Turkish forces in the battle for Mosul, stressing that Iraqi forces will accomplish the task themselves.
"I know that the Turks want to participate, we tell them thank you, this is something the Iraqis will handle and the Iraqis will liberate Mosul and the rest of the territories," he said following a meeting with visiting US Defense Secretary Ash Carter in Baghdad.
"We don't have any problems," Abadi added, noting that the Iraqi government "will ask for help from Turkey or from other regional countries" if need be.
Ankara has been locked in a diplomatic row with Baghdad over the presence of Turkish troops at the Bashiqa military camp. The Iraqi government says the troops are there without Baghdad's permission, and has frequently called for their withdrawal.
Peshmerga close in on Mosul
Meanwhile, Kurdish Peshmerga forces have reached within eight kilometers of Mosul.
Earlier, Kurdish forces announced that they had retaken the Bashiqa which is located close to Mosul.
Iraqi forces enter the village of al-Khuwayn south of Mosul, after recapturing it from Daesh on October 23, 2016, in part of an ongoing operation to tighten the noose around Mosul and reclaim the last major Iraqi city under Daesh control.
A Kurdish commander also confirmed that Turkey had shelled Daesh positions using heavy artillery on request of the Peshmerga forces.
According to Kurdish forces, two Peshmerga factions linked together after surrounding Bashiqa and managed to secure an area measuring around 100 square kilometers and secure a long stretch of the Bashiqa-Mosul highway in a move which severely limits the Takfiri terrorists' freedom of movement.
Iraqi forces secure power plant east of Mosul
According to Brigadier General Nijem al-Jabour, Iraqi troops have managed to retake a power station from Daesh terrorists some 30 kilometers south of Mosul.
He added that so far some 30 villages surrounding the Daesh stronghold have been purged from Daesh's presence.
Another Iraqi official noted that Daesh executed around 40 people who were celebrating the liberation of their villages.
Half of Mosul refugees will be children
The United Nations Children's Emergency Fund (UNICEF) warns that half of the Iraqis expected to flee Mosul when the offensive reaches the city itself will be children.
"The UN is estimating that between 1.2 to 1.5 million people may be affected by the current situation in Mosul. We as UNICEF estimate that at least 50 percent of these people will be children," said UNICEF's Middle East regional director, Geert Cappelaere.
Since the offensive began last week, around 5,640 people have fled the city.
"These children have been exposed for over two years to probably a lot of atrocities, extreme living conditions and we want to be there for them to provide them the psycho-social support, to provide them efforts that give them back a normal life as a child," he added.
According to the UN refugee agency (UNHCR), so far, around 900 families, some 5,400 people, have been accepted in designated refugee camps outside of the direct conflict zone.
Over the past week, the Iraqi army, backed by volunteer forces, has been engaged in a large military offensive to cleanse Mosul of Daesh terrorists. Mosul fell to Daesh in 2014, when the terror group started ravaging the country, naming the city as its so-called headquarters in Iraq.
The Mosul offensive involves more than 25,000 Iraqi ground forces. It is expected to take weeks, if not months, to drive Daesh out the city, which hosts more than a million civilians.
847/940
Please type in your comments in English.
The comments that contain insults or libel to individuals, ethnicities, or contradictions with the laws of the country and religious teachings will not be disclosed