The Battle for Mosul:
Rasa - An advanced military operation to recapture the Iraqi city of Mosul from ISIL is underway, a large-scale offensive that could herald the beginning of a new era in modern history.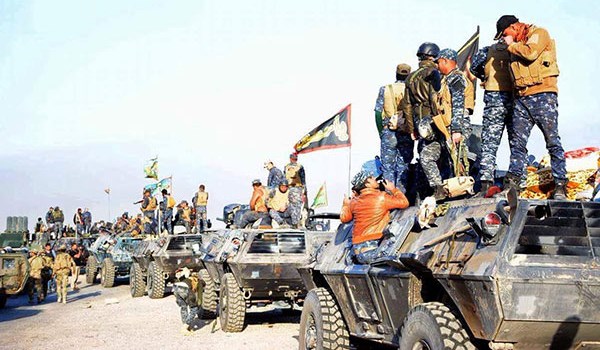 RNA - The Iraqi military has had major success in previous offensives against ISIL-held cities in Ramadi and Fallujah, so the ongoing offensive in Mosul will similarly result in victory - although it is a larger city and so much further away from the Iraqi military's supply lines. Routing the group, which is a major world threat, from the city close to the border of Syria and Turkey could also help stem the flow of fighters and weapons between the states.
To make up for this further distance, however, the allied forces are playing a much larger logistics role. The Iraqi military is heavily relying on volunteer forces in the fighting on the ground. The Popular Mobilization Units are largely Shiite paramilitary forces that include Sunnis, Christians and other ethnic and religious groups. The units released a statement shortly after Monday's offensive began saying they are targeting ISIL tunnels and trenches south of Mosul.
While military moves are at an advanced stage, the Iraqi government, aid agencies and regional organisations have also announced that they are prepared to provide for up to 1.3 million refugees, and re-establish good governance in a city brutalised by two years of terror and tyranny. After all, whatever emerges from Mosul will determine the fate of Iraq, and the allied forces are making sure it will be an outright victory on both military and humanitarian grounds.
The fight is expected to last weeks, if not months, and if the battles to wrest Fallujah and Ramadi from ISIL's grip are indicators, the 30,000-strong force tasked with recapturing the largest city under the terrorist group's control has what it takes to deliver yet another victory - without relying on outside powers.
The nature of this victory is important though, because it means ISIL is on its last legs. The nature of ISIL's retreat from Mosul is also important, because it means the terror group is no longer able to suffer devastating casualties in the face of a lost battle. More importantly, the campaign to liberate Mosul has nothing to do with sectarian tensions and regional designs, paving the way for the end of ISIL in Iraq as we know it.
That, of course, is only half the story. While the days of ISIL in Iraq are indeed numbered, its destructive presence in Syria is still far from over. Its defeat there is also crucial, particularly in Aleppo, where it is in cahoots with Al-Qaeda affiliate Al Nusra Front and other "moderates".
That said, if there is hope in Iraq and Syria, it comes from the fact that the odds are heavily against ISIL. The fanatics are against a united network of armies, security forces, volunteer mobilisation units, as well as Iranian and Russian allies - with no geopolitical strings attached and certainly no regional reservations. Subsequently, despite the flow of foreign recruits and weapons, for the fanatics whose regard for life is so scant, there is no caliphate in the Levant.
Today, ISIL's caliphate is indeed on its last legs. The terror group is under pressure in Syria, too. But the war against ISIL is far from over.
It may well be that Mosul offers the best opportunities for a global front against terror at a time when some Western governments and intelligence agencies - in cahoots with certain regional states - are still foolishly expending their ever-increasing military and diplomatic resources on "moderate" terrorists to prevent the failure of their regime-change campaign in Syria. They just met in Lausanne and London, going out of their way not to deal with Iran and Russia.
Knowing all that, the battle of Mosul suggests that ISIL is doomed as a caliphate. Granted, this view of ISIL as eventually doomed does not treat the future threats it still poses. So deciding how the world, the West in particular, thinks about ISIL and other terrorist groups is critical to deciding how to fight them.
Iran, Iraq, Syria and Russia have chosen good, with no intention to divide terrorists into moderate and extremist outfits. They made that policy absolutely clear on Saturday in the Lausanne talks on Syria. Now that Mosul is falling, the power of choosing is within the reach of the United States and its regional allies.
847/940
Please type in your comments in English.
The comments that contain insults or libel to individuals, ethnicities, or contradictions with the laws of the country and religious teachings will not be disclosed