Liberation or Decentralisation?
Rasa - Today, Mosul is where the United States still wants to take some silly risks. It has nothing to do with saving ISIL or fighting Shiite militias, known as Hash al Shabi. It is far more dangerous than that.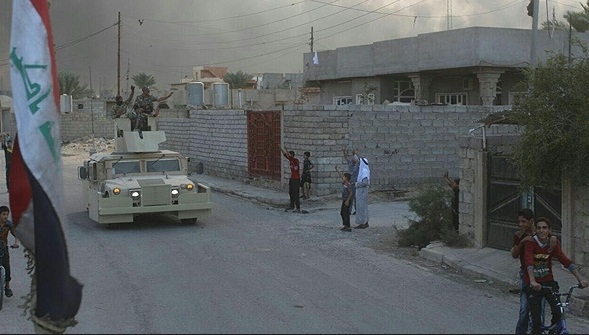 RNA - From Tikrit to Ramadi and Falujah, the US government is still desperate to implement its imperial designs on the pretext of fighting ISIL. To this end, Washington has managed to slow down and undermine Iraq's anti-terror military operations, strengthen the position of terrorist groups, and weaken the position of the central government in Baghdad. Despite all that, Washington has failed to stop Iraqi armed forces from retaking territory after territory from ISIL.
Mosul is the last territory in which the US government wants to stop this trend. It's a race against time:
- The aim is not to serve the terrorists or fight against the Popular Mobilisation Units. It is to do with Washington's "post-conflict solution" called the Nineveh Plain Province. It envisions the future of minority-religious groups and communities in western Iraq, as well as strengthening Washington's position in the north and the east. This way, Washington could also engineer and determine the fate of the ongoing battle in Syria.
- When Mosul falls, ISIL forces will be forced to flee towards Raqqa and Deir Ezzur in Syria. The US and Saudi Arabia have reportedly agreed to grant ISIL terrorists free passage from Mosul ahead of the operation. By sending them there, Washington and Riyadh will once again try and engage Syrian armed forces in a war of attrition in order to impose their political terms on Damascus and its allies – Iran and Russia.
- Stakes are higher for Iraq, though. Washington says the Hashd al Shabi cannot have a direct role in the offensive to take Mosul, an overwhelmingly Sunni city. There's also great concern among diplomats and Kurdish officials about plans for securing, stabilizing and governing Mosul once ISIL is evicted. US Deputy Secretary of State Antony Blinken says some 15,000 Sunni tribal elements are being trained and equipped to be the holding force once Mosul is liberated. This looks suspicious.
- US officials have spoken of creating eight self-governing areas in and around Mosul. This suggests that Washington will try and stop the formation of a regional government in Nineveh province. With no links to the central government in Baghdad, the US will then engage the provincial cities in tribal warfare and rivalry. This way Washington could gradually implement its sectarian designs under the guise of federal government projects in order to form self-governing Sunni areas as per the Nineveh Plain Province.
- Washington claims the creation of a multi-ethnic, multi-sectarian province for the peoples of the Nineveh Plain - one that could eventually become a semi-autonomous region within a federated Iraq - is consistent with American values and interests. These peoples include the Assyrian, Chaldean and Syriac Christians, Yazidis, Shabaks, Turkmen, and others - who have lived in Mesopotamia for centuries and in some cases millennia. The problem is, this "post-conflict solution", including decentralised governance and regional autonomy, is not consistent with Iraqi values and interests. It doesn't reflect Iraq as a unitary state, let alone its complex cultural and ethnic realities on the ground.
- The military defeat of ISIL is necessary for Iraq's unity, of course, but it was the foreign-backed terrorist group and not Iraqi government which subjected the indigenous communities of this particular region to genocide, displacement, persecution and discrimination. Upon return to their liberated cities and villages, therefore, the communities of the Nineveh Plain will once again be afforded the right to determine their own political future within the framework of Iraq and the central government.
Considering the above, the dissolution of Iraq - under a White House-produced banner - in favour of the creation of decentralised governance and regional autonomy states does not offer a pristine and permanent solution. The combination of distant centralised government and insufficient local self-governance will lead to alienation and violence, contributing significantly to the growth and appeal of sectarianism and extremism. This is precisely what led to the debacle in Mosul in 2014.
Indeed, it is Iraq's national unity and resolve that has helped defeat ISIL on many fronts. Thus, national unity and resolve – and not sectarianism and federation - are the proper places to begin the long process of reflection and reform, building the common good from the ground-up. In so doing, the people of Iraq don't need the United States and its sectarian designs either, which in no way promote national governance, let alone stability, security and prosperity.
847/940
Please type in your comments in English.
The comments that contain insults or libel to individuals, ethnicities, or contradictions with the laws of the country and religious teachings will not be disclosed