RNA - The truth is a beautiful and terrible thing, and should therefore be treated with great caution, particularly when it comes to pinpointing exactly who is responsible for the current crisis in Syria.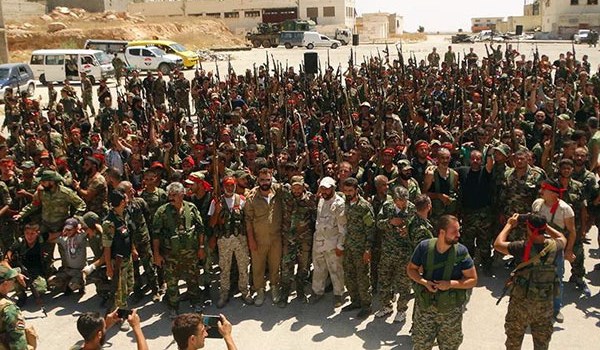 RNA - Here, Washington and the mere extras would like us to believe that it is Iran and Russia which created this whole mess in the first place. But there is more to this than meets the eye.
According to a leaked audio recording of a meeting between US Secretary of State John Kerry and a group of Syrian opposition leaders, American diplomacy is yet to be backed by a serious threat of military force to affect regime change in Damascus. The 40-minute discussion, on the sidelines of last week's United Nations General Assembly in New York, provides a glimpse of war-party frustration with its inability to unseat President Bashar Assad. And that's not all:
-The conversation took place days after a brief ceasefire, and as Russia rejected outright new US proposal to stop the bombing of terror groups in Aleppo. Those setbacks were followed by days of crippling Russian and Syrian airstrikes against US-backed Al-Nusra Front and other terrorists in a bid to liberate eastern Aleppo.
-At the meeting, Kerry was right to say the United States has no legal justification for attacking Syria, whereas Iran and Russia were invited in by the elected government. However, he is way off the line to claim that the Iranians and the Russians don't care about international law, or that "we do." On the contrary.
-That the United States and proxies have been hamstrung and outmanoeuvred by the military operations of Iran and Russia is not something new. What's hardly a secret now is that regime-change campaign is "admittedly" a closed book and "Congress would never agree to use force."
-The focus of the conversation was not on ending the hostility. The regime changers are trying to pursue diplomacy because they want to have a say in Syria's future - at the expense of their demoralised proxy forces in Aleppo. There is a widespread sense of betrayal among the "expendables". What else did they expect?.
-Kerry says any further American effort to arm rebels or join the fight could backfire. Meaning, it was American guns and Saudi cash that started the war and exacerbated the crisis. With regime-change campaign down the drain, the War Party will never send troops over to die for "moderates", nor to overthrow the government, nor to change the balance of forces in the war.
History shows that public understanding of US foreign policy depends crucially on assessing the motivations of US officials. US officials always present themselves to the public as having more 'noble' motivations than they share with each other in private. When members of the public have access to the motivations shared in private, they make different assessments of US policy. This is a key reason why the leaked private conversation is so important.
It gives the world community a recent window into the strategies and motivations of US officials as they express them to each other and their proxies, not as they usually express them to the public. In the case of Syria, the leaked conversation shows that regime change had been a long-standing goal of the US policy; that the US promoted sectarianism in support of this policy, thus helping lay the foundation for the emergence of ISIL, greater terror attacks in the West, widespread sectarian warfare, and massive bloodshed that we see in Syria and Iraq today.
One last point: Key components of the regime-change policy will remain in place (opposition having a say in future government) even as the Obama administration admits defeat and moves publicly toward a policy of engagement and diplomacy in Syria. This view of US policy - happy to make common cause with Saudi Arabia in fostering Sunni-Shiite sectarianism in the region, and preoccupied with Syria's relationship with Iran and Russia above all else - is buttressed by this particular leak.
This imperialist stance summarises the shape of things to come in post-war Syria - for hosting leaders of the Palestinian resistance; for refusing to give up its legitimate rights to the Golan Heights; for refusing to sign a peace treaty with Israel; for refusing to end its relationship with Hezbollah and Iran; and for refusing to be part of a pipeline project to export natural gas from Qatar to Europe.
In short, the US and NATO allies will continue sanctioning post-war Syria and increasing pressure on its government not for the bad things it has done, but for the good things, including its alliance with Iran and Russia in the Real War on Terror.
847/940
Please type in your comments in English.
The comments that contain insults or libel to individuals, ethnicities, or contradictions with the laws of the country and religious teachings will not be disclosed