Service :
01 October 2019 - 19:54
News ID:

447423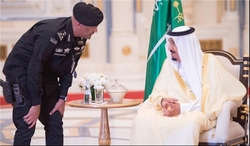 Major-General Abdul Aziz al-Fagham, 47, who had been widely known as the king's most trusted personal protection officer was likely killed for his information about the culprits behind the death of Saudi journalist Jamal Khashoggi.
RNA - Times magazine wrote on Monday that al-Fagham's death immediately led to speculation of palace intrigue, with claims that he had recently been dismissed from the king's service and may have had information pertinent to the murder of Jamal Khashoggi.
The media spokesman of the Makkah Province Police confirmed on Saturday evening that the personal bodyguard of the Saudi king was shot dead during a personal dispute.
The spokesman claimed that Maj. Gen Abdul Aziz bin Badah al-Fagham was visiting a friend's house when he was shot.
Meantime, New York Times reported that it was not immediately clear what motivated the gunman, but around the time of the killing on Saturday night, Saudi officials reached out to regional intelligence sources to ask for urgent help in gathering and analyzing information about a number of Saudi citizens, according to a person familiar with the discussions.
The push for information came from King Salman and his powerful son and crown prince, Mohammed bin Salman, the person said, speaking on the condition of anonymity because he was not authorized to speak to the news media.
It was not clear who the Saudis were seeking information about and whether that effort might have been related to the shooting of General al-Faghem.
Also, the Arabic-language Arabi 24 wrote that the claimed killer Mamdouh bin Meshaal al-Ali was the son of Mashal bin Mamdouh, a former member of the Saudi consultative council from the Shemmer tribe. His aunt was also the divorced wife of Sultan bin Abdulaziz, the brother of King Salman.
It added that different images exist of Mamdouh's family members in celebrations and weddings but his images are less than the fingers of a hand which indicates the importance of the organization he worked for.
Based on the report, Mamdouh worked for a special section of the Royal Guard.
Meantime, the Saudi social media activists wrote on their pages that the death of al-Fagham seems suspicious given the presence of security forces outside his house and their immediate killing shots given to his killer which could have been an attempt to close the case immediately.
Also, Ali al-Ahmad, a Saudi journalist, wrote on his twitter page that al-Fagham was fired from his job a few days ago which makes his death even more suspicious.
He added that the bodyguard was witnessed several days ago while he was walking alone in Jeddah which is strange, given his rank and position, and given the fact that he should have been right beside King Salman.
A social media activist described al-Fagham's death as similar to the brutal killing of Saudi journalist Jamal Khashoggi who was killed upon a direct order by bin Salman.
Khashoggi was killed and his body dismembered after he entered the Saudi consulate in Istanbul, Turkey, to collect documents related to his planned wedding.
After initially offering contradictory statements, Saudi Arabia confirmed its agents killed Khashoggi, but denied its senior leaders were involved.
US intelligence agencies have reportedly concluded, however, that MbS ordered the murder, and a UN right expert found "credible evidence" linking the Crown Prince to the killing.
Also, Saudi whistle-blower Mujtahid, who is believed to be a member of or have a well-connected source in the royal family, said that bin Salman had several times voiced his willingness to omit the newly-killed bodyguard of King Salman.
The Arabic-language al-Nashrah news website quoted Mujtahid as saying that al-Fagham was in the palace at the time of murder and not at a friend's residence as claimed by the government.
"The MbS was not confident about al-Faghan's loyalty to the crown prince and he had several times voiced willingness to omit him," he added.
Meantime, Mohammed al-Moaseri, a Saudi dissident residing in London, had warned 5 months ago about the possibility for al-Fagham's assassination by the MbS.
He had cautioned al-Fagham that bin Salman would one day take him and his team out to replace them a group of Colombian Blackwater agents.
Social media activists have voiced suspicion about al-Fagham's death, describing it as assassination.
Gun crimes are rare in Saudi Arabia, where strict law sees convicted killers and drug smugglers routinely executed. In 2017, there were 419 reported homicides, according to the UN Office on Drugs and Crime.
847/940
Please type in your comments in English.
The comments that contain insults or libel to individuals, ethnicities, or contradictions with the laws of the country and religious teachings will not be disclosed