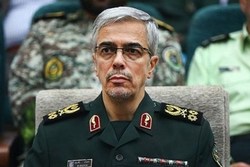 Chief of Staff of the Iranian Armed Forces Major General Mohammad Baqeri said his country's military support for terrorists-hit countries of the region has been upon their request, highlighting that in contrast the US is forcefully continuing its military interventions opposing the calls of nations and governments who want Americans out.
RNA - Baqeri noted that his country has been offering advisory assistance to the Syrian and Iraqi governments in the face of Takfiri terrorists, saying, "We will continue our presence in these countries as long as they want and will leave them whenever they do not want. This is contrary to what Americans do, who stay (in regional countries) with force despite opposition of people in those countries and then accuse the Islamic Republic (of interference in other countries' affairs)."
Speaking to reporters on Sunday, Iran's military chief added that the Islamic Republic has never had a covetous eye on any regional country over the past four decades, but has maintained advisory presence in regional countries that have been faced with terrorist attacks upon their request.
He said enemies of the Islamic Republic have intensified their effort to spread Iranophobia with the purpose of signing arms deals with countries in the Middle East.
Elsewhere in his remarks, Iran's top military commander pointed to recent statements by some European countries about Iran's missile and defensive capabilities and emphasized, "The defense power of the Islamic Republic of Iran, including (its) missile might, is not negotiable at all."
He added that instead of making remarks on Iran's defense capabilities, Europeans should remove obstacles in the way of banking and economic exchanges with the Islamic Republic as a small part of their commitments under the landmark 2015 nuclear agreement, officially known as the Joint Comprehensive Plan of Action (JCPOA), reached between Iran and the P5+1 group of countries.
"Europeans have a huge debt to the Iranian nation. Iran has fulfilled all its commitments under the JCPOA and this has been verified by international organizations, particularly the International Atomic Energy Agency," Baqeri said, adding, "However, member states of the P5+1 group of countries, which were supposed to remove all banking and economic restrictions against Iran, failed to fulfill their commitment. The Americans have quit the JCPOA and other signatories (to the deal) are dawdling when it comes to fulfilling their commitments.
According to Fars News Agancy, Iranian authorities have invariably asserted that the country's missile program has not been established for unconventional purposes and is only meant as part of the country's deterrence capability.
In a related front, earlier on Saturday, Chairman of Iran's Strategic Council on Foreign Relations Kamal Kharrazi said that the US' smear campaign against Tehran is a massive swindle to rob billions of dollars from the wealth of the Arab nations of the region.
Kharrazi said that the United States and other big powers have always been seeking to instill fears in the Arab world about Iran's growing influence only to make them more dependent on the West.
The senior diplomat made the remarks in Al Jazeera Centre for Studies (AJCS) in a presentation on the theme "Iran's Islamic Revolution at 40: Regional Cooperation: Prospects and Challenges".
He said that it was a policy of Washington to try to distort Iran's image in the eyes of the public in the Middle East so that it could justify its weapons deals with the governments in the region.
"The business of Iranophobia has been created just to impose their policy on some countries in the region and take their money in exchange of supporting for their security," said Kharrazi, adding, "There are lots of investment in the region to provoke Iranopphobia and Americans especially are pushing for Iranophobia."
The former Iranian foreign minister made the comments in response to a question by a Jordanian journalist during the event in Qatari capital city of Doha.
He said that it was the policy of the US President Donald Trump and other Western leaders that the more countries in the region become afraid of Iran, the more they become dependent on Americans and other big powers.
"Mr. Trump has not been hiding his position, he has been saying that if you want security, you have to pay for it," Kharrazi said, adding, "Once he (Trump) said that if we take out our support from Saudi Arabia they have to speak Persian in two weeks' time."
The senior official said that as a result of Saudi Arabia constantly paying into American coffers for its security, the kingdom's reserve has been reduced from $750 billion to $300 billion.
"Just by spending their money on nonsense, on useless wars," said Kharrazi.
Noting that there have been made lots of investment in the region to provoke Iranopphobia and Americans are pushing for the issue, the official said Washington supports Saudi Arabia because it needs the kingdom's money.
During the past years, the US has taken over $400 billion from Saudis in exchange for supporting their security, he added.
On the threshold of the 40th anniversary of the victory of the Islamic Revolution, Kharrazi said Iran is ready to hold dialogue with all the Arab countries to maintain and enhance ties.
Referring to Islamic Republic's prominent scientific and technological achievements during the past years, the official said Iran is ready to boost ties with regional countries and share its 40-year experience with them.
He reiterated that the regional countries should hold talks with each other and take a collective decision to achieve peace and security without letting others meddle in their affairs.
He added that the public in the Arab world and in the region should know that all West's efforts on Iranophobia would be in vain and Iran would survive at the end.
"One has to understand that in the long-run, Iran would survive and public opinion would come to this understanding that all of these scenarios were a fake," Kharrazi said, adding that Iran survived after years of Iraqi-imposed war in the 1980s despite the fact that many Arab countries and others were supporting former Iraqi dictator Saddam Hussein.
He said that just like the war with Saddam, Iran will come out of the current Iranophobia battle without receiving support from any other country.
"So don't hurry, just wait, this atmosphere would pass and at the end of story you would find that who has been right," said Kharrazi.
Making similar remarks, on November 24, Iranian President Hassan Rouhani blasted the US for its insulting behavior towards the regional nations, stressing that his country is ready to support the Saudi people's interests without any expectation.
He referred to the $450bln contract between the US and Saudi Arabia, and said Riyadh thinks that its security is guaranteed with this contract, while the Americans have said that they use the Saudis as milking cows and threatened that they cannot survive even for two weeks if Washington does not support them.
"It is better for them to ask their masters to respect them at least in the public or at least do not accept their masters' continued insults," Rouhani said.
"We are ready to defend the Saudi people's interests with all our power against terrorism, aggressors and superpowers and as we rushed to assist the Iraqi, Syrian, Afghan and Yemeni people, we are ready to support them without any expectation," he added.
"We will not even want a $450bln contract from you and we will not insult you because we consider you as our brothers and consider the regional nations and people of Mecca and Medina our brothers," President Rouhani said, addressing the Saudis.
He lashed out at the US and its allies for pursuing Iranophobia policies, and said, "You should not fear Iran and Islam and you should only fear the criminals, traitors and those who insult you."
Last year, US President Donald Trump signed the largest arms deal in history with Saudi Arabia despite warnings that he could be accused of being complicit in the regime's war crimes in Yemen. During visit to Riyadh in May 2017, Saudi Arabia agreed to buy $US110 billions of US weapons and signed "investment" deals worth billions more.
The kingdom has one of the highest rates of spending on its military in the world, which stood at 10.3 percent of Gross Domestic Product (GDP) in 2017, according to World Bank data.
Before his presidency, Trump described Saudi Arabia as "a milk cow" which would be slaughtered when its milk runs out.
847/940
Please type in your comments in English.
The comments that contain insults or libel to individuals, ethnicities, or contradictions with the laws of the country and religious teachings will not be disclosed