Rasa - US Secretary of State Mike Pompeo says he is "disturbed and indeed deeply disappointed" by the EU's decision to create a "special purpose vehicle" (SPV) designed to allow trade with Iran and bypass Washington's illegal sanctions.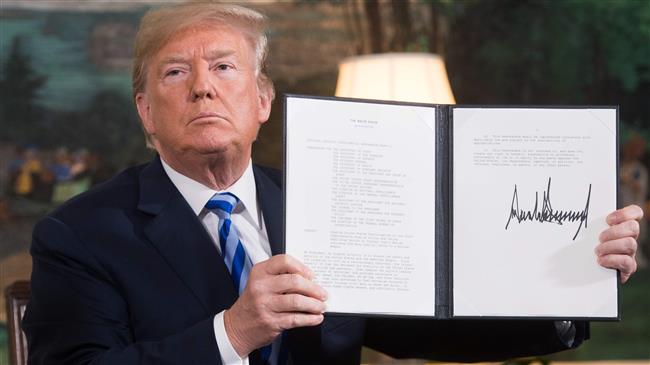 RNA - This comes after the EU's foreign policy chief, Federica Mogherini said technical details of the SPV, planned in coordination with Russia and China, are to be determined soon.
America's top diplomat is free to give harsh words for Europe and its fellow remaining members of the Iranian nuclear deal after it was announced they would develop a financial mechanism to bypass US sanctions and continue doing business with Iran. However, he is wrong to assume that Washington's unilateralism and sanctions policy can continue apace without international consequences and backlash.
In recent years, sanctions, no matter how illegal and ridiculous they are, have been enshrined in the foreign policy bible by the US government. The US State Department has even announced sanctions against China and its military for buying the Su-35 fighter jet and the S-400 air defense system from Russia.
In 2017, the US Congress passed the Countering America's Adversaries Through Sanctions Act (CAATSA), under which any country or person dealing with listed Russian defense companies will face so-called "secondary sanctions" from the US government.
By its definition, "secondary sanctions" apply to non-US persons for wholly non-US conduct that occurs entirely outside the country's jurisdiction. Punishing the entity or person outside its own sovereignty is not only ridiculous paranoia, but also undisguised arrogance. Increasing sanctions against countries doing business with Iran shows how deep US foreign policy is sliding into the abyss of unilateralism.
What should be kept in mind is that the United States opened certain "back-doors" to the sanctions. The National Defense Authorization Act for Fiscal Year 2019 passed in July 2018, granting the US president a waiver clause to the CAATSA - if it is considered to be "in the US diplomatic interest," the president has the right to announce a 180-day sanction exemption period to a country.
According to Fars News Agancy, this waiver clause is tailor-made for strategic partners like India, whose armed forces are equipped with many Russian weapons and can't afford a quick cut-off from the Russian military industry. However, the final decision on the waiver still lies in the hands of the US president, which means countries in urgent need of maintaining arms sales with Russia will have to yield to political and strategic pressures from the United States.
In fact, the sanctions against Iran should be regarded as a signal to other regional players that also engage in potential arms sales with Russia, such as India, Turkey, and Indonesia. The Trump administration may have three goals for the sanctions.
Firstly, push Russian companies out of its traditional markets, starve the Russian defense industry, and destroy the legitimacy of the Putin government.
Secondly, use the waiver clause as bait or leverage, induce and force countries that need to maintain arms sales with Russia to accept the political and diplomatic conditions imposed by the United States. As mentioned above, India may meet some US requirements in exchange for the waiver, such as cutting oil imports from Iran from November.
Thirdly, force those countries to gradually re-adopt weapon systems and technology standards from the United States and other Western countries, thus casting influence on those countries of geostrategic significance.
However, given the fact that countries like Iran that builds its own military hardware and has experienced Western military embargoes for more than three decades, new US sanctions will cause little damage to its military modernization.
847/940
Please type in your comments in English.
The comments that contain insults or libel to individuals, ethnicities, or contradictions with the laws of the country and religious teachings will not be disclosed