Rasa - Much like Al-Qaeda, the ISIL is Made-in-the-USA, an instrument of terror designed to divide and conquer the oil-rich Middle East and to counter Iran's growing influence in the region. The fact that the United States has a long and torrid history of backing terrorist groups will also surprise only those who watch the 'fakestream' news and ignore reality.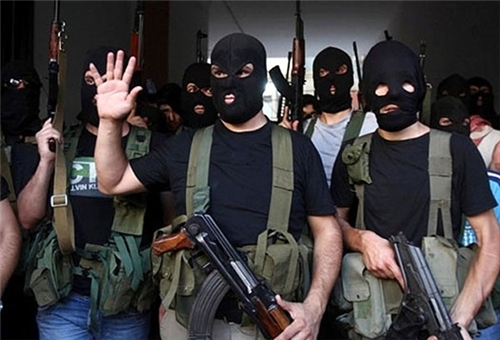 RNA - So, the claims by some Western press that President Bashar al-Assad deliberately released extremists from jails, militarized the opposition protests, and sought to support Qaeda-allied opposition groups, including ISIL, are false in every sense of the word. As proof of such false claims, 'fakestream' media outlets in the West and critics of the Syrian government suggest that President Assad deliberately released extremists from jails; that the Syrian army has not fought ISIL; and that Damascus sought to support ISIL by purchasing oil from the terror group.
They go on to claim that President Assad took these measures to sabotage the peaceful, democratic protests he allegedly faced, and in order to convince the West that he was fighting terrorists rather than peaceful pro-democracy protesters. It is presumed that if President Assad could be successful in this, the United States would have no choice but to embrace the Syrian government as a partner in the so-called War on Terror against ISIL and other extremist groups, considering President Assad the lesser evil.
In fact, the opposite is true:
The US and its occupying forces are not in Syria to fight terrorism. As maintained by the White House officials, "US troops will be in Syria to contain Iran and Russia, and to prevent the Syrian government from taking back terrorist-held areas."
Moreover, Syrian army and its Russian/Iranian allies have fought ISIL throughout the conflict, and successfully dislodged its militants from many cities and towns in the past few months or so. The Syrian government never purchased oil from ISIL either – unlike US-backed opposition groups and their patrons in Europe, even Western-funded NGOs.
Contrary to the 'fakestream' view, much of the Syrian opposition is not moderate at all. Instead, it is dominated by ISIL, Al-Qaeda, and the Takfiri-Wahhabi extremists, all a clear and present danger to world peace and stability. Recruited and armed by the US and its allies in the region, including Saudi Arabia, the UAE, and Israel, they continue to lead a devastating regime-change campaign against the Syrian state and its allies. Though defeated on the ground, these terrorist groups remain committed to regime change, with direct support from the US army presence in the war-torn country. As a result, the Real War on Terror by the anti-partition alliance of Syria, Iran, Russia, and Hezbollah is far from over.
In this war, the US and its Arab allies are still the parties responsible for providing weapons and funding for their Qaeda-allied rebel groups, such as Jaish al-Islam (Army of Islam), Ahrar al-Sham (Islamic Movement of the Free Men of the Levant), and Nusra Front. All these groups advocate the Salafi-Wahhabi ideology and receive significant financial and military support from Saudi Arabia and the UAE, thus helping to prolong the US-led war and occupation of Syria.
Also significant is the fact that the Syrian government never asked Washington for help in fighting terrorism, when it is the US that still has a strategic interest in regime changing Syria and occupying it indefinitely. Instead, Damascus appealed to its anti-partition allies for help, namely Russia and Iran, both of which have a strong interest in keeping Syria and Iraq partitioned in one piece and united. Little wonder the post-ISIL government of Syria is now asking the United States and its Western-Arab lackeys to stop funding and arming terrorists, and to pack up and leave.
At any rate, war-party Washington and its lackeys spent billions aiding and training various terrorist groups to topple the Syrian government, proxy forces who either quickly collapsed on the battlefield or teamed up with ISIL and Al-Qaeda-linked forces. This horrendous policy was so muddled from day one that it backfired; America's terror proxies launched terror attacks with lethal consequences against several Western capitals in Europe and beyond.
Fast forward to the present time and in post-ISIL Syria, the regime changers are still under the illusion that by occupying Syria indefinitely, engaging in state-terrorism activities, attacking pro-government forces and civilians deliberately and indiscriminately, and breastfeeding Qaeda-linked proxies despite International Law and UN Charter prohibiting providing material support to terrorist groups, they can somehow succeed in their regime-change campaign.
The bitter truth is:
- America will continue to aggressively fund and arm its terror proxies in Syria, as they further American interests in the region;
- America will knowingly foment its instruments of terror as a weapon of foreign policy, including its latest weapon of choice the ISIL thugs, who are openly brandishing American-made weapons in the Levant and threatening the entire planet;
- America will maintain indefinitely a dangerously oversized military presence in Syria in order to divide the country, put pressure on Iran, exacerbate sectarian divisions, and create a fertile breeding ground for the creation of yet another instrument of terror under a new name.
After all, the War Party's Middle East policy revolves around oil, Israel, and the Military-Industrial-Complex, which profits from arms race and endless war and bloodshed.
847/940
Please type in your comments in English.
The comments that contain insults or libel to individuals, ethnicities, or contradictions with the laws of the country and religious teachings will not be disclosed