Rasa - The international humanitarian community is busy watching the Iran missile theatrics by the War Party in Washington and refuses to hear UN's dire warnings of mass famine in Yemen.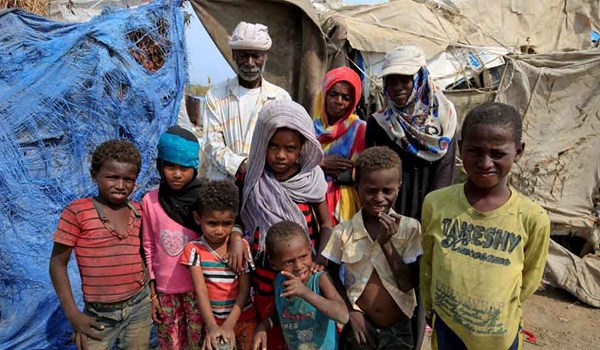 RNA - The UN Security Council appears powerless to push the US-backed, Saudi-led coalition to lift its criminal blockade of humanitarian aid, and call for a meeting on the crisis seems like an impossible mission for those who still care about international law and international humanitarian law. Unless the blockade is lifted, Yemen will face the largest famine the world has seen for many decades, with millions of victims.
In between, some members in the Security Council have been taken aback by the false accusations of Washington and its Saudi vassals regarding Iran supplying Yemeni forces with ballistic missiles and suchlike. They refuse to openly accept that the problem in Yemen is not Iran but Saudi Arabia and its US-backed coalition that have been bombing and shelling Yemen indiscriminately for some three years now. They refuse to accept that there are still huge problems and there has not been any progress on the open humanitarian access through the ports of Hodeida and airport of Sana'a.
But will there be another emergency Council meeting on the aid blockade, and will it this time ensure enough will happen? Simply put, the world can no longer afford to wait and see what the next step will be on that. The United Nations has listed Yemen as the world's number one humanitarian crisis, with 17 million people in need of food, seven million of whom are at risk of famine. More than 2,000 Yemenis have died in a cholera outbreak now affecting nearly one million people.
There are some countries like Egypt, a non-permanent Council member close to Saudi Arabia, that keep circulating draft statements that condemn the Yemeni missile attack on Riyadh but make no mention of the aid blockade, much less the nonstop US-backed, Saudi-led airstrikes that keep killing Yemeni women and children wholesale. They even come up with silly anti-Iran draft resolution and expect it to be endorsed by the Council.
This is not the time to unfairly blame others for the unfolding humanitarian crisis in Yemen. UN aid officials can and should ignore Washington's Iran missile game and instead step up their appeals. The humanitarian impact of what is happening in Yemen right now is unimaginable. It is unacceptable that, after three years of conflict, the Human Rights Council is still failing to protect Yemeni civilians and is instead turning a blind eye to the human rights violations perpetrated by Saudi Arabia and company.
The job of the Security Council and the Human Rights Council is not to watch Washington displaying missile parts that they claim are of Iranian origin, and they better not waste time listening to Washington blaming Iran for everything that has gone wrong in that poor nation. Their jobs are to send a strong message that the lives of civilians matter, and that those responsible for the killing of civilians should be punished.
This needs to look beyond Iran and the threat of Saudi militarism is equally true in the case of Yemen, although for very different reasons. The US backing of the Saudi-UAE led coalition in Yemen is not limited largely to support of air operations, intelligence, and targeting data. It is the highest level of US involvement. Yemen is a military and civil strategic nightmare.
Even if one ignores immediate issues like casualties, food shortages and people at risk from the war and famine; Yemen faces a host of longer-term challenges like sharp population growth, critically low rate of development and critical water problems, and so on. The illegal war has halted its exports, pressured the currency's exchange rate, accelerated inflation, severely limited food and fuel imports, and caused widespread damage to infrastructure. At least 82% of the population is in need of humanitarian assistance.
Yemen's strategic position at the gates to the Red Sea and long border with Saudi Arabia do make it a potential strategic target for Riyadh and Washington. At least for the foreseeable future, however, the most that one can hope for is to limit and contain the Saudi-led violence and role in the crisis and in its growing tension with Iran.
Any end to the conflict shouldn't be temporary, as serious nation building is still possible. To that end, the United Nations needs a strategy for both the military and civil side of Yemen's fighting and instability, and it still has to make hard choices. The best real-world strategy is likely to be an end to the Saudi-led aggression through an awkward mix of containment, and finding the best possible options to save the country from famine, terrorism, and chaos.
847/940
Please type in your comments in English.
The comments that contain insults or libel to individuals, ethnicities, or contradictions with the laws of the country and religious teachings will not be disclosed