Rasa - On Tuesday, September 19, US President Donald Trump took the world stage at the United Nations General Assembly to deliver his "genocidal" speech.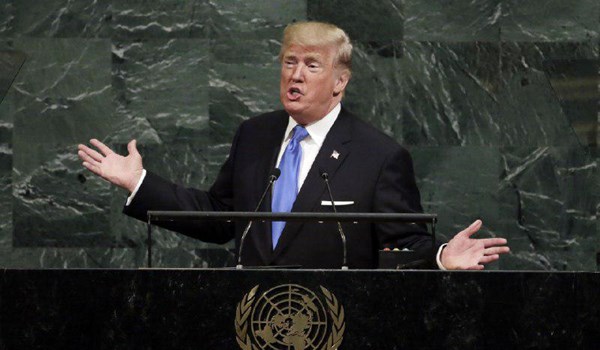 RNA - It was the first time Trump spoke to UN leaders as president. In his 41-minute address, Trump vowed to "totally destroy North Korea" if the US and its allies were forced to defend themselves. He said, "Rocket Man is on a suicide mission for himself and for his regime. The United States is ready, willing and able, but hopefully this will not be necessary. That's what the United Nations is all about; that's what the United Nations is for. Let's see how they do."
Trump also took on the Iranian government, alleging it was "a corrupt dictatorship behind the false guise of a democracy." The US President then described the Iran nuclear deal as "the worst and most one-sided transactions the United States has ever entered into."
Members of the Venezuelan delegation sat with their arms crossed as Trump likewise described the country's leadership, under President Nicolás Maduro, as a "corrupt regime" that has "destroyed a prosperous nation by ideology that has produced poverty and misery everywhere it has been tried."
Following the speech, Israeli Prime Minister Benjamin Netanyahu tweeted that he had never heard a "bolder or more courageous speech" in his time at the UN. However, no one in his right mind would ever say that President Trump's threat to kill 25 million North Koreans because he doesn't like their leader is "courageous." For what he said - and also for what he refused to mention - President Trump was lampooned by progressive critics and the international civil society:
- The world community needs to end this charade, to stop this slow roll toward a catastrophic war, and work towards defusing the North Korean crisis diplomatically. Trump's "please clap" speech represents yet another reckless escalation in the ongoing tit-for-tat between North Korea and the United States that does nothing but edge the world closer to nuclear war.
- While castigating Iran and Venezuela as "failed and destabilizing regimes" and threatening to "totally destroy North Korea" if he thinks necessary, Trump acknowledged nothing about the misery sowed by US foreign policy around the world. This includes millions of innocent souls killed in America's bogus War on Terror and millions more made refugees in places like Afghanistan, Iraq, Syria and Yemen.
- French President Emmanuel Macron also took the podium at the UN to speak in defense of the 2015 multilateral nuclear deal with Iran, warning that a failure to honor the accord will be irresponsible. He said, "This is a good agreement, an agreement that's essential to peace. To reject it now without proposing anything else would be a grave error, and not respecting it would be irresponsible. That President Trump thinks that this agreement is not perfect and doesn't protect enough is an argument that I can hear, but I asked him what was his alternative proposal. I didn't understand it."
- President Trump's war-mongering and bellicosity are enormously counter-productive in terms of reducing global threats and geopolitical tensions. The argument is this: North Korea wants a nuclear deterrent all because Trump wants to "totally destroy North Korea."
- The international civil society can no longer afford to let President Trump's incompetence and bellicosity drive the whole world into a destructive conflict potentially more devastating than the wars on Iraq, Syria, Yemen and Afghanistan combined. The United States and its allies and partners must immediately move toward easing tensions on the Korean peninsula diplomatically, and work toward ending this conflict peacefully. The fate of the region and the world depends on it.
The world had a field day with President Trump's UN remarks. It's a universal law - intolerance is the first sign of an inadequate education. An ill-educated person behaves with arrogant impatience, whereas truly profound education breeds humility. Here, the greatest enemy of knowledge is not ignorance, it is the illusion of knowledge, which Trump staged so well at the UN on Tuesday. He is not entitled to his 'genocidal' opinion. He is entitled to his 'informed' opinion. No one is entitled to be ignorant, particularly in an important place like the UN where there is nothing more frightful than ignorance in action.
847/940
Please type in your comments in English.
The comments that contain insults or libel to individuals, ethnicities, or contradictions with the laws of the country and religious teachings will not be disclosed