Rasa - US ambassador to the UN Nikki Haley claims North Korea's tests of increasingly sophisticated nuclear weapons and missiles amounts to "begging for war."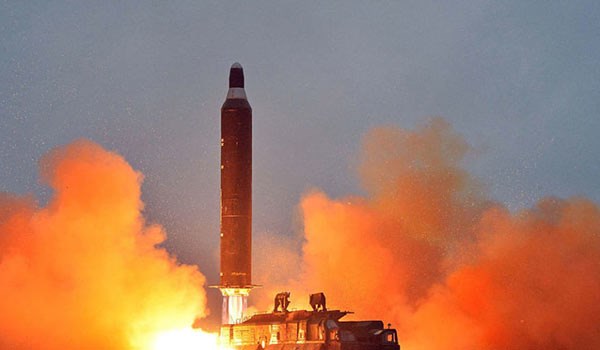 RNA - In response, North Korea has said if nuclear weapons are a threat to humanity then how come the United States and other nuclear weapons states have built so many, brandishing weapon after weapon after weapon for the past 70 years?
Indeed, it doesn't take a strategic mind to realise who is begging for war and who is insisting on peace. The War Party in Washington has been showing it over and over again in places like Syria, Yemen and Afghanistan. It is beyond pitiful, but that is what the Trump White House is. They will not change, even when it comes to committing themselves to international peace talks, much less international deals. You wouldn't be hard pressed to think of one:
1- Recent US behaviour in the Middle East tends to reinforce questions over whether the United States is really a factor for stability. One recent example: the Trump administration has announced a 'surge' of troops in Afghanistan and Syria, only simultaneously to announce its intention to withdraw from the Iran nuclear deal.
2- The Trump administration has announced the United States' return to Asia, and some old allies in the region welcomed renewed attention from Washington. But many nations suspect the United States' return really means engaging in a form of containment of China. Some even say that since the Taiwan Strait has become calmer, the US is turning to the South China Sea as a new pressure point to keep China in check.
3- The same is true about the Korean Peninsula. Here the nuclear detonations map must now be extended to include the H-Bomb detonation in the DPRK. It is hard to believe the Trump administration could not clearly see that the mock invasions of the DPRK called Team Spirit didn't single-handedly agitate the tensions on the Korean Peninsula, until you consider that the Military Junta in Washington DC is also going to sell billions of dollars more to South Korea in weapons now that things are getting hot.
4- The Trump administration has just blamed Pakistan for its failure in the longest war on Afghanistan. Expect President Trump soon to be waging a new wave of disturbing assassination campaign in Pakistan that eclipses all that came before it in scale and brutality.
5- The Trump administration has overseen a projected fivefold increase in drone strikes in Yemen while also expanding ground operations to support the Saudi-led war against the poorest country in the Arab world. British bases help US drones find their targets, while British intelligence officers draw up kill lists of targets for drones to strike. Thousands of civilians have been killed this year and many more innocent people stand to lose their lives if this criminal campaign continues unchecked by the United Nations.
6- The US is hardly alone in waging its vicious and unaccountable war on Syria. Saudi Arabia and several other Persian Gulf Arab states are a compliant co-pilot in the regime-change program. The program is being undertaken with the full cooperation of ISIL and Al-Qaeda terror proxy forces.
7- Ambassador Haley claims Iran has violated the spirit of the 2015 nuclear accord and that President Trump is likely not to certify Iran's compliance with it next time. There is no legitimate reason for such a step, but if Trump – who must certify compliance every three months – takes it, he would almost certainly set in motion another nuclear crisis side by side with the one with North Korea. Two basic facts are before us: first, that the nuclear accord is very much in the interest of all parties, the US in particular; and second, that the IAEA confirms Iran is not in violation of the agreement. In fact, it is the US which has on several occasions violated the deal by imposing new sanctions on Iran.
All this and more should have made it clear by now who is begging for war and who is insisting on peace: The Trump administration is simply looking for a pretext to launch a new war somewhere and scrap the Iran nuclear accord come what may. And there may well be enough votes in the Senate to bring those about if Trump chooses to make a clean break.
In the prevailing circumstances, it's a waste of time to argue that rather than keep begging for an imminent war with a sovereign nation – a path already shown to be totally unproductive with North Korea – the US ought to be thinking about how to improve relations with the international civil society.
847/940
Please type in your comments in English.
The comments that contain insults or libel to individuals, ethnicities, or contradictions with the laws of the country and religious teachings will not be disclosed