Service :
04 September 2017 - 22:08
News ID:

432165
US President:
Rasa - The White House warned that the US is ready to use the "full range" of capabilities at its disposal and might resort to using its nuclear arsenal against North Korea if it continues to threaten Washington or its allies.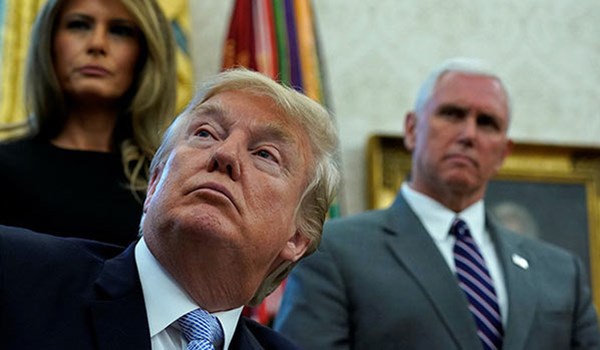 RNA - President Trump called Japanese Prime Minister Shinzo Abe by telephone to reaffirm Washington's commitments to its allies in the region, RT reported.
"President Trump reaffirmed the commitment of the United States to defending our homeland, territories, and allies using the full range of diplomatic, conventional, and nuclear capabilities at our disposal," the White House said in a statement.
Both leaders have condemned North Korea's nuclear test and called Pyongyang's behavior "destabilizing and provocative actions."
Trump has also "confirmed the two countries' ironclad mutual defense commitments, and pledged to continue close cooperation," the statement added.
Concerned over North Korean nuclear ambition, South Korean military has conducted a live-fire drill, simulating an attack on the North's nuclear site.
In a series of tweets Sunday, Trump branded North Korea a "rogue nation and a threat."
The latest development in Pyongyang's nuclear capabilities are "very hostile and dangerous to the United States," the US president stressed.
Following the tweets, Trump held a meeting with his chief of staff, Gen. John Kelly, and Defense Secretary James Mattis at the White House to discuss an appropriate response to the North Korean hydrogen bomb test.
It comes just hours after North Korea successfully tested a hydrogen bomb which can be mounted on an Intercontinental Ballistic Missile (ICBM).
According to state television, the hydrogen bomb test ordered by leader Kim Jong-un was a "perfect success" and was a "meaningful" step in completing the country's nuclear weapons programme.
The announcement by Pyongyang came hours after a large earthquake that appeared to be man-made was detected near the North's known nuclear test site, indicating that North Korea had conducted its sixth nuclear test since 2006.
It was Pyongyang's first nuclear test since Donald Trump took office, and marked a direct challenge to the US president, as the two leaders of the North Korea and the US have issued a series of threats to each other.
North Korea announced early Sunday that Pyongyang has developed a new and more advanced hydrogen nuke that is small enough to be fitted on a new intercontinental ballistic missile, the official Korean Central News Agency KCNA reported.
According to the KCNA report, North Korea's Nuclear Weapons Institute has created a "more developed nuke," bringing about a "signal turn" in the country's nuclear arsenal.
The hydrogen bomb report by KCNA comes amid heightened regional tension following Pyongyang's two tests of intercontinental ballistic missiles (ICBM) in July that potentially could fly about 10,000 km, putting many parts of the mainland United States within range.
Also, Pyongyang launched an intermediate-range ballistic missile that had flown over Japan's Northern island of Hokkaido and had fallen East of the island into the Pacific Ocean early Tuesday. The test came after North Korea fired three short-range ballistic missiles last Saturday as North Korea lashed out at US-South Korean military drills.
North Korea announced late July that Pyongyang had conducted another successful test of an intercontinental ballistic missile (ICBM) that proved its ability to strike all of America's mainland, stressing that the test was meant to remind the US that it should "wake up from the foolish dream of doing any harm" to the country.
Pyongyang had also announced early July that North Korea has successfully test-fired an intercontinental ballistic missile, which is capable of hitting anywhere in the world.
North Korea had also threatened to fire four Hwasong-12 missiles into the sea near the US Pacific territory of Guam earlier this month after US President Donald Trump stressed that Pyongyang would face "fire and fury" if it threatened Washington.
The US is opposed to the North Korean missile and military nuclear programs, but Pyongyang stresses that it needs them as a deterrent against Washington hostility.
847/940
Please type in your comments in English.
The comments that contain insults or libel to individuals, ethnicities, or contradictions with the laws of the country and religious teachings will not be disclosed